11 Aug 2018
SELBIE OPTICIANS SEE A FUTURE WITH THE GIANTS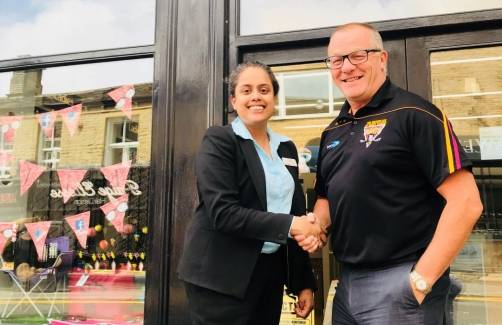 Milnsbridge based Selbie Opticians renew Partnership with the Giants
Selbie Opticians are the latest company to commit to the Giants after they renewed their Partnership to the Club for the remainder of the 2018 season.
Giants Commercial Manager Brian Blacker was delighted to see the local opticians re-join the Club and envisages a healthy-looking relationship with Selbie's, commenting:
"Selbie Opticians were a family owned business and were with us in 2015 and 2016 as the Official Optometrist Partner of the Huddersfield Giants. The business changed hands to Kelly around eighteen months ago and it's great to see them re-join the Club for the remainder of the season as our Official Optometrist Partner. They're a very well respected local businesses and are one of the few independent opticians in Huddersfield, so they have a lot of long standing clients that have been with them for many many years.
"We're always looking to attract new Partners to the Club, Selbie's is a renewed Partner and it's great that they have seen the benefits of being a Partner despite a change in ownership. Kelly and her family have been to games previously and have enjoyed what they saw, her young son became a bit of a Giants fan whilst watching it.
"Part of their Partnership includes an advertising board outside the main reception area of the John Smith's Stadium and four Directors Box tickets, from our perspective, it's really good that they see the benefits of being a Partner."
For more information about Selbie Opticians, give them a call on 01484 659119
Address: 65 Market St, Huddersfield HD3 4HZ
Keep up to date with Selbie Opticians by following them on social media: