26 Jul 2018
GIANTS STRIKE SUCCESS WITH GOLF DAY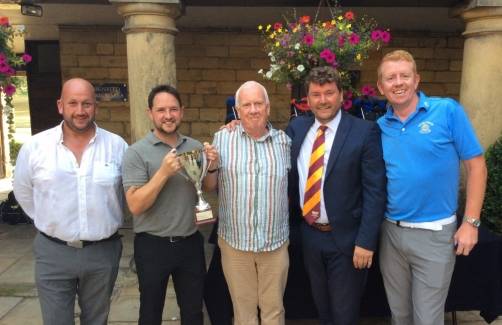 Partners and Sponsors enjoy Giants Annual Golf Day, sponsored by David Burdsey
Twenty teams made up of Partners and Sponsors of the Huddersfield Giants enjoyed the Giants Annual Golf Day, sponsored by David Burdsey, which was hosted at Woodsome Hall Golf Club.
Giants Sponsors, The FM Company, emerged as winners of the event and were presented their trophy by Golf Day sponsor David Burdsey on a sunny afternoon at Woodsome Hall Golf Club.
Speaking of the event, Commercial Manager Brian Blacker was pleased to see another successful Giants Golf Day:
"I'm delighted with how our Annual Golf Day went, it's always one of the highlights of the calendar for our Sponsors and Partners and I'm pleased to see it continue to be so well received. The FM Company came out on top and were presented with the trophy, which I must say was very kindly sponsored by David Burdsey, and we're very grateful to him for his unwavering support.
"It was a fantastic day outside in the sun in the company of so many friends of the Club, as well as members of the first-team squad and coaching staff. We take pride in hosting so many events where businesses can come together and network with each-other in a very wide variety of occasions, as well as interacting with members of the first-team squad, providing a very unique and exclusive opportunity.
"The Giants Annual Golf Day offers Businesses the chance to network with other like-minded companies and broaden their horizons for future business. It was a laid back, yet competitive, environment as each team sought to win. Danny Brough was part of The Pink Link's team and our Club Ambassador Eorl Crabtree played with BM Packaging, although clearly that wasn't to prove beneficial to either of those teams judging by their finishing positions!
"I'd like to thank everyone who attended our Annual Golf Day and look forward to working closely alongside everyone in the future."
The winners list is below:
1st – The FM Company (Gary Shuttleworth, Tony Goldstein, Richard Thewlis and David Bailey)
2nd – Abzorb (Nick Hurst, Andrew Turner, Steve Beeby and Jack Bates)
3rd – Simply Biz (Mark Thorneycroft, Richard Nuttall, Gary Kershaw and N.Campbell)
Longest drive – Jack Bates of Abzorb
Nearest pin – Keith Wadsworth of Ramsden's Solicitors