18 Jul 2018
CRABTREE DELIGHTED WITH TURNOUT AT WOMEN IN BUSINESS EVENT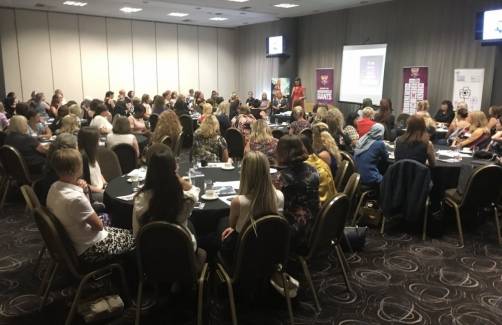 Giants Commercial team put together another successful Women in Business event
Huddersfield Giants today hosted a second event for Women in Business from the Kirklees area and were delighted to see the occasion continue to grow.
Having received a remarkable in-take from March's inaugural event, the Women in Business assembly saw another surge in participation.
With guest speaker Dr Maxine Stead, of Alexandra House Spa, and host Julia Lee, Founder and Director of Common Sense Initiative, warming up a bustling crowd before a chance to network with an array of prominent business women.
Huddersfield Giants Club Ambassador Eorl Crabtree spoke of the event and his delight at its success:
"Our second Women in Business event went unbelievably well. We had some great guest speakers, a little bit of networking, some food and plenty of people in attendance. There were so many people this time that we had to move venues as we went over the limit, that's a sign of how far it has already come, so we're now planning and looking forward to the next one. It's great to get over 120 women in business attending today and hopefully we can keep improving that and continue to move forward together.
"We've realised as a Club that around 40% of our fanbase are female, we saw that there was an opportunity there with women in business because we have lots in hospitality or as sponsors, and there are no other events like it in the local area. We've created a great opportunity for women in business to come together, share stories, inspire each other and ultimately network. It's worked so well, and we want to have something in the diary soon so that we can continue to work alongside each other.
"Ultimately, we want to get businesses together and to work with each other. I think that's something that we must take pride in doing. We work hard for the businesses around us to make sure they get everything they want out of it, that's what we as the Huddersfield Giants can offer. We offer that personal service and can introduce them to likeminded people. This is a part of opening the door to people, getting them involved commercially and showing them what we can do for them as well. It was well organised, it was well done, and it was well received. We know that the numbers will continue to rise, we've gone from 90 at the first event to over 120 today, so who knows where it can go from here. We want to be the women in business event holders, not just for now but for years to come. Ultimately, we want to inspire women to be in business and to succeed, that's a massive thing for us.
Next up on the Giants' commercial calendar is the annual Golf Day, which is sponsored by David Burdsey, on Wednesday 25th July, and Crabtree spoke of the popular day:
"The Golf Day is probably one of the most exciting days on the corporate side, all our sponsors absolutely love it. There's a lot of competition with some good players out there, there's some bad ones too. It's great to get our sponsors together, but it's also good to see people that are new to the Club there as well. Not only that, the first team enjoy it as well, and it's probably one of the more enjoyable events we have throughout the year. We all come together and it's a great opportunity for people to network, discover new businesses that they probably never would have worked with, and enjoy golf too! You're getting out there, seeing new people, but there's the competition there too. It's a fantastic day and we sold out all spaces very quickly."