6 Sep 2019
THE CHALKBOARD: HULL FC AND FRAWLEY'S INFLUENCE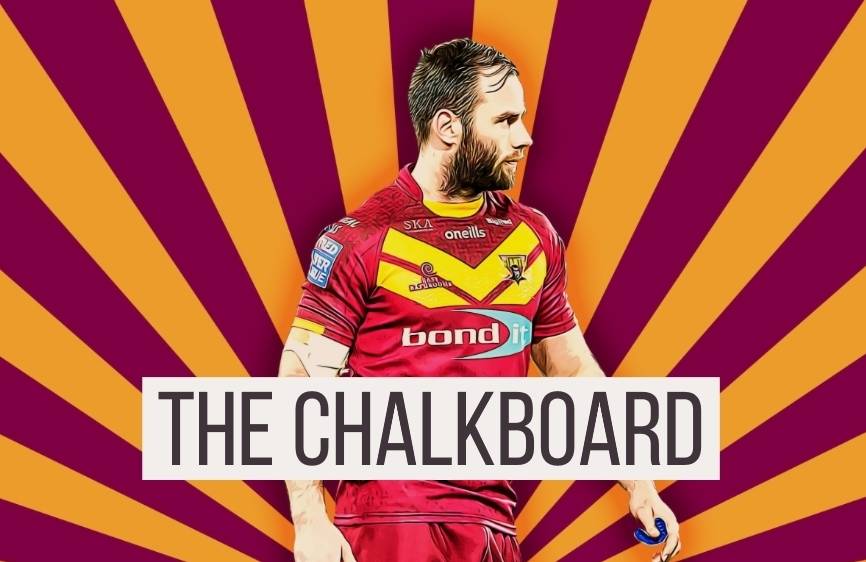 The story behind the scoreline in our 22-12 win over Hull FC
By Sean Evans
Giants fans… in unison now… PHEW! It's a result we've waited for, but more importantly it's a performance to be proud of and one we can build on and genuinely cause the league leaders St. Helens some problems. But let's not get ahead of ourselves because we have some reviewing to do.

I think it's fair to say, this is the most pleasing Chalkboard we've ever done, following the best performance we've put on since before June, and in part, it seems like we could've predicted this. There was a feeling of calm, maybe not amongst the players, but certainly amongst the fans, it always felt a winnable game with match ups in our favour, in the right areas.

Last week in the Chalkboard we spoke about the weakness in Hull's left defence, and in particular Faraimo, and in no way was that a jab at a fantastic winger but more an observation with the knowledge that Jermain McGillvary would be his opposite number. It took barely minutes of play for our first break, and there was no surprise which side of the field it came at, Sneyd sold by Gaskell and Faraimo not quick enough to be in position and the Giants were away, only a penalty for obstruction in the following play stopped the attack, but the signs were there early.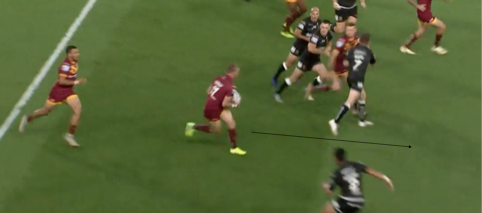 It would've probably been beneficial to Hull for Sneyd to leave Gaskell to his inside man, but the time in which he had to make that decision was tiny, leaving us with the result we saw.

Hull did score an excellent try, set up by Jack Logan, and finished by Jamie Shaul and it would've been easy for heads to drop and to start reminiscing of the 'good old days in Super League' but the game was far from over.

McGillvary was always going to be a vital figure in this game, and he was the one to get the ball rolling for the away side. With a short play to the Giants right edge, being almost unmanaged by the Hull side. A tight squeezed defence left Jermaine with acres, and in practise Hull were trying to shift a spreading defence, but in small areas it is tricky. Faraimo did the best he could but when you shift and the man inside doesn't, gaps are left and it was a simple one step on the inside that opened the account for the Giants.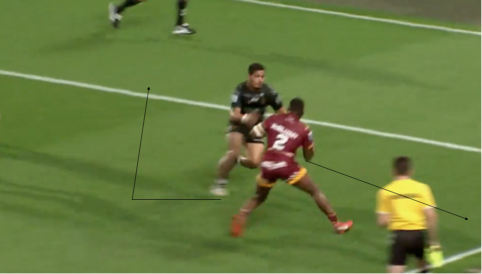 Later Murphy took advantage of a gap between Winger and Centre and reach up to claim a nicely weighted kick, and put Huddersfield ahead. But it was Hull's best player on the night that sent the home side into the sheds at half-time. Shaul with an excellent piece of skill and timing to send Faraimo over, with no chance of stopping him. Shaul, in my eyes, deserving of at least 1 MOS point after a fine performance in the losing side.

It would honestly be impossible to describe and show how good the side were defensively in the second period, there are so many clips and so many talking points. Tightening up the middle defence, where too many points have been leaked, was important against a huge side and the forwards worked hard and managed their time on the field well to shut up shop. The edges knew they had to be on point with Connor, Faraimo and Shaul lurking to find opportunities, but the biggest thing was desire.

When Connor stepped inside Frawley for contact and left the half on the floor in the process, you could never of assumed it would lead to a scrum down feed to Huddersfield, but after contact, Frawley got up and joined his teammates to push the Hull half 10 metres and over the sideline, in a show of real guts and determination.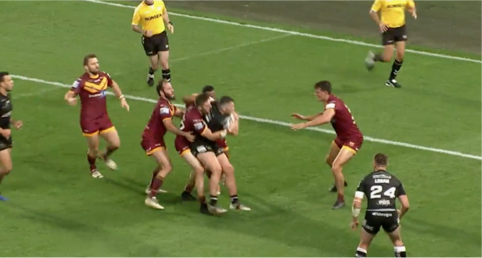 Senior was in full-flow throughout the game, with countless opportunities made for breaks, and when he had his opportunity one-on-one you bet he was going to take it, and it was that score that put the Claret and Gold outfit ahead, and there they stayed. Defence, attack, we had it all last Friday and it was topped off with a score by my personal man of the match, and created by the man I would put second.
Halves become whole against Hull
We have spoke about half-back pairings and what works and why, the creative, the organiser, but when two come together and both are at the top of their games, it's a coaches dream come true - Gaskell and Frawley being exactly that this week.
Frawley has had his critics, and Gaskell has played here there and everywhere in the last few weeks, but it all came together for the duo on Friday and a Gaskell grubber sending in Frawley to seal the game was about as good as it gets for the Giants fans. Frawley's absence will be missed when the side travel to St. Helens, but with Tom Holmes stepping up on various occasions this season, the Giants will be looking to all but secure our top flight status for next season.
On both sides of the ball, even during some of the poorer games for the Giants this year, Frawley has been one of the better players for the club. His efforts on defensive organisation have been a rare bright spark and his try for the Giants was a massive reward for a frustrating season for the Claret and Gold.