8 Nov 2019
Giants promoted to Women's Super League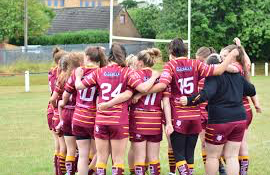 Huddersfield Giants will compete in the Women's Super League in 2020
Huddersfield Giants Women, operated by Huddersfield Giants Community Trust is delighted to now be joining the Betfred Super league, after a successful campaign in the Women's Championship 2019 season finishing in the top 4.

After meeting the necessary on-field standards the staff and players are looking forward to the opportunity to test themselves at the highest level in the women's game.

The Giants Women team started out as an under 19 squad in 2018, progressing to the championship last season. A dramatic rise, now the Super League beckons!
James Westerby, Head of Women & Girls Development says:
'With a young squad that are learning the game we are under no illusions of how tough it will be, but we are looking forward to the challenge. The aim is to continue the good work and I look forward to see the progression throughout the season.'
HGCT uses the influence of rugby league to actively, inspire and develop the sport within the local community.
Lisa Darwin Chief Executive of Huddersfield Giants Community Trust

'The trust is delighted to have secured Super League status and with the good work already in place our aim is to improve the growth and have a larger impact for women and girls sport within local and surrounding areas of Huddersfield.'

We have Women open access trials on Sunday 1st & 8th December 2019, if you are interested please contact James Westerby james@hgct.co.uk