27 Feb 2020
Takeaways: Huddersfield 22-4 Hull KR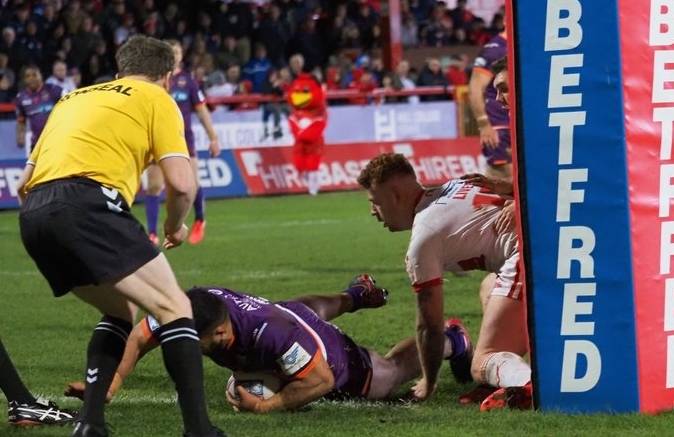 All the things we learned from the Giants third victory of the 2020 Super League Season
By Joe Buck
On a cold and windy night in Hull, Huddersfield Giants made it three wins from three and ended the weekend at the top of the Super League table.
A 22-4 victory over Hull Kingston Rovers secured top-spot for Giants and so we ask, what five things have we learned from Huddersfield's third-straight victory?
Braving the Elements
As mentioned, conditions at Craven Park were awful for a game of rugby league with the posts even swaying in the wind, such was the strength of the gales.
Attacking into this wind was a difficult proposition but Giants ensured their kicks were flat and even opted to tap penalties in their own half to negate the weather.
This was by no means a perfect performance against the wind however as two kick-offs from Hull KR were allowed to bounce and head over the dead-ball line, gifting the hosts a dropout.
However, Giants were resolute in defence, as has been the norm in 2020, and weathered the Rovers attack, limiting them to just one score.
Adapting to Injuries
As well as battling the elements, Giants also had to navigate around a few injuries that resulted in quite a reshuffle in order to bring home the two points.
An early injury to Darnell McIntosh meant Louis Senior, Sam Wood and the Wardle brothers were moved around the back line for most of the game.
They also had to deal with, what at the time, seemed like a serious injury to James Gavet with players such as Paul Clough and Ukuma Ta'ai asked to play more minutes than Simon Woolford may have wished.
Strong Start
In almost a mirror image to their season so far, Giants started Friday's game on the front-foot and never looked back
By scoring after just three minutes, doubling this lead fifteen minutes later and remaining resolute in defence, Huddersfield went into the break 10-0 ahead and came out for the second with all the momentum in the world.
Louis Senior Impresses Again
Trying to impress whilst being on the opposite wing to Huddersfield and England's Jermaine McGillvary must be a daunting task.
However, Senior put in another great performance on Friday and took his tally to three tries for the season.
Maybe teams are more wary of McGillvary on the other wing which allows Senior that extra bit of space and if that's the case, more fool them.
Then, when you remember Senior was shifted into fullback this game, meaning he was prime target for the swirling kicks by Hull KR, it's clear Senior is riding on the crest of a wave at the minute.
Forwards doing the business
There were numerous impressive performances on Friday night and, as a collective, the Giants forward pack were pretty faultless.
Paul Clough and Suaia Matagi got themselves on the score sheet for the first time this season and some huge tackles from Matty English caught the eye.
And, even though they lost Gavet through injury, Friday's game was just another in the series of the Giants pack dominating proceedings.