6 Mar 2020
Giants win at home of the Champions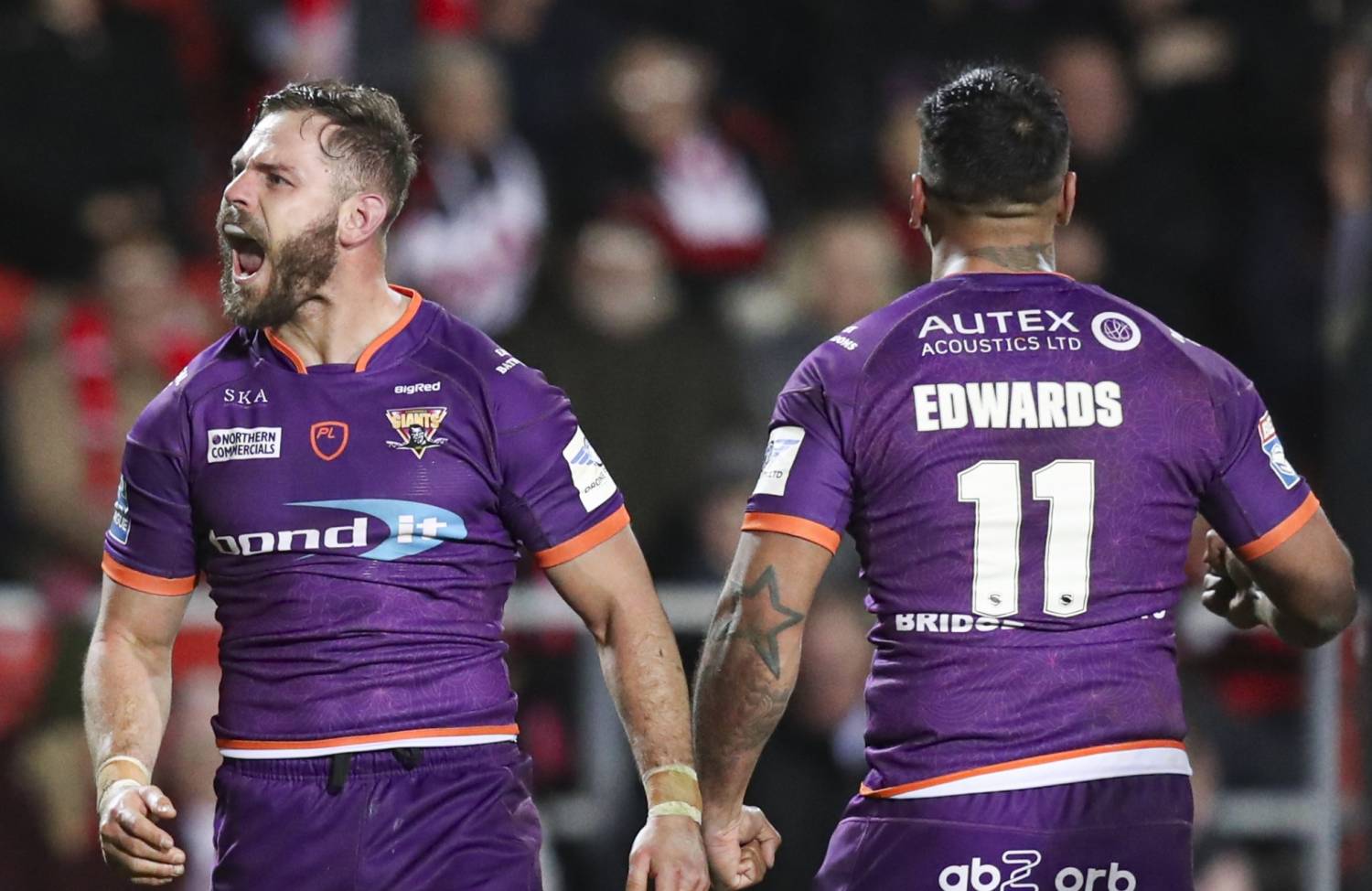 Huddersfield Giants 12-10 St Helens
By Joe Buck
Huddersfield Giants recorded their fourth straight away victory with a priceless 12-10 victory over reigning champions St Helens.
The match winners for Giants were Jake Wardle and Adam O'Brien who scored either side of half-time to give Giants victory.
As mentioned by Simon Woolford pre-match, Saints made a quick start and a teasing kick by Jack Welsby had to be smartly dealt with by Darnell McIntosh.
This was followed by an early enforced change for Giants as Lee Gaskell was forced off, replaced by Tom Holmes.
Undeterred by this change, O'Brien made it two tries in two games pouncing on a high bomb from Aidan Sezer that was allowed to bounce dangerously in the St Helens goal.
O'Brien scored by virtue of being quickest to react and when Sezer slotted the conversion, Giants were 6-0 ahead.
Saints were quick to react though and through Luke Thompson, the hosts were level after fifteen minutes, despite Tommy Makinson's best efforts with his conversion smashing off the woodwork and narrowly going over.
Saints forced Giants into a dropout and then forced a penalty which was enough to break a defence that had so far withstood all pressure.
Seven minutes later, the hosts took the lead for the first time when Morgan Knowles got onto the end of a kick from James Roby to score in the corner.
Before this try, Giants had a good spell of possession and field position and could have scored but for some fantastic defending by Regan Grace who denied Jordan Turner.
Once Giants had weathered the St Helens storm after Knowles' try, the game turned into a very stop-start affair with both sides conceding unforced penalties.
These errors meant the game never got into a flow as the half-time hooter approached and when Ukuma Ta'ai went down with a game-ending knee-injury, all momentum in the game dissipated.
A late flourish from Saints stretched the Giants defence to near breaking-point and Huddersfield were relieved to hear the hooter when Sam Wood acrobatically batted the ball into touch to get his side back in the changing rooms, trailing only 10-6.
Kevin Naiqama should have increased St Helens lead soon into the second half, but he delayed the pass to Makinson too long and was wrapped up by the Giants defence.
Saints then thought they had scored when Lomax touched down, but the referee had seen an obstruction in the build-up and Giants blushes were spared.
Giants were then punished for a series of penalties and spent the majority of the first ten minutes camped, defending their own line.
However, once again Giants survived, and they were able to force a couple of penalties themselves.
Yet, despite some decent field position, they looked lacking in ideas in attack and rarely tested the home side's defence.
They were almost made to pay by Saints who, once again, thought they had scored when Matty Costello found a gap on the left.
However, a great tackle from Jermaine McGillvary forced a knock-on and still the scoreboard read 10-6 to the home side.
They were then forced into some more last ditch defending and an interception from McGillvary stopped a nice-looking attack by Saints.
That defending from McGillvary proved vital as, in the next phase, Giants had levelled the game through Jake Wardle.
Wardle nipped past a defender and went one-on-one with Welsby who was brushed off by the Giants man to go through and score.
Sezer's conversion meant Giants led the game once more and with fifteen minutes to go, Huddersfield were 12-10 ahead.
Naturally, Saints came back hard at Giants and if a long, searching pass from Lomax had been just inches flatter, the hosts may have scored through Regan Grace.
Alas, the ball went in-touch and Giants headed into the final eight minutes with a two-point lead.
As the game progressed into its final stages, the Giants kicking game went from strength to strength with Sezer, Turner and Holmes all putting in perfect kicks to find touch and wind down the clock.
With four minutes to go, Giants were still ahead. Then with two to go, a forward pass from Giants gave Saints the ball back.
Makinson picked up the ball and sprinted fifty metres, luckily for Giants it was across the field and when Aaron Murphy fell on a loose ball with fifteen seconds remaining, the Cowbell Army were in full force.
A large round of boos greeted the officials as they left the pitch, but Giants left the pitch to a huge ovation from the travelling fans, a deserved reward for their efforts in defence and attack.
This was the perfect response from Giants to their humbling at home on Sunday and they have now beaten both 2019 Grand Finalists away from home so far this season.