19 Mar 2020
5 of the Best: Woolford Games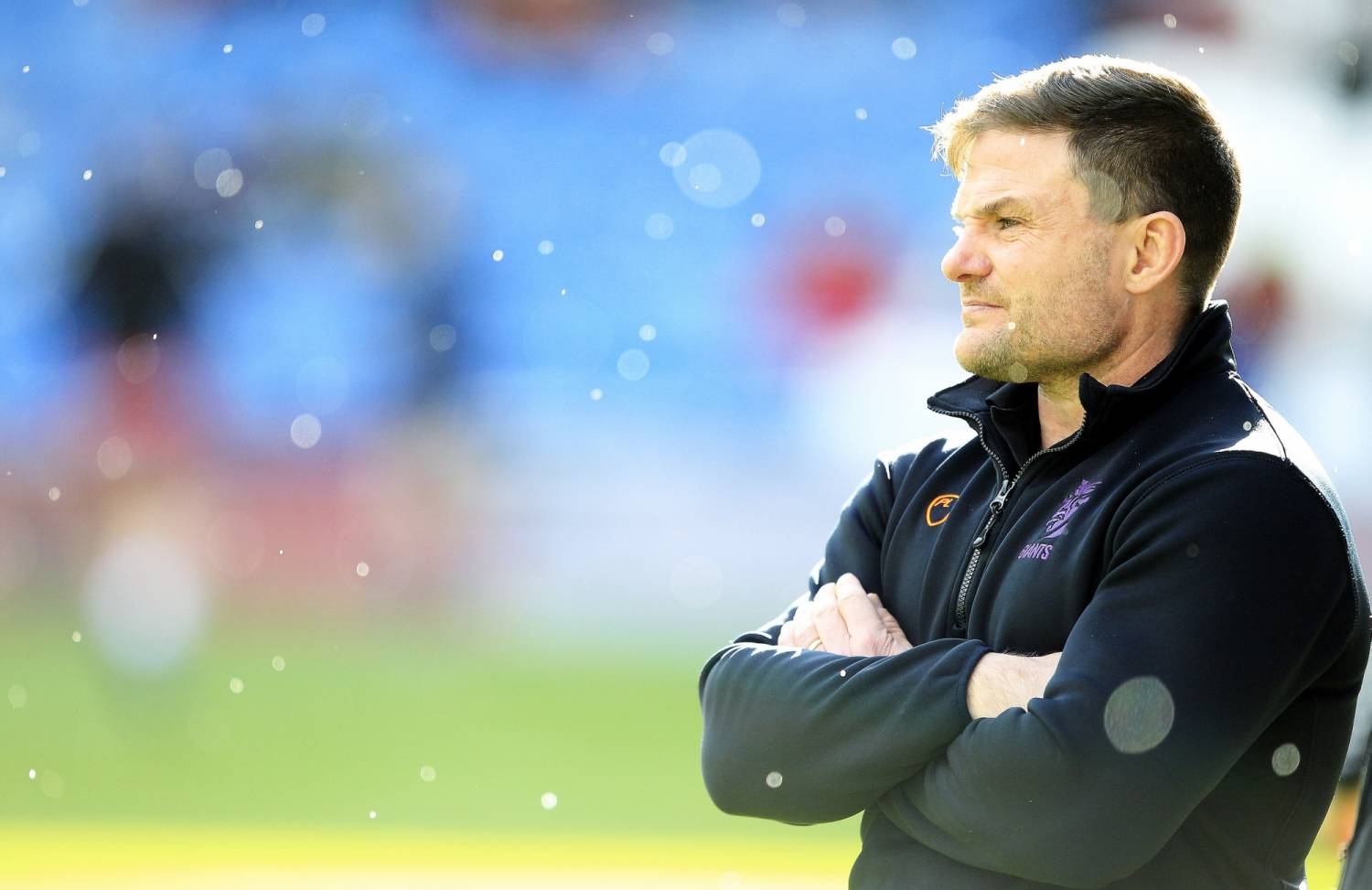 Five of the most important games that has defined Simon Woolford's reign as Huddersfield Giants Head Coach so far
By Joe Buck
It's been almost 700 days since Simon Woolford was named as Huddersfield Giants Head Coach and it has been a rollercoaster ride ever since.
From winning 10 of their next 11 Super League games and narrowly missing out on a playoff place, to surviving relegation on the final day of last season.
Giants have also had a huge overhaul in playing staff and their squad has transitioned greatly in that time with players such as Danny Brough, Ryan Hinchcliffe and Dale Ferguson all moving on.
Therefore, by having such a huge impact at Giants, what five games have shaped the Woolford tenure at Huddersfield?
St Helens 10 – 12 Huddersfield – 6th March 2020
That, my friends, is a dub at the home of the Champions. ✅ pic.twitter.com/k3Cf3b1R7z

— Huddersfield Giants (@Giantsrl) March 6, 2020
It took a while for Giants to add that consistency, over nine months in fact, but when they finally nailed it, they looked unstoppable.
Everything went right for Giants against Saints, from their hosts being slightly off-colour, to Giants punishing every mistake.
Much like the pervious entry on this list for St Helens, this game was another litmus test for Giants to see if their promising start to the season was deserved, or a bit of a fluke.
Certainly, as Giants headed to the Totally Wicked Stadium, many onlookers expected the Giants bubble to well and truly burst and for Saints to reign supreme.
However, Giants were not to be rolled over and by the simple virtue of "staying in the game", they were able to pounce through Jake Wardle.
For most of Woolford's reign, he has insisted his side needed to remain in the fight to give themselves the best chance of victory.
This match against St Helens was the embodiment of this message that had been pushed throughout the previous 676 days since Woolford took charge.
Will Giants win trophies from this game? Absolutely not. But, their spirit, determination and fight shown in this game may be enough for them, somewhere down the line, to bring silverware once again to the John Smith's Stadium.
Wakefield 22 - 25 Huddersfield – Magic Weekend 2018
The first choice is a game that Woolford was not in charge of, but it is a hugely significant moment in Giants' recent history.
Not only was this the game that Aaron Murphy found a new lease of life as a forward, winning man of the match in the process, but it was also the game that showed Giants were a changed team.
Their defensive resilience in repelling a Wakefield attack that was growing in confidence every minute was one of the highlights at St James Park.
Chris Thorman took charge of the team that day and guided Giants to back-to-back victories that set a platform for Woolford and the team to build from in the second half of the season.
St Helens 12 – 16 Huddersfield – 10th August 2018
Giants suffered just one league defeat after Magic Weekend, winning all four games in July, and therefore, they went to top of the table St Helens full of confidence.
And then, after just twenty minutes, Giants found themselves 16-0 up in a game many believed would show this late season run to be a fluke.
However, as the Giants defence remained resolute, and the Saints attack became desperate, many heads were turned that night.
Ultimately, Giants would fall short of the most unlikely of playoff berths, however, this game showed what Huddersfield were all about under Woolford and removed any lasting memories of their 66-4 loss in round 12.
Huddersfield 14 – 34 Salford – 1st February 2019
Despite ending 2018 out of the playoff places, hopes were high for the first full campaign under Woolford.
And when Giants were drawn to face Salford in round one, at the time, it was believed to be a nice re-introduction to Super League.
However, the eventual Grand-Finalists had other ideas as they consistently challenged an injury-hit Giants side, winning handsomely at the end.
Although hopes were high, it became clear very early on that Giants would have a tough season ahead, both on the field, and off the field.
Injuries became commonplace and Woolford often struggled to name a full squad for games with players like Scott Grix and Izaac Farrell being asked to play more minutes than they would have anticipated pre-season.
Salford perfectly exploited everything that was going wrong at Giants at the time and Huddersfield's campaign got off to the worst possible start.
Hull FC 2 – 55 Huddersfield – Magic Weekend 2019
It's a Magic Record as the Giants produce the biggest victory in the history of #MagicWeekend #HuddersfieldBorn pic.twitter.com/7f0w5hWIy7

— Huddersfield Giants (@Giantsrl) May 25, 2019
Without doubt, the highlight of 2019 was the Magic Weekend demolishing of Hull FC at Anfield, a result which absolutely no-one saw coming.
Giants led this encounter from the fourth minute after a Joe Wardle try sent Huddersfield, adorned in red, on their way.
Jake Wardle soon got in on the act as well and Giants ended the day with seven different try scorers, including scores from boyhood Liverpool fans Adam O'Brien and Jermaine McGillvary at the Kop End.
This victory made it two wins in two games against opposition from Hull for Huddersfield and looked like potentially being a turning point in their season.
Post-match, Woolford heaped praise on his side, claiming the result was a reward for the hard work until that point, saying:
"I was confident we would do well, no doubt about it, but you know to come away with that score line is a reward for the boys, it's been a tough year."
This result, although it didn't galvanise the squad as assumed on the day, gave Giants fans, and Woolford, hope and belief that the team were capable of huge results, they just needed to add that consistency to their game.
These five games show the huge contrasting fortunes that Huddersfield have encountered under Woolford so far.
From scintillating victories, to close-run battles and fights, to the damaging defeats, Giants have certainly not made it easy for fans in recent times.
However, it is clear that maybe, just maybe, Giants are inching their way to success with Woolford and his backroom staff.