19 Mar 2020
The Chalkboard: 12 teams, 12 styles updated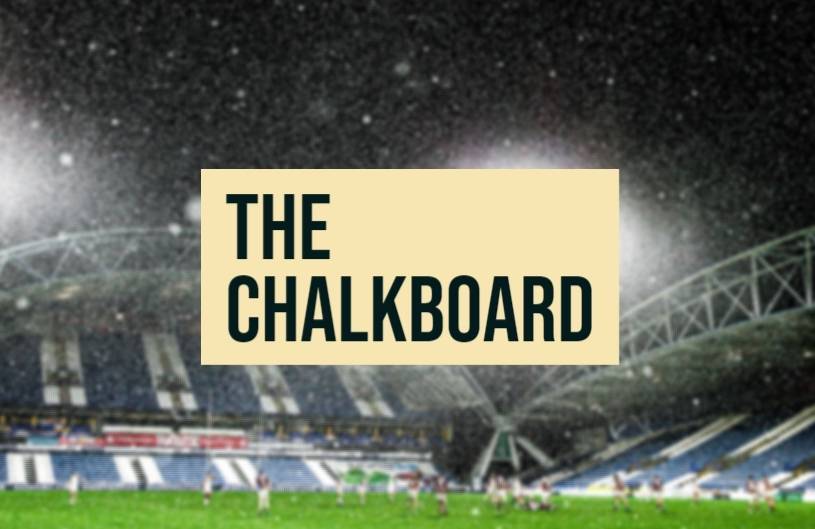 Sean Evans looks at his pre-season tactical predictions and updates them after 7 rounds of the Super League
CASTLEFORD TIGERS
Last time I spoke about the ferocity of the Jungle… Maybe it's panned out differently for the Tigers. With injuries hitting the forwards, it's been up to sheer cunning to get Castleford back to form, and Paul McShane and Danny Richardson have led the way in turning the Tigers around. Smart plays have allowed players like Olpherts, Shenton and Trueman to show some individual class, and with the return of Liam Watts, this team will get harder to beat.
Olpherts 😱 HOW?!?@CTRLFC are flying live on @SkySportsRL Main Event & Arena now! #SLCasStH #SuperLeague pic.twitter.com/6m4KW0vB6T
— Betfred Super League (@SuperLeague) March 15, 2020
CATALANS DRAGONS
As covered in our pre-match show, Catalans have become the latest side to adopt a McNamara style… which previously I didn't believe existed. If we rewind to the Dragons of last year, a lot rested on the fluidity and lack of structure with players like Gigot and Tomkins, this year however that structure has been the start of a near unbeaten beginning, only falling to the Giants on the opening day. Not bad at all from the French outfit.
HUDDERSFIELD GIANTS
Game-to-game management was important to get us through 2019, but in 2020 it's the same management that sees us flying into the top 5 with games in hand, and including the first win for any away side at the totally wicked stadium since 2018. The structural organisation of Sezer and leadership qualities of Edwards and Gavet has rejuvenated a young side that scrapped their way to survival, and will be looking to push for that top 5 birth if and when the competition continues.
First #SuperLeague home defeat for @Saints1890 since 2018 as @GiantsRL win 12-10 at the Totally Wicked Stadium 👏#WePlayLeague pic.twitter.com/nshEeX2q3t
— Betfred Super League (@SuperLeague) March 7, 2020
HULL FC
Hull FC definitely pulled off the shock of the season so far, being the live sacking of head coach Lee Radford on Sky Sports. FC have seemingly struggled for identity this season after a turbulent 2019 season, and with Radford now seeking opportunities elsewhere, this Hull team almost have no direction. Change is needed at the black and white's but until then it is hard to really pin-point what way this team and this organisation will go.
HULL KR
2019 saw the end of London's heroic efforts but from the opinion of Hull KR, it was a needed sacrifice and in Tony Smith they have one of the best coaches in the game. Glittering in honours, due to his no nonsense tactical awareness, his style brings a dimension to the Rovers game, even without key players like Jordan Abdull. Maintaining this side may yet be one of Smith's finest achievements.
LEEDS RHINOS
12 months ago, many fans would have laughed at the appointment of Richard Agar as head coach, but since taking over from Dave Furner, the Leeds side have become as strong as we've seen them since 2017, if not stronger. A couple of timely recruits were added to the Rhinos line-up but they are still some way from reaching former glories. With Agar, Leeds have kept their free-flowing style and implemented it to utilise players like Konrad Hurrell, to devastating effect.
SALFORD RED DEVILS
Grand Finalists but seemingly for one season only. The skill on show from Salford last season was immense in the face of all doubt, but with masses of losses the way that Salford utilised attacking positions has changed, probably due to the tactical genius of head coach Ian Watson. Lolohea has become pivotal in the movement of Salford, with Dan Sarginson and Kevin Brown bringing much needed experience (and match winning moments), still it will take some doing to repeat last years efforts.
A great comeback from Salford Red Devils, a brace from Niall Evalds and a massive game winning hit from Dan Sarginson!

Last night's action at the AJ Bell #SuperLeague pic.twitter.com/ZFP7A2Zqxj
— Betfred Super League (@SuperLeague) March 14, 2020
ST. HELENS
Never write off the Saints - that's what we are told, and it couldn't be more poignant this season. It seems to the naked eye that St. Helens have collapsed under new head coach Kristian Woolf, but self-admittingly, Woolf has changed next to nothing of the team's style and as we've seen with his time at Tonga, he is capable of managing a side no matter the difficulties, I expect Saints to return to their flowing best, and the combination of Lomax, Fages and Coote to still be one of the best in Super League.
TORONTO WOLFPACK
It's been an unpretty start to life in Super League for the north Atlantic side, but there is no need to fear yet… in fact, in recent times, one would argue, that improvements are evident and after a tough win against the Giants momentum could stir. Playing similar to the successful Leeds sides of old, with plenty of offloads, the fate of the Wolfpack may just rest in the home form they are able, or not, to produce.
WAKEFIELD TRINITY
Rugged and ready for battle I think are fair ways to describe how Chris Chester likes to play rugby, and when you have the forward pack Wakefield have, it's the right approach to take. Brough has added a kicking dimension to this side but their games are won in the forwards and when the Trinity fans get on your back at Belle Vue, you know you're in for a right ol' scrap. They'll be a tricky team to beat on their day, for any side in this league.
WARRINGTON WOLVES
I don't think anybody knows what to make of Warrington, an opening day loss to Wigan, an almost unbelievable victory against St. Helens, a hammering by Leeds before putting the final nail in Lee Radford's coffin. Stylistically, with Austin and Widdop, you expect this team to throw more shapes than any side in the league but I think large portions of their inconsistencies lie in the lack of relationship between the halves. The attacking play will only get better and better at the Wire, and if their defence can be more like the St. Helens fixture and less like the Leeds, they won't be far off.
Class from @WarringtonRLFC 👀👏

Wolves v Hull FC live on @SkySportsRL #SLHulWar #SuperLeague pic.twitter.com/MBrmdCufMw
— Betfred Super League (@SuperLeague) March 12, 2020
WIGAN WARRIORS
It's happened… "Lamboyancy". Wigan have gone up a gear, and despite disappointing defeats to Castleford and Salford, both which Lam will feel his side should have been strong enough to win, Wigan still remain the most exciting team thus far. Bevan French has improved on his quality form last season and looks set to battle with McShane, Sezer and the likes for Man Of Steel. His move to full-back has created defensive securities at centre, in Zak Hardaker, and with Hastings up to his old tricks, it'll be hard to see the Warriors going anywhere but up. Lots of short balls, and trick plays to be expected whenever we see Wigan play rugby league.