20 Dec 2020
Fast 5: West Yorkshire Derbies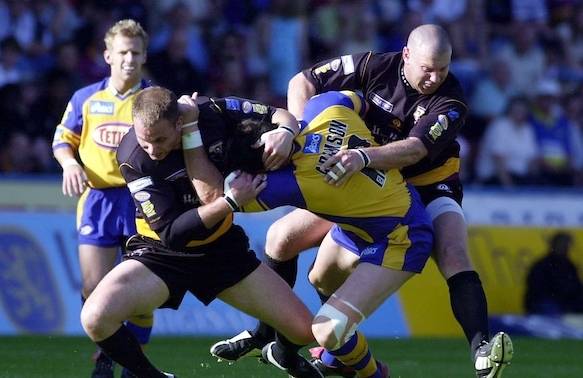 We looked at 5 of the best games against the Old Enemy from Headingley
By Joe Buck

Tuesday 28th April should have seen Huddersfield go up against bitter rivals Leeds Rhinos in a top of the table clash…let us believe.
Instead, we will look at some of our most impressive victories against Leeds in modern times and relive some of the action.
Huddersfield Giants 30 - 24 Leeds Rhinos – 12th July 2003
Where else could this list start other than Huddersfield's first victory over Leeds Rhinos in 38 years?
As told in our Long Read, Huddersfield had started the season promisingly and although expectations were low, especially against their local rivals, there was hope they could finally end the hoodoo.
And end it they did with an emphatic 30-24 victory, a score line which was a lot closer than many Giants fans would forgive the side for.
A 12-point Giants lead was clawed back by Rhinos and hopes of victory looked lost but then, in a moment which will be enshrined in Giants history, Brandon Costin scored with just two minutes left to grab Giants victory.
Summed up post-match by Phil Clarke on Sky Sports, he said: "It would have been an injustice if Huddersfield had not won tonight."
"They put more desire and effort into the game, and they played the better Rugby."
Huddersfield Giants 26 – 20 Leeds Rhinos – 14th March 2010
Unbelievably, Giants fans would have to wait almost another seven years before their next triumph over Rhinos.
This time, Giants were on an upward trajectory under Nathan Brown and despite Leeds being reigning champions and having an 18-12 lead at half-time, Giants were simply too strong for their opponents.
Racing into a 12-point lead early on, all looked lost at half-time, but Huddersfield stepped up a gear, allowing only a Rob Burrow penalty to penetrate them in the second half.
Naturally, this derby had a lot of fire from both sides who each had a man sin-binned in the second half before Leroy Cudjoe's 74th minute penalty secured victory for the home side in front of 10,000 spectators.
Leeds Rhinos 8 – 32 Huddersfield Giants – 8th March 2013
From no victory in 38 years, to waiting seven years for their next, to this game which secured Huddersfield's third-straight victory at Headingley.
Coming into this game, Giants title-credentials were on the line after defeat to Bradford Bulls a week previous.
However, Joe Wardle, Aaron Murphy, Danny Brough who scored and assisted four others, Scott Grix and Eorl Crabtree alleviated any fears from the Cowbell Army.
Other than a penalty on the stroke of half-time, Leeds were unable to get a foothold into the game and their only try came when they were 26-2 behind a dominant Giants side.
Huddersfield Giants 22 – 14 Leeds Rhinos – 18th September 2016
The form coming into this game did not suit Giants, their visitors had won eight games in a row whilst Huddersfield were staring at the prospect of playing in the "Million Pound Game".
However, fast-forward 45 minutes of action and Huddersfield were 20 points to the good having, until this point, put in one of their best performances of the season.
However, ten points in the space of two minutes from Rhinos had Giants fans fearing the worst.
Up step Danny Brough, ever the saviour for Giants, to slot home a penalty and put the game beyond doubt despite yet another late rally from Rhinos.
It wasn't a complete performance from Huddersfield, far from it, however, it was their most impressive victory of the season at the most-pressurised time of the season.
Check the game out in FULL on GiantsTV
Leeds Rhinos 18 – 25 Huddersfield Giants – 8th June 2018
He first game of the Simon Woolford era at Giants started on the best possible note, victory at Headingley over Leeds.
Despite being knocked out of the Challenge Cup a week before in a highly contentious game, Giants put that behind them to defeat Rhinos, putting in a very professional performance in the process.
An Olly Russell 75th minute drop-goal put the game beyond doubt for Huddersfield with the halfback impressing throughout having to deputise for the suspended Danny Brough.
This was the start of a fantastic summer for Huddersfield and the first glimpse at what fans could expect from Woolford's Giants.