24 Mar 2021
Davy excited ahead of opening game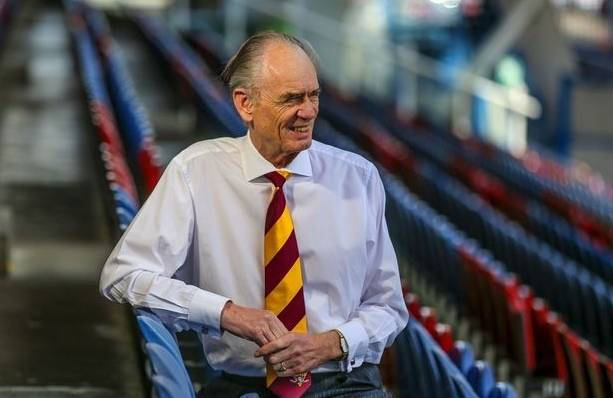 Huddersfield Giants Owner Ken Davy today spoke to www.giantsrl.com ahead of the opening game of the 2021 BetFred Super League Season.
"It's a tremendously exciting time to be a Giants supporter of that I've no doubt. The Club, the Game and indeed life in general has been depressed in many ways by the Pandemic and for the first time now in a long time I sense genuine excitement around everything associated with the Giants. Sunday is going to be a special day in what we all believe will be a memorable year."
"It seems such a long time since we saw the claret and gold in action and whilst Sunday is behind closed doors we are grateful to our broadcast partners Sky for showing the game live and for allowing and facilitating it to be shown to all our season card holders on the OuRLeague platform. Hopefully it will not be long, if the government plan goes well, that we will safely see the return of spectators to the grounds and that's a day that frankly can't come quickly enough for any of us."
"Our side has been much changed under the leadership of Ian Watson and his trusted fitness guru Greg Brown and the reports that I get are that we have prepared well and are ready to embark on the exciting journey that will be the 2021 Bet Fred Super League. I am not one for outlandish predictions however everyone knows of my desire to see the Giants competing in and winning the big games.
"This year however more than anything else I want us all to enjoy our Rugby League and supporting the Giants. We will have highs and lows – it's the nature of our sport – but I do want us all to enjoy every aspect of the game and support the Club in whatever way possible. The last year took a heavy toll on all sporting clubs and we are no different so every season card you buy, replica jersey you wear, every lottery membership you take up and every sponsorship, partnership and box you buy are absolutely critical and much appreciated.
"As things stand we will have capacity issues even at our magnificent stadium when the supporters are allowed back and the season card is the only way to guarantee your place for the early games under the return to crowds protocol set down. As the owner I can be one of the five permitted attendees on Sunday under strict regulations and I look forward to representing you all who are watching on the screens and doing my best to shout for you all and it will be good to know that you are behind the club in ever growing numbers as we begin our new journey under Ian Watson. It is a journey I am very much excited by and looking forward to."