22 Apr 2021
The Lowdown: St Helens (H)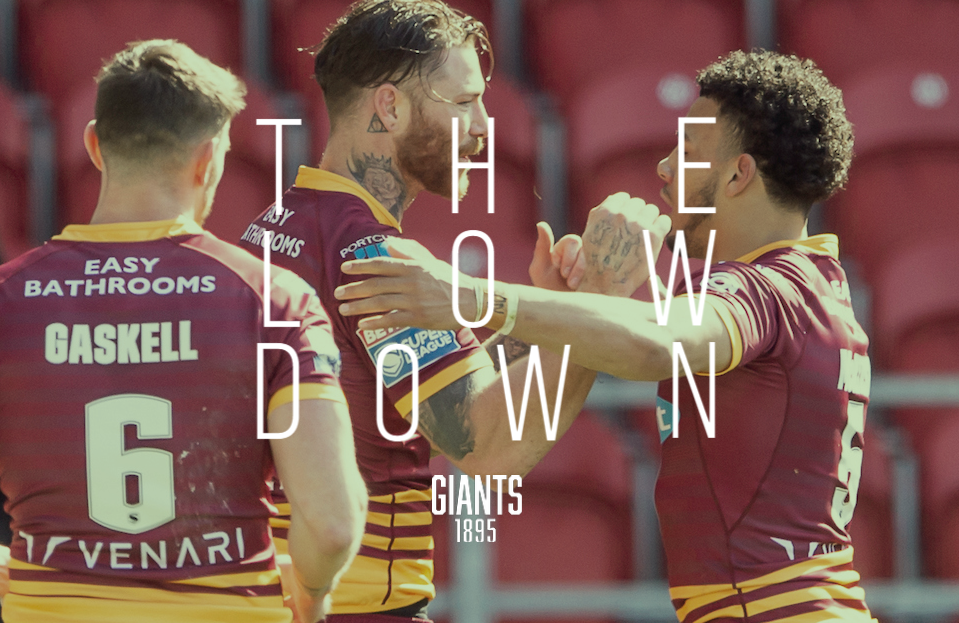 The Brief
Huddersfield Giants look for their first win of the 2021 Betfred Super League season against the side that won the competition in 2020, St Helens. Having been bested by Hull KR last week in a dramatic end-to-end game, the Giants will need to be at their very best to overcome the challenge of the Saints, who have set the pace so far, conceding just 4 points a game in their three games this season.
The Giants will have to face this task without two of their first-teamers, with Ian Watson confirming injuries to both Leroy Cudjoe and Jake Wardle, meaning there will be some significant changes to the composition of the Giants line-up.
The Teams
🚨 SQUAD NEWS delivered to your door by @delivereehfx

👉 Ian Watson names unchanged squad
👉 Sezer, Cogger and Gaskell named

What do you think of the squad, #CowbellArmy?

👇 👇 👇 pic.twitter.com/fcieDdnlOn
— Huddersfield Giants (@Giantsrl) April 20, 2021
Huddersfield: McGillvary, Wardle, McIntosh, Gaskell, Sezer, Yates, O'Brien, Lawrence, Edwards, Jones, English, Cogger, McQueen, Ashworth, Cunningham, Wilson, Cudjoe, Gavet, Senior, Wood, Michael
🚨 SQUAD NEWS delivered to your door by @delivereehfx

👉 Ian Watson names unchanged squad
👉 Sezer, Cogger and Gaskell named

What do you think of the squad, #CowbellArmy?

👇 👇 👇 pic.twitter.com/fcieDdnlOn
— Huddersfield Giants (@Giantsrl) April 20, 2021
St Helens: Coote, Naiqama, Percival, Grace, Lomax, Fages, Walmsley, Roby, Thompson, Bentley, Mata'utia, McCarthy-Scarsbrook, Amor, Paasi, Welsby, Smith, Batchelor, Dodd, Wingfield, Norman, Nisbet
The Stats
St Helens have won their last four away meetings with Huddersfield (including last season's game at Headingley). The Giants' last home win against the Saints was 24-16 on 16 June, 2017.
Last 10 meetings:
Huddersfield 6, St Helens 54 (SLR11, 4/9/20)
(at Emerald Headingley, Leeds)
St Helens 10, Huddersfield 12 (SLR6, 6/3/20)
St Helens 48, Huddersfield 6 (SLR28, 6/9/19)
St Helens 38, Huddersfield 2 (SLR18, 14/6/19)
Huddersfield 16, St Helens 22 (CCR6, 12/5/19)
Huddersfield 12, St Helens 40 (SLR6, 14/3/19)
St Helens 12, Huddersfield 16 (SLS8-R1, 10/8/18)
St Helens 66, Huddersfield 4 (SLR12, 20/4/18)
Huddersfield 12, St Helens 26 (SLR3, 23/2/18)
St Helens 40, Huddersfield 16 (SLS8-R6, 15/9/17)
Super League summary
Huddersfield won 13
St Helens won 40 (includes wins in 2009 and 2010 play-offs)
1 draw
Huddersfield highest score: 48-20 (MW, 2016) (Widest margin: 40-4, A, 2013)
St Helens highest score: 68-18 (H, 1998) (Widest margin: 66-4, H, 2018)
Huddersfield's JERMAINE McGILLVARY needs two tries to draw level with LEON PRYCE in seventh place in the list of Super League's all-time leaders.
Danny McGuire 247
Keith Senior 199
Paul Wellens 199
Ryan Hall 199
Ryan Atkins 186
Josh Charnley 183
Leon Pryce 173
Jermaine McGillvary 171
Luke Dorn 170
Rob Burrow 168
David Hodgson 168
The Opposition
St Helens remain the team to beat in Super League. The Champions for the last two years and the undisputed most consistent team in Super League for a number of years now. Led by their galaxy of stars, including Golden Boot winner Tommy Makinson, Lachlan Coote, Regan Grace and the ethereal James Roby, consistency has been the key to their sustained success and the core of the group has remained stable while class is regularly imported in.
Their race for the threepeat saw Joel Thompson arrive from Manly, Agnatius Paasi from New Zealand Warriors and explosive back-rower Sione Mata'utia, younger brother of Peter, added to Kristian Woolf's squad to further deepen a squad with plenty of talent. Pretenders to the crown, beware.
The Key Quotes
"We've not had our full squad. We'd like to get a full strength team out there. It is what it is at this moment in time. We need to get them fit and healthy so when they come back they'll stay back" - Ian Watson speaking to the press about the injury situation since the start of the season.
"There is no way of avoiding our disappointing start to the season. No one expected us to lose our first 3 super league games particularly with the talent we had and those the board recruited on and off the field. However I am not perturbed. I've watched every game and whilst there have been unavoidable lapses in concentration, and on occasions apparent lack of effort by some players, there have been flashes of brilliance." - Giants Chairman, Keith Hellawell, in his pre-match comments.
"If we remain intense in our defence and show the fluidity in attack that we have shown in glimpses this season so far, we know we have a great chance to get our first win of the season. It will be tough, but if we stick to our process, we're confident we can exhibit progress from the first three games of the season." - Club Captain, Michael Lawrence on the Giants task against St Helens.
"I look at it as potentially our toughest challenge yet, I think if you look through the Huddersfield squad, they've got a very classy squad. Across the board, they're a team with some real quality. When you do lose a couple of games you get a real steel about wanting to turn that around and that's what I'd expect them to have this week." - Kristian Woolf on the challenge of Huddersfield.
How to watch
Tonight's game is broadcast on Sky Sports Arena, and also on OuRLeague for Huddersfield Giants Season Card holders without a Sky subscription. For more information on the OuRLeague service, click here.