16 Jul 2021
Coaches Comments brought to you by Abzorb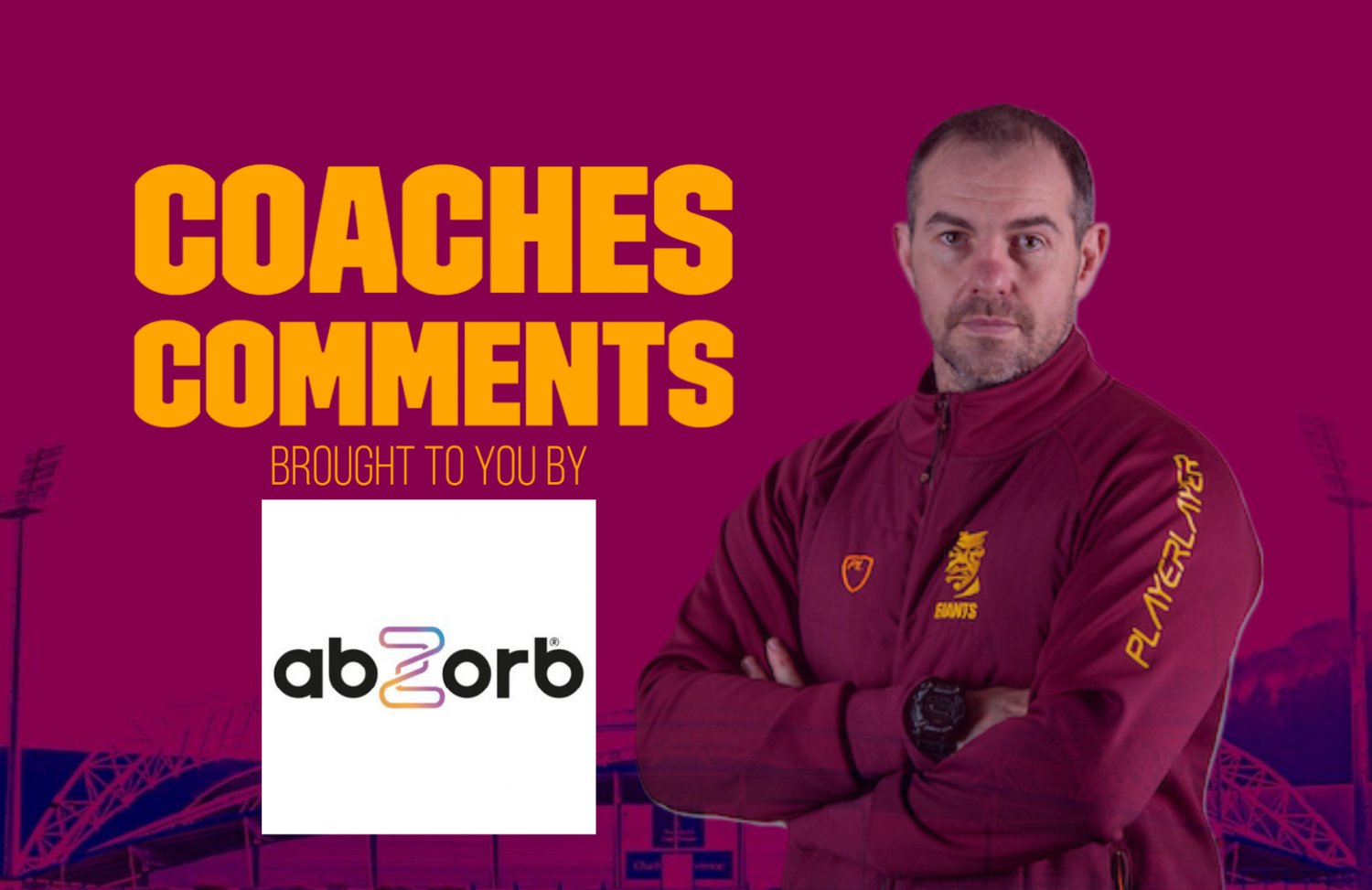 Ian Watson has confirmed that Olly Wilson and Kieran Rush will be added to the squad for tonight's game against Wigan Warriors (KO 7:45pm).
"We'll be adding Oliver Wilson & Kieran Rush to the squad. Jermaine McGillvary will be added to the squad to replace Olly Ashall-Bott" said Watson.
With multiple long-term injuries and Covid-19 omissions, Watson's side has lacked consistency in their team selection, but the work being done on the training field this week and last week, Watson says, has benefitted the squad and the Giants best side from the group they have available is emerging.
"Last week was our first week where we've been able to have proper training and the boys are looking really good for that in terms of the combinations. We're trying to find our best spine and find the best players for positions within the team. When you can't train however, they decondition and they lose fitness."
"Last week I thought we looked good, and this week I think they'll be even better."
Watson's had to rely on a number of younger players, including Will Pryce, Robson Stevens, Kieran Rush, Aidan McGowan and Fenton Rogers, to come into the squad in recent weeks, but Watson sees the positives from this in the enthusiasm and energy they bring to the group. He does, however, hail the impact of recent loan signing Nathan Peats, who has brought a cooler head to proceedings, as shown in the Wigan game.
"A lot of them are quite young guys but they're doing what they need to do and they're showing great signs. It's challenging but it's exciting with the young lads, they're enthusiastic and they bring energy to you as a coach. We've got lots of young guys but we've also got Peats who's come in and brought experience and a calm head, and that showed in the game.
"It helps Olly Russell, Will Pryce and Sam Wood and Ash at the back to have a bit of consistency and a bit of experience within the squad."
Aidan McGowan and Fenton Rogers have been named in the squad alongside late addition Kieran Rush, but for McGowan and Rogers, Watson has confirmed that the two won't face Wigan Warriors this week, but they're progression is moving nicely. The club need to do right by them, Watson insists.
"They'll both be in with the squad but they won't feature. They're not too far from being ready but it'd be a tough match for them and a steep learning curve for them to go against this Wigan pack. It's the same with Will Pryce, we feel he's been nearly ready but we've been building him week-by-week to make sure he is ready to play first team at Super League. What we don't want is them getting injured and getting concussed and feeling pressured to play them - we're going to put players in when they're ready to play."
The Giants welcome Nathan Peteru and Nathan Peats into the squad for last week's game at the DW Stadium, and Watson hailed their impact since joining.
"Really happy with them. That experience helped, the two gave us more experienced heads to help out the team. It's good for the spine, it's good for the team and we can build them up and get them working together."
Huddersfield fought a close game against last years League Leaders, and Watson insists that 'it's only small things' that kept them from winning and if they can iron out those issues, they could come away with a win.
"The big thing for us is to learn what we did well in the first game and execute better. The proof will be there tomorrow night and we'll see whether we executed better. It's only small things - we could have come away with the win on Sunday - but we just need to be better."
"I think this group, here at the moment who are playing, are playing for each other. How hard they worked was key for the team for nearly getting the win."