5 Aug 2022
Gameday Guide: Hull FC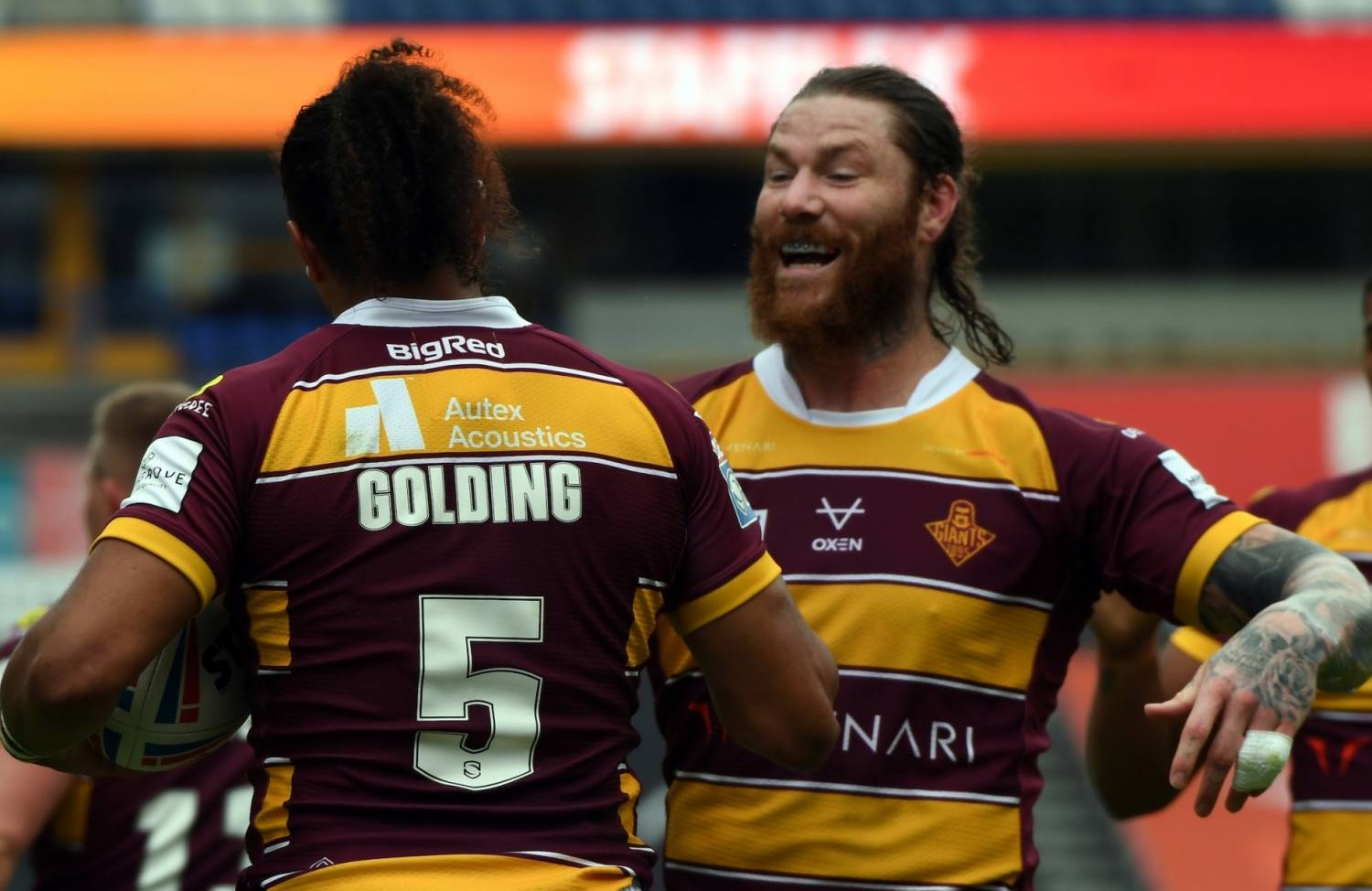 Huddersfield Giants and Hull FC meet in a crucial Betfred Super League fixture at the John Smith's Stadium this Friday 5th August at 19:45. The Giants are make it back-to-back home wins to continue their excellent form in front of the Cowbell Army after their win last Saturday against Warrington Wolves. Click here to get your tickets now!
When is the game?
Huddersfield Giants kick off at 7:45pm at the John Smith's Stadium this Friday 5th August. Turnstiles will open at 6:45pm on gameday.
What's on at the game and when?
There are loads of activities available at the game for you to enjoy. The centrepiece of the Giants offering to home and away supporters will be the Deliveree Fan Zone, opening from 5:30pm on gameday featuring a food outlet and bars for supporters to sample a party atmosphere in the front of for a vibrant tailgate feel. A musical act will be performing around the stadium, alongside DJ from the Hart, who'll be spinning all your favourite tracks from inside the Food Festival.
Huddersfield Giants Community Trust will be running a Community Zone outside the Stadium featuring activities for children and face-painting from the Huddersfield Giants Cheerleading Pro Squad. Big G will also be around the perimeter of the Stadium to provide our younger supporters with an opportunity to get photos with our famous mascot.
Running Order
5:30pm Deliveree Fan Zone opens and DJ from the Hart will begin spinning your favourite tracks.
6:00pm Huddersfield Giants Community Zone opens with face-painting and activities for kids, Big Dog Giants Gameday Store opens
6:45pm Turnstiles open & the Giants Music Tent opens outside the front of the stadium.
7:45pm Game kicks-off
How much are tickets?
Ticket prices are as follows:
Pre-buy & SAVE on Matchday Prices
Adults £21 - Matchday £25
Senior Citizens (65 & Over) £16 - Matchday £20
Under 17s £6 - Matchday £10
Under 5s - Free of Charge
Ambulant Disabled/Carer £21/Free - Matchday £25/Free
Disabled Wheelchair/Carer £16/Free - Matchday £20/Free
Junior Members looking to receive their FREE ticket for the fixture will need to exchange in advance at the Ticket Office. Please note your Season Card will not be accepted on matchday on the gate and Away Junior members will need to exchange their Tickets at the Wigan Ticket Office prior to matchday.
We are advising that supporters, where possible, use Mobile and Print at Home tickets to minimize disruption to the Club's Ticket Office, as we are currently experiencing technical problems with our ticket printing system. We apologise for any inconvenience and thank supporters for their patience.
All away supporters are advised they will be unable to purchase away tickets at the Giants Ticket Office on matchday, and if they don't have a ticket to pay cash on the turnstiles.
What are the Covid-19 guidelines?
There is no requirement to show proof of vaccination or negative lateral flow test. We would however ask supporters to wear a mask in crowded areas and to follow existing government guidelines for their own and everybody else's safety. The stadium operates contactless payment only concession outlets for anyone wishing for refreshments within the ground.
Will the Players Bar be open?
The Player's Bar is open for Bar Pass holders only. The Huddersfield Giants Supporters Association Lounge at the Legends Bar & Cafe, located in the KAL Leisure Centre at the Stadium will be open from 5:30pm for Huddersfield Giants Supporters Association members only.
The bar is open to non members and visitors but they ask for a minimum £1 donation on the door, anyone wishing to join the HGSA can do so here www.giantssupporters.co.uk/joi...
What is #ScarvesUpForFartown and where is Section 7?
The HGSA (Huddersfield Giants Supporters Association) are delighted to announce that in an effort to try improve the matchday atmosphere at the John Smiths Stadium, there is to be a trial period of three games to try and get as many likeminded, vocal supporters congregated together as one, like Elland Road and Tottenham.
There are many supporters dotted around the stadium who we are told refrain themselves due to the respect for others around them, this trial will enable those fans to be around others who prefer a noisier scene.
There are a number of seats identified in block 7, rows MM -GG, seats 164-180 of the Chadwick Lawrence (Kilner Bank) which have no season card holders at the moment therefore have been chosen as the place to congregate.
Huddersfield Giants Supporters Association are asking all fans to dig out scarves, flags and banners again and bring them to the next few games, we want to create a sea of claret and gold in the stands for our next home game against Warrington.
The idea being that fans hold up scarves and flags as the team comes out and as the game kicks off whilst singing along to "Can't help falling in love" and also during the game and hopefully build up the level of support, vocally and visually in the run up to the play offs and beyond!
Can I get a Half Season Card?
Huddersfield Giants are offering a Half Season Cards for supporters to back the boys as we look to reach the Betfred Super League Playoffs for the first time since 2015.
The Season Cards will include entry to a West Yorkshire Derby against Leeds Rhinos, Castleford Tigers and Wakefield Trinity and massive clashes against playoff rivals Hull FC, Castleford Tigers and a double against Warrington Wolves.
Half Season Cards are now on sale at the following prices in either the Core Stand Lower or Chadwick Lawrence Stand:
Over 30's - £85
Under 30's - £45
Under 5's – Free
Legends Prices
Over 30's - £145
Under 30's - £60
Under 5's - Free