12 Sep 2022
Giants give warm welcome to Ukrainian refugees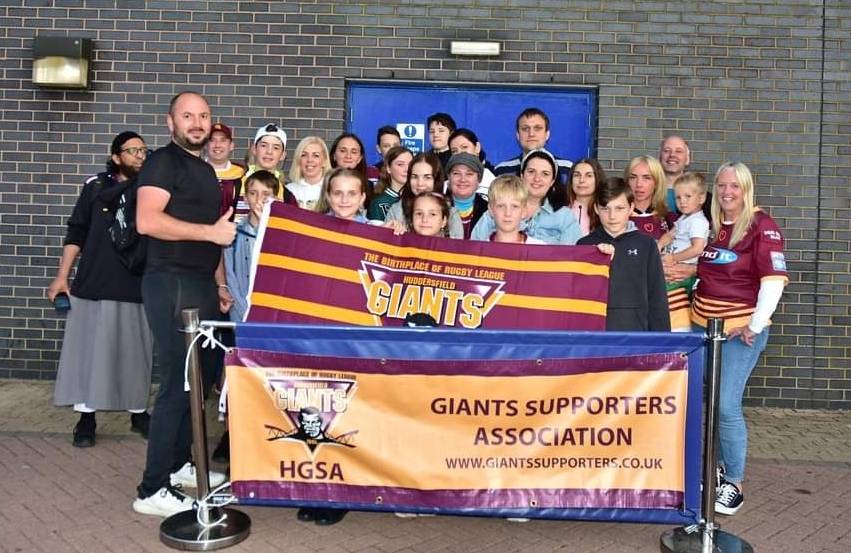 Like many towns throughout the country, Huddersfield is playing its part in welcoming refugees fleeing the war in Ukraine.
As a gesture of goodwill, the Huddersfield Giants, working in collaboration with Kirklees Council, invited a group of Ukrainian refugees to attend their final home league game of the season against Wakefield Trinity on 2nd September.
When the Huddersfield Giants Supporters Association (HGSA) heard about this initiative they decided to try to make the night as memorable as possible for the club's guests. A message was sent out to all the HGSA's members to dig out any surplus club shirts to donate to their guests. The fans responded with typical Yorkshire generosity and the shirts, along with memorabilia donated by Big Dog Workwear, were presented to the refugees before the kick-off.
Our picture shows the delighted guests along with Tracey Beaumont (far right) of the HGSA. As Tracey commented 'We only had a few days to organise the shirt donations but the look of surprise and pleasure on the children's faces really made the effort worthwhile.'
We have since received more donations of Giants merchandise and hope to welcome more visitors in the future.
The teams didn't disappoint either as the refugees were treated to an exciting game where the lead changed hands several times before the Will Pryce landed the winning goal in golden point extra time.