18 Apr 2019
FAMILIAR FACES: WAYNE MCDONALD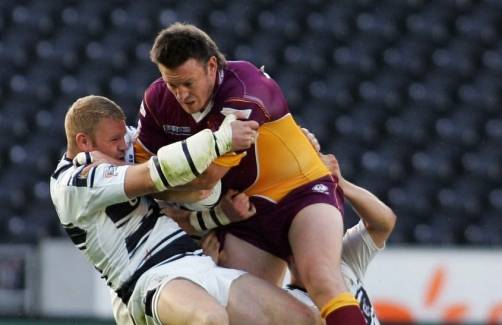 As Huddersfield Giants travel to Leeds Rhinos on Good Friday 19th April, we take an in-depth look at face who has played for both clubs
We take a closer look at a player who has played for eight clubs and appeared in the 2009 Challenge Cup Final for the Giants – Wayne McDonald
We look at McDonald who had a 7-year playing career, playing over 100 games for Wakefield Trinity, Hull Sharks, St Helens, Leeds Rhinos, Wigan Warriors and Huddersfield Giants.
The powerful and dynamic forward played at prop and second-row made his debut for Wakefield in 1999 going onto play 27 games for Trinity before joining Hull Sharks. McDonald represented Scotland between 1999 and 2005, featuring in the 2000 Rugby League World Cup. McDonald's stint at Hull Sharks was only brief as he played for just one season before joining St Helens in 2001. McDonald played 18 games for St Helens in 2001 but wasn't selected in Saints 13-6 win against Bradford Bulls in the Challenge Cup Final and left the club to join Leeds Rhinos in 2002.
Leeds Rhinos were defeated 22-20 by Bradford Bulls in the 2003 Challenge Cup Final, however, McDonald didn't feature in the final. Leeds Rhinos clinched the 2004 Super League Grand Final with a 16-8 win against Bradford Bulls, but McDonald didn't play in the final. In 2005, Leeds lost the Challenge Cup Final 25-24 against Hull FC and the Grand Final 15-6 against Bradford Bulls, but once against McDonald didn't play in any final and left the club in 2005 to join Wigan Warriors.
McDonald would only play four games for Wigan and signed for the Giants in 2005. The forward would play for one season for the Giants but did appear in the 2006 Challenge Cup final when he came off the bench against St Helens. However, Giants lost 42-12 in the Final, and after a knee injury caused him to be sidelined for the majority of the second half of the season, McDonald retired in 2006 and moved to Dubai.
After taking a few months off, McDonald set up Dubai Rugby Academy (DRA), where he coaches school children from a grassroots level. It is implemented across 10 schools in Dubai and in 2009 he played two games for the United Arab Emirates Rugby League team. McDonald is the Youth Development Director of Emirates National Rugby League (ENRL).