20 Nov 2018
EXTENDED KIT DEAL FOR BRIDGE PALLET SUPPLIES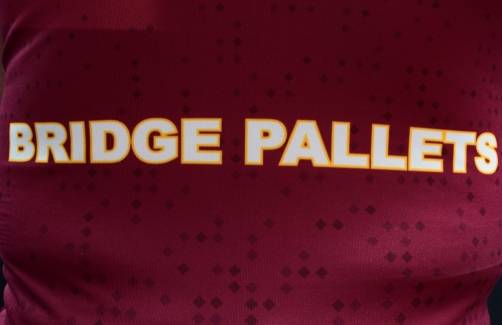 Club Partners to remain on the Giants kits for two additional seasons
Huddersfield Giants are pleased to announce that Club Partners Bridge Pallet Supplies Ltd, who are based in Bradley, Huddersfield, have signed a two-year extension as Associate Kit Partner to remain on the famous Claret and Gold jersey of the Giants.
Entering their third season as a Kit Partner, Bridge Pallet Supplies are long-time Partners of the Club, Executive Box holders and will also sponsor Giants star Oliver Roberts in 2019 after five years of association with the Club.
Giants Commercial Manager Brian Blacker commented: "Bridge Pallet Supplies are dedicated supporters of the Club, always in attendance for home matches and keen to be commercially involved too.
"Bridge Pallet Supplies are a well-organised family-run company that have seen the benefits of being a part of the Giants Business Club previously, seizing the opportunity to meet new businesses and work alongside them.
"With over 20 years of experience in their field, which includes suppling and recycling pallets, they offer a very professional service making them a successful local business that we're proud to be Partnered with.
"We are delighted to see their brand continue to grow and be adorned on the Giants colours again as we continue our strong Partnership."
Bridge Pallet Supplies owner Andrew Pearson commented:
"I'm delighted to extend our contract as Giants Kit Partner for another two years. It gives me great pleasure to extend this Partnership and see our name printed on the famous Claret & Gold shirt of the Giants where we have such a strong association with the Club.
"We have really strong ties to the Giants and having enjoyed a very beneficial relationship in the previous years we've been Partnered, we're looking forward to another successful season together in 2019.
"At Bridge Pallet Supplies we offer a high-quality, professional service across Yorkshire and are pleased that our company has continued to grow in correlation with the Giants, we look forward to a successful foreseeable future alongside the Club in Partnership."
Offering a bespoke service where customers can provide their specifications on a pallet and have it quickly designed and delivered to a high quality, Bridge Pallet Supplies are an innovative company that can be of service to you.
Check out everything Bridge Pallet Supplies do at www.bridgepalletsupplies.co.uk