16 Nov 2018
DUAL SEAL GLASS COMMIT TO 23RD YEAR OF PARTNERSHIP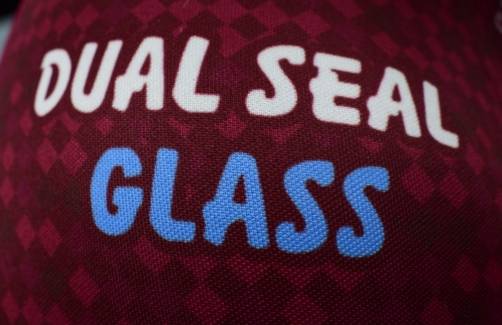 The longest standing Partners of the Huddersfield Giants, Dual Seal Glass, will feature on the 2019 kit
A staple of modern-day Huddersfield Giants kits, Dual Seal Glass has been a Partner of the Club for more than 20 years, holding a lofty reputation as devout supporters of the Giants. Now synonymous with the Claret and Gold, Dual Seal Glass will once again back the Giants in 2019 as Associate Kit Partners, featuring on the shoulder of the new shirts.
Based on Leeds Road in Huddersfield, Dual Seal Glass was founded by father and son David and Nigel Meredith in 1995. The company manufactures hundreds of double-glazed units - or insulating glass units (IGUs) as they are commonly known- which are fitted into the windows, doors and facades of office buildings, schools, hospitals, factories, exhibition centres and much more.
A well-respected company, Dual Seal Glass have helped shape Huddersfield with huge projects in the town including with the University of Huddersfield and the Kirklees Leisure Centre to name just a few.
Giants Commercial Manager Brian Blacker commented: "It's been over twenty fantastic years that the Huddersfield Giants have shared with Dual Seal Glass and I'm delighted that they have committed to another year's Partnership where they will again feature on our famous kit. It's always been a pleasure to work alongside such a professional company for such a great length of time and I'm delighted we have committed to another year of Partnership."
Dual Seal Glass Managing Director, Nigel Meredith, commented: "We have had a fantastic relationship with the Giants for many years and are extremely happy to have agreed a deal to continue this for 2019.
Simon Woolford has brought a fresh impetus to the team and we are excited with the changes that he is making to an already strong squad. Things look extremely positive for the future and Dual Seal are happy to be a big part of that."
For more information on Dual Seal Glass please click here.
To get in contact with Dual Seal Glass please call 01484 420 030 or email sales@dualsealglass.co.uk
For any Commercial enquiries please contact Brian Blacker on 01484 484162 or email brian@giantsrl.com.