8 Aug 2019
THE CHALKBOARD: VS LEEDS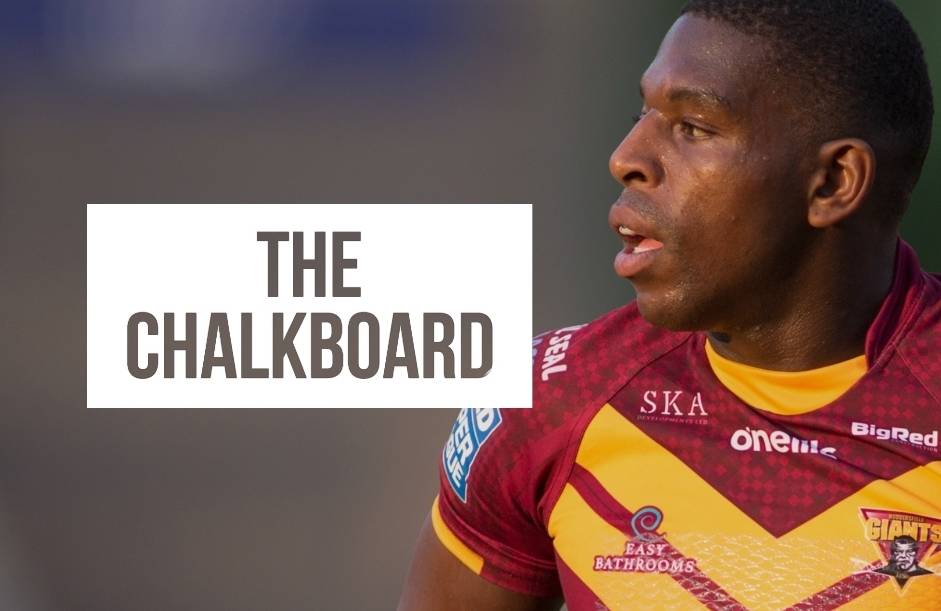 The story behind the scoreline from the West Yorkshire Derby
By Sean Evans

Embarrassing. Not our words, but the words of Simon Woolford after the 44-0 defeat to Leeds last Friday. In this history of this segment, we've studied and looked back at the games that have recently occurred and found patterns, tactics and shapes that have been tried throughout the game and come to conclusions about their successes and the improvements that could be made and today is no exception. It's true that in situations like this, to do lots of reviewing as an side or coaching staff is as pointless as watching paint dry, but here we will look back and try to uncover just what went wrong.
If rugby was only played for 20 minutes, you'd have thought this was a not-so speculator but ultimately close game, unfortunately for Huddersfield there are 80 minutes in a rugby game and almost everything past the 17th minute had much to be desired.
As the scoreboard ticked into the 18th minute of the game, Adam Cuthbertson received a simple one-play from acting half, assuming to take in another drive to set up a 4th play option for the Rhinos attack, that started well within their own half. This was similar to almost every set we'd seen up to this point, but Huddersfield's lack of concentration showed it's first signs, when both the 2nd marker and the A defender failed to fill the gap behind the ruck, and it was nothing short of a simple run straight through the heart of the home side. From there Leeds set up a 5th tackle option just 10m out from the Giants try-line, with momentum well in hand.
The way in which the account was opened was equally as scattered for the home side. After allowing Newman to run across the face of the defensive line, nobody is covering the threat of an grubber to the in-goal, knowing full well given the positioning, the centre is unlikely to kick high.

With McIntosh slightly out of position, and nobody else quick enough to intercept the danger, Cuthbertson strolls into space and puts down a quite simple finish to a set that was nothing special but still enough for the Rhinos.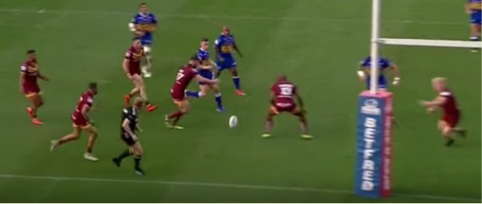 Defending the Tongan Giant

As with any sport, individual adaptions to game plans are necessary and when it comes to Leeds, many teams have gone against their natural play to be able to defend Leeds' left attack, or more accurately Konrad Hurrell. We've seen many teams, no matter the size of centre, attack the Tongan giant and in doing so slow him down before he's got going to allow the winger or halfback to help complete the tackle. At times this has left Handley open, or even allowed Hurrell to offload in-field to create space but it has eliminated, to the best ability, Konrad's individual power and finishing, keeping his impact to a minimum.
That had been the best and the only way to deal with this Leeds left-edge, to keep shifting the responsibility to Myler and Sutcliffe, and other players that are uncertain or not-used to the pressure.

What we see leading to Hurrell's first try is Senior's obvious movement away from the play, to cover the overlap threat, and Gaskell moving across to cover Richie Myler, but it allows Hurrell space on the inside, going at tired defenders who haven't fully recovered positioning. Eventually that leads to him having a 1-on-1 with McIntosh, and with all respect to the full-back, not many can stop the Leeds centre when he's in full flow.
It does seem apparent - in this situation at least - that Senior moving towards Hurrell would have, at worst, given McGillvary a chance to defend his line 1-on-1 and would've halted the barnstorming run we see on the replays. From there, we saw try after try of lapses in concentration and performance, and we could walk through each try but much like there is no point dwelling on the result, there is no more point dwelling on the lack of performance produce by the players, we must just accept that this game is gone and Salford are next.
Frawl or Nothing

However, before we go, every week we point out a play or a player that has stood out, and it's probably important to point out this isn't a choice for man of the match, but one of the better performances this week was Matt Frawley.

Frawley did execute well on the pitch on both sides of the ball - From the first minute for example, after only making 30m from their opening set, Frawley was forced to kick on the back foot and towards a backfield waiting to return. His resulting kick not only meant that Leeds picked up the ball 10 from their own line, the time it gave meant the resulting run made only 10m, giving Huddersfield nothing short of ideal positioning given the circumstances.

That was not the only impact made by the half, his defensive effort, especially early was impressive, and more to that, come the time the side were 30 points down he continued to put his hand up to drag defenders into position and set up plays - one or two individual pieces of brilliance being lost given that Leeds sliding defence was so well organised. His passion and fight never stopped and he made some important defensive plays that in another game would've been the difference.

We will travel to Salford knowing that Woolford still has a big choice between Frawley and Holmes. But without doubt, whoever is picked, can get the job done and hopefully will lead the team to victory at the AJ Bell for the second time this season. Check-out the story behind the scoreline from that win.