7 Oct 2019
A COWBELLERS GUIDE TO TORONTO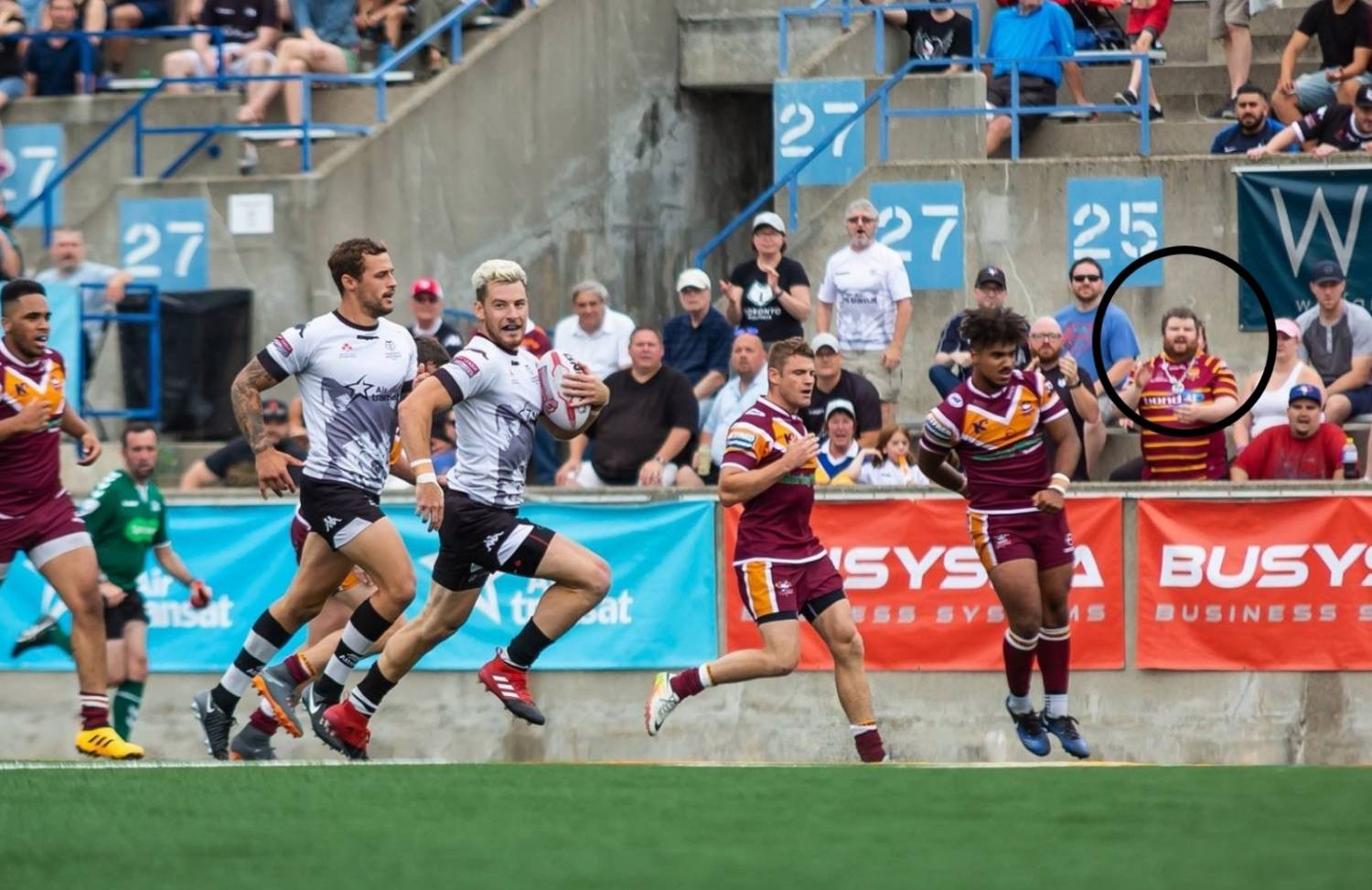 We caught up with our resident member of the Cowbell Army in Canada, Sam Quinn, on what the Cowbellers can expect from T-Dot.
Most people's journey to the game down the M62 can be a anxiety inducing nightmare, but imagine making the trip by plane from London, Ontario. That's what Sam Quinn did last time he travelled to watch the Giants, winning at Salford in May 2018. He'll get to see the Giants again in 2020, as we'll be making our inaugural trip to Toronto to face off against the newly promoted Wolfpack - we caught up with our man on the inside on what to expect from the Canada's Largest City, as well as how on earth our Canadian Cowbell Army came about...

Can you explain your journey to Canada and your relationship with the Giants?
"I've followed the Giants since 2000. I was originally a Sheffield Eagles fan as I'm from Rotherham originally so would travel to Huddersfield for games every week. I moved to Canada in July 2004 when I was 16, I moved along with my parents and two sisters. My dad had a job opportunity so we all decided as a family to take a chance and emigrate. It's been 15 years and we're all still here, with no regrets."
What can Giants fans travelling to Canada expect from Toronto people and the city?
"Toronto is a wonderful city, there are lots of things to do and things to see. It is very stereotypical but Canadian people are very friendly. The city is quite a Melting pot of different cultures and the people embrace it. Canadians are also sport mad, Torontonians love their Maple Leafs (Ice Hockey) Raptors (Basketball) Blue Jays (Baseball) Toronto FC (Football) Rock (Lacrosse) and Argonauts (Canadian Football) and now love the Wolfpack"
How do you keep up with the Giants all the way from Hamilton?
"It has got a lot easier with the rise of social media to keep in touch with the Giants. When I first moved I would have to refresh the BBC Sport website for score updates, but now with Internet Radio I can listen to the games, follow along on twitter/Facebook and see some behind the scenes shots through Instagram and Snapchat. The Sky Sports games are also broadcast live on television so anytime the Giants are on I'm watching."
Flight from Toronto - $820
Hotel for the night - £35
Match ticket - £20
Seeing your first live @Giantsrl win since 2011 - Priceless pic.twitter.com/ZtRGsJBH2V
— Tiger Sammy (@tigersammy) May 26, 2018
How good will it be to see the Giants playing in Canada in 2020?
"It will be absolutely amazing to see the boys live again. I could never have imagined 15 years ago that not only would Rugby League be played in Toronto, but that they'd make it to Super League, meaning I get to lead the Canadian Cowbell Army loud and proud"
What is a Toronto Wolfpack home game like?
"The Wolfpack home games are a lot of fun. The thing with sports here compared to in England is that the match is not the only thing that goes on, it's a whole game day experience. The home and away fans mingle in the stands and the beer gardens at the end of the in goal area, fans are free to move around freely throughout the game"
Where is The Den and what is the area around the ground like?

"The Den is located in Liberty Village, which is a trendy and upcoming part of Toronto. There are lots of bars and coffee places near. Good public transit links as it's near Exhibition train station and the street rail car drives right past. It's not uncommon to see Gareth O'Brien nail a street car with one of his conversions!"
Any recommendations for a bit of site seeing while you're there?
"Toronto is a wonderful city with lots to do. There is the CN Tower which was the worlds largest free standing structure for the longest time. The Harbour is very nice to walk around, you can take a ferry over to the Toronto islands which are very picturesque. A couple of hours away is Niagara Falls, one of the Wonders of the world. I would highly recommend that. If you're a sports fan, the Blue Jays and Argonauts play the same time as the Wolfpack, try and see a Baseball or Canadian Football game at the Rogers Centre or BMO Field"
All the way up! pic.twitter.com/PZM6K72FTJ
— Toronto Wolfpack (@TOwolfpack) October 5, 2019
What will the Canadian populous think of a load of Yorkshiremen wandering around with Cowbells?
"The Canadians will all be so impressed with the Cowbell Army that they'll want to all join in! Cowbells are commonly seen and heard at games here, they aren't as hated as they are in England, fans over there are obviously all jealous! The Toronto Wolfpack fans will welcome the Giants fans with open arms as they do with all away fans, mingle in the stands and share tales, have a drink after the game with the players. It's a wonderful experience and I hope as many Giants fans can share it"