21 Oct 2019
WE SELECT OUR GIANTS LEGEND 13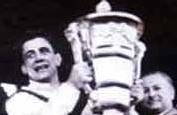 With 13 days to go until the Seat Renewal deadline, we pick our greatest ever Giants thirteen
1. Brett Hodgson
In the Super League era, there were the days before and the days after Brett Hodgson. He arrived to a middling club with a mixed history and left with the club enjoying a Super League Semi Final, a Challenge Cup final and genuine contender. The 2009 Man of Steel was equally capable at stand-off, and transformed the team with his mercurial style.
5⃣1⃣ Appearances
1⃣6⃣ Tries
1⃣8⃣2⃣ Goals

For this week's #ThrowbackThursday, we look at the career of the Giants First Man of Steel, @BrettHodgson

🗣️ Let us know your best memories of former full-back!

Read more 👉 https://t.co/T1Q7AuESou #HuddersfieldBorn pic.twitter.com/dSh0mVWpVr
— Huddersfield Giants (@Giantsrl) February 21, 2019
2. Jermaine McGillvary
It would have been hard to know that when he made his debut at Odsal in 2010, Jermaine McGillvary would play in a World Cup final just seven years later. Jerry is the epitome of Huddersfield and the epitome of the modern winger - fast, dynamic, strong and capable of beating defenders and finishing with a ruthless efficiency. Nine years later, he's still scoring tries for the club and for his country. Not bad for a lad from Huddersfield.
Would it really be an England game if @J_mcGillvary wasn't doing bits? 🤙#RLWC9s https://t.co/S3pdTW5cLn
— Huddersfield Giants (@Giantsrl) October 18, 2019
3. Leroy Cudjoe
Captain Cudj is an excellent example of the Modern Huddersfield Giants player, dovetailing excellently with fellow hometown hero Jermaine McGillvary for many a game. His try in the 2010 playoff match against Warrington was so good that
Eorl Crabtree HAD to write a thousand words on the subject.
4. Harold Wagstaff
The 'Prince of Centres' was a member of the Team of All Talents, possibly the best ever Rugby League team to grace the earth. A true legend, scoring over 175 tries in his career.
5. Lionel Cooper
A bulldozing, bruising winger, who scored 1344 points between 1947 and 1965, pioneered a hip-bashing movement that flung defenders away. Capped three times for Australia, Cooper was inducted into the Huddersfield Giants Hall of Fame.
6. Stanley Gene
Gene signed for the Giants at the age of fourt- no, thirt- twenty nine maybe? The Papua New Guinean brought fun, excitement, attacking threat and a worldwide mystery about his age. His time at the Giants, when the club were looking to establish themselves in Super League, was one of the most entertaining periods in the club history, with somersaulting tries. A true great of the game.

⏪ A cult figure, and a legend for every club he played for, for this week's #ThrowbackThursday, we take a look at the career of @StanleyGene2

Read more 👉 https://t.co/jtloqoa7Yq #HuddersfieldBorn pic.twitter.com/yNfWtYDHoq
— Huddersfield Giants (@Giantsrl) March 21, 2019
7. Thomas Smales
Smales scored 111 times in 295 appearances in his time at the club in a nine year stint with the club between 1955 and 1964.
Won five major trophies in his career, and played in the 1961-62 championship winning team.
8. Eorl Crabtree
Well, we had to. He's only been at the club since he was 17 and recently celebrated his 20th anniversary lately.
9. Luke Robinson
Luke Robinson signed from Salford in 2007 and has not left since, coaching a period at the Giants Academy creating a team known for its entertaining style before going into Simon Woolford's coaching staff.
Also, his Wikipedia page says his nickname is Robocop. We're not joking about that.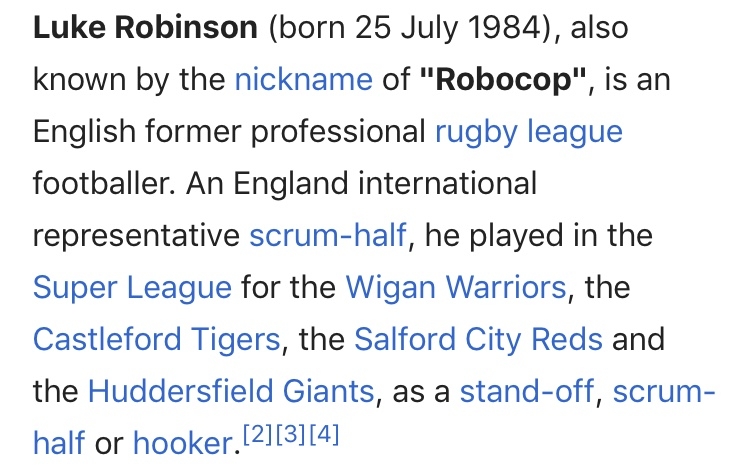 Check out our look back on his career
10. Douglas Clark
Douglas Clark played 485 times for the Claret and Gold between 1909-27 and scored 99 tries for the club.
He won 21 trophies with the club and In 2005 was inducted into the Rugby League Hall of Fame.
11. Fred Longstaff
The goal kicking forward who pioneered some of the greatest tactical innovations in Rugby League history. Also won All-Four Cups for the club and was widely regarded as one of the best players in the game.
Longstaff served as a soldier in World War One and was killed in the Battle of the Somme. We celebrated his career earlier on this year with Professor Tony Collins, and it's well worth a watch.
🎥 Check out our #Throwbacks interview with @collinstony on Fred Longstaff, the only Huddersfield player to die in World War One.

In full➡️ https://t.co/ykYv7t9ug0

🎟️: https://t.co/Dt2TO4tpCM

ℹ️ #Throwbacks are brought to you in association with @TChineseBuffet pic.twitter.com/3NJTUBJWQv
— Huddersfield Giants (@Giantsrl) July 29, 2019
12. Ben Gronow
A dual code international who played more than 400 games for the club, Gronow was a welsh wizard was another goal kicking forward in the time when Rugby League still had marks and had no six tackle rule.
13. Dave Valentine
Not many can claim they have won a World Cup with Great Britain in... just about anything. Dave Valentine was not only one of them but the sides captain in the 1954 World Cup side, becoming the first side to win the trophy.
Get your 2020 Season Card now!