22 Oct 2019
THE CHALKBOARD: TWELVE TEAMS, TWELVE STYLES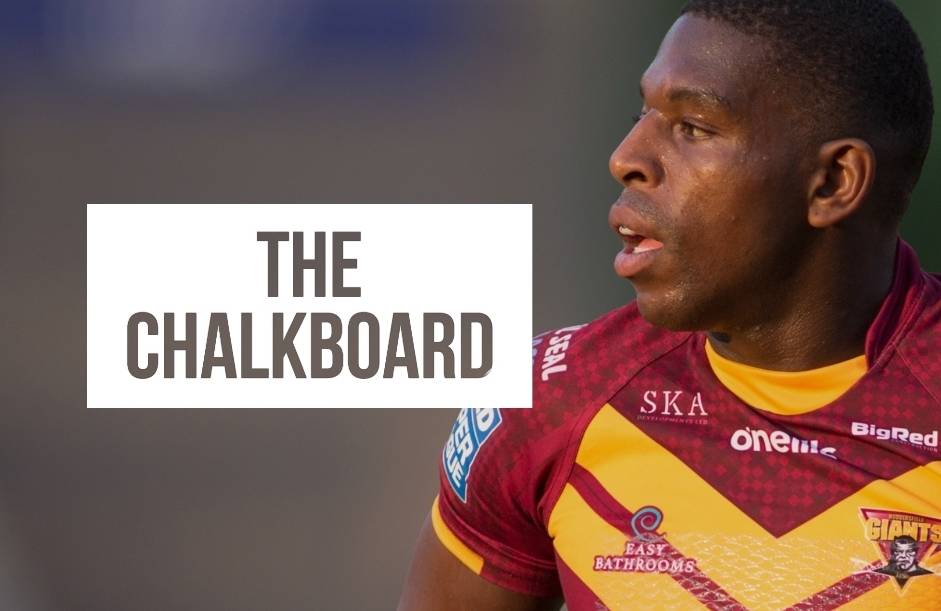 As the countdown to Seat Renewal Day hit 12, we look at the tactics and styles that define all 12 Super League sides.
By Sean Evans
It's twelve days until seat renewal day, so we've taken a look through the footage of the 2019 season and looked at the tactics, shapes and processes of all twelve teams and we've looked ahead to what we can expect from the 2020 season.
CASTLEFORD TIGERS
Jake Trueman 🔥🔥

Those line breaks from the half have been vital to @CTRLFC this season 👏 pic.twitter.com/GxJDDLunlc
— Betfred Super League (@SuperLeague) August 12, 2019
Wildness and ferocity - that's what to expect when you visit the Jungle, with a crowd on your back and a pack led by Liam Watts it's always going to be a tough ask to calm the cats and Castleford do all they can to play to that image. Daryl Powell is one of the most consistent coaches in the league, and sticks to the basics to get results. Good basic shapes allowing Trueman - and now Danny Richardson - the chance to be creative, and it's a formula they've stuck with since their League Leaders Shield win in 2017, I don't expect that element of Powell's coaching to change, and the Jungle will be as tough a place as any to visit next season.
CATALANS DRAGONS
Steve McNamara doesn't strike me and a coach that wants his team playing a certain way, instead it appears he adapts to the needs of the team. Catalans pretty much since their induction have been a physical team with plenty of flair out the back. It remains a myth why their way form is so poor at times, and it must just be the travel. However, I expect their playstyle to continue to adapt around Sam Tomkins. We saw much more movement of the ball between Gigot and Tomkins last year, and having that extra player supporting Gigot gives the pack something to work for. James Maloney's inclusion will offer structure and organisation to allow the two flair operators to run the opposition ragid, or so the Dragons will hope.
HUDDERSFIELD GIANTS
Game to game management became evident in 2019, but purely for lack of resources, when we saw the Giants at their best they were well spaced out the back to create defensive gaps for the back-row to hit on. When injuries started to come it became more difficult to dominate to allow the time to set up the plays and thus create the space to find the gaps. I suspect that to change in 2020, the squad are already hard at work to adapt where necessary, but also continue the work they started last year. With Gavet joining the forwards back from injury, the Giants will look a lot more dominant to allow Gaskell the space he needs, and Golding will offer a new dynamic out at the back at no. 1.
HULL FC
😍 Yes, it's official! The most fearsome man in the NRL is heading to the Betfred @SuperLeague - Manu Ma'u will be a Hull FC player in 2020, and THIS is what he is capable of! 👊

⚫⚪ #MauSigns pic.twitter.com/sEXWcJqiIK
— Hull FC (@hullfcofficial) July 8, 2019
What to expect of a team that isn't recognisable… That's exactly what we have to work out in Hull FC. A lot of off-season turnover can go one of two ways, and with Hull struggling towards the end of 2019, Lee Radford will be hoping it's all upwards movement. Expect Sneyd to still be pivotal in the movement of the team, with plenty of short balls trying to split the defence whilst big wingers like Fonua poised for their 1-on-1 opportunity on the outside. That's how I see FC producing regular points, and challenging once again, but it will be a difficult start bedding in so many new names.
HULL KR
Much of the 2019 season was about survival for the Rovers, and with Tony Smith completing his goal, the side can now move onto bigger and better things in the 2020 season. McGuire has hung up his boots and KR have brought in Abdull from the Broncos, which seems a smart move. Smith likes his teams to be dominant in defence and in the air and pivotal to that will be players like Abdull who controls the kicking and Matt Parcell, who's ability in the middle of the park will help both the attack and defence dominate. We'll start to see Hull KR throw more questions at their oppositions next season.
LEEDS RHINOS
Richard Agar will want to start with much the same impetice as he ended last season, but that will include security on the pitch. The tactics are sound but some of the personnel are not of Leeds calibre. Agar will direct his troops in much the same way as last season, using Cuthbertson and co. to back foot defences whilst Konrad and co. wait in the wings. Robert Lui's organisation will help settle Leeds into more regular shaping but I still think the team on the pitch needs a little bit more from the recruitment team to be a threat to the top sides in 2020.
SALFORD RED DEVILS
The meaning of reaching the #GrandFinal for @SalfordDevils fans summed up in one video 👏💪 #OwnTheMoment

Get in touch, Grand Final tickets are on us for you two boys in this video pic.twitter.com/BY2FsGBHAV
— Betfred Super League (@SuperLeague) October 4, 2019
I dreamed a dream that Salford were in the Grand Final… Or at least I thought it was a dream. Salford are currently everyone's favourite underdog and you have to believe that their story can continue. They have a very tight attacking shape, and will be looking to Tui Lolohea to control the game. Signings like Dan Sarginson will help control the off-the-ball side of play, but loses of Jake Bibby, Josh Jones and, in particular, Jackson Hastings will hit home hard. I see the tactics of Ian Watson staying the same, but the result not being quite as effective, but… After this season, who dares back against them?
ST. HELENS
Holbrook ended his time at St. Helens with a Super League title, and now the rebuild starts, or so we'd assume. St. Helens have yet to bring in any notable recruits and with a brand new coach coming in it seems bizarre that he hasn't yet thrown his shape on the team. With Thompson so pivotal to this side, and rumours taking him over to Australia in the next 12 months, it would be productive for Saints to put the squad together sooner rather than later. In terms of the playing style, I expect much of the same, utilising Coote out the back and with all the players 2 to 5 of such quality, scoring will come quite easily to the Saints.
TORONTO WOLFPACK
Welcome to Betfred Super League, @TOwolfpack 👋🐺🇨🇦#SeeTheeRise pic.twitter.com/AUFDKQOufb
— Betfred Super League (@SuperLeague) October 5, 2019
Super League is trans-atlantic, and what an exciting year Toronto have ahead of them. Canada's engagement in the game has been a breath of fresh air and i'm sure the attendance figures will rise further in the next 12 months, but what can they offer the league? The team is full of Super League experience, that jointly have been involved in relegation battles and title chases. Between them they will surprise a few, but the key is discipline management. With so much quality the adaptation of the style will be key if they can keep players on the pitch.
WAKEFIELD TRINITY
Chris Chester will be looking at the final table and wondering what happened. Earlier in the season, Trinity looked to be in the midst of a play-off battle, fast forward 12 weeks and it was all hands on deck to remain a Super League team, which was only confirmed on the final day of the season, when they beat the London Broncos. Chester will have plans in place to get his side firing again, most of which rests on the shoulders of Fifita and Tupou. Wakefield remain one of the sides that will need vast improvement to escape the threat of relegation, once again.
WARRINGTON WOLVES
Challenge Cup success was enough to keep the Wire howling come the end of the season but a disappointing play-off result against Castleford meant that Steve Price and Warrington will wait once more for their first league title since 1955. Steve Price has manufactured an up tempo team that thrives off quick play the balls and really basic structures. Daryl Clark is key to the movement around the field and Ratchford looks to have the cutting edge from Austin inside. This team will regroup and be just as good, if not better once Gareth Widdop joins Austin in setting up the Wire.
WIGAN WARRIORS
When Adrian Lam was named head coach, Wigan fans rejoiced at the idea of "Lamboyancy" after the former PNG coach talked about how he wished to reform the Wigan attack, and slowly the pieces came together. Williams and Leuluai hooking up with Hardaker was clinical for the Wigan side, and the usual Wigan grit up the middle was seen in the promotion of youngsters. George Burgess will add to that, and the recruitment of Jackson Hastings will give Lam more scope to develop his attacking shapes.
At the Giants we are looking forward to diving into the unknown and seeing how each of these teams adapt from last season and work around some key changes that have taken place this off-season.