29 Nov 2019
The Long Read: Sezer on joining the Giants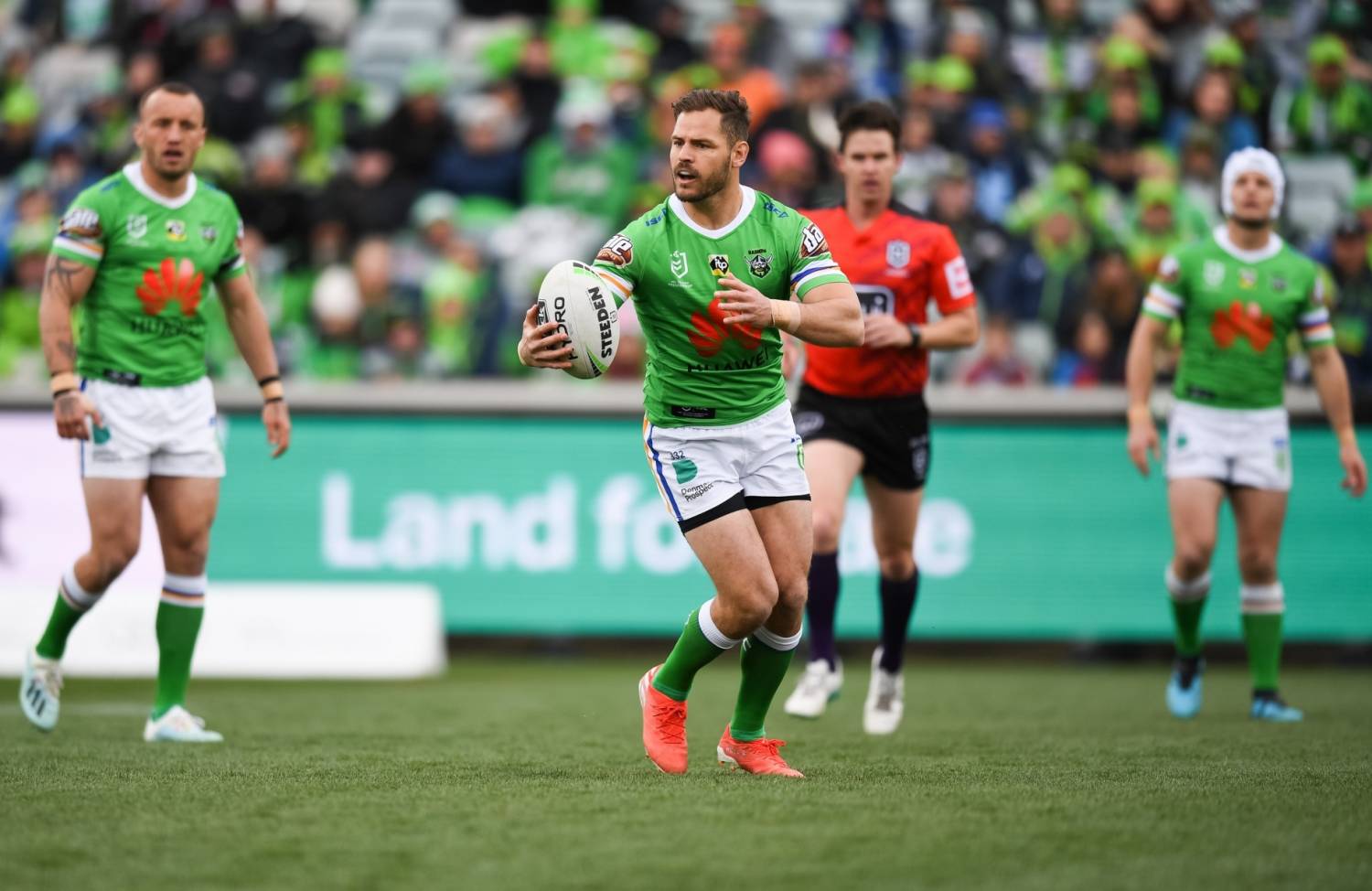 After announcing the signing of Aidan Sezer this morning, we sat down with the half-back to discuss his thoughts on joining the Giants
By Conor Murphy

53 days ago, Aidan Sezer was playing in the NRL Grand Final. His next game will be in the Claret and Gold.
Let's just let that sink in.
Sunk in? Good. The 28-year-old half back arrives in Super League to play for Huddersfield Giants after a long contract negotiation, but Sezer is really excited to be joining his team mates.
"It's been a drawn out process for most of the year, but to have it all done is a great relief. Joining up with Simon and the boys will be a relief - obviously it was a disappointing campaign last year for the Giants but the ambition of the club and the group is exciting. I'm really looking forward to get over there and have a successful campaign in 2020"
Sezer is no stranger to the game in the Northern Hemisphere and wants to be part of a successful campaign. He's aware of the signings the Giants have made so far, such as James 'The Enforcer' Gavet and Kenny Edwards who'll add quality to the pack, but also a friend from his time in Canberra, Jordan Turner.
"I've followed the Super League pretty closely and I've always said I want to be a part of it and hopefully go over there and I'm delighted it's come. I've got a good opportunity to play with the Giants and to play for a great club and hopefully have a successful campaign"
Sezer speaks well of the new additions to the side in 2020, with collective improvements in key areas already assured with the signing of more aggression in the pack in The Enforcer and King Kenny Edwards, and more security in the back-three with Ashton Golding. Sezer believes things are looking up for the Giants going into the next campaign.
"Hopefully my big game experience will carry through, I'm a more mature player now and we've already got big game experience with Jordan Turner who is Grand Final winner, we've added some great experience with Kenny Edwards - a high quality player back-rower and of course James Gavet, who's been a really solid front-rower in the NRL. I think as a collective we've got things to be optimistic about in the coming year."
A consistent theme across our recruits this off-season has been an eagerness to work with Head Coach Simon Woolford and the half-back is no exception. He caught up with him while Simon was visiting Canberra earlier on in the off-season and was impressed with what he heard from the Giants gaffer.

"Simon was with the Raiders in my first year there and I had a little bit to do with him. Everyone always says he's a good guy and I've caught up with him when he came back to Canberra and he's a really intelligent bloke who knows the game and what he told me about his vision for the club and how he wants me to fit in at the club made me feel more comfortable in my decision in coming over"
Woolford told him exactly what he wanted from him - to be an on-field general and repeat some of his scintillating football shown in the latter half of the 2019 NRL Season. In return, he would given him the tools that he needed to perform the job of managing the Giants offence.
"I play in the halves and to be a general is something I really wanna be, to come over there and play my best footy is something I want to do. He's given me all the tools to do that and he's comfortable with me as a player and hopefully I can repay the club and repay the faith they've shown with me by signing me."
An important relationship to build for Sezer will be understanding and harmonising with Lee Gaskell, with the 2019 Giants Player of the Year having his best season in Claret and Gold last time out. Sezer thinks the two can synchronise in 2020.
"Ever since we've started talking I've been following the Giants and Lee is a classy player with all that he does. I watched the last game against Catalans and he got them the win. Hopefully we can find a happy medium between the two of us and form a good partnership."
The 28-year-old will have at least one familiar face in HD1 next season, playing with Giants Centre Jordan Turner in his time at Canberra, Turner has since revealed the two formed a friendship in Canberra, and the former St Helens man has been keeping in regular contact with Sezer since rumours of his arrival started.
"Jordy was a player I've played with at Canberra and as soon as I got to meet him and got to play with him, he's another pretty big factor in coming over. I've been having a back and forth with him and asking a lot of questions and he's got nothing but praise for the club and the group of players. All these things just make my decision a lot more comfortable."
Super League has often been a home for aging NRL stars in the past, but in his prime and coming off the back of an NRL Grand Final, Sezer is an exception to that trend. He's been following the European Game for a while, however, and namechecks a Giants legend when recalling some of his memories of the European Game.
"I've been following Rugby League since I was a young fella and I used to follow Big Crabtree, the time difference doesn't help but I've tried to follow it as best I can and I've always been pretty fond of the Magic Weekends, the grounds you guys play at. I'm also a big Liverpool fan, I've seen that Magic's been moved so I'm pretty gutted about that but I'm really aware of what goes on over there. There's a few English Lads in the Raiders camp and they've told me I should be excited by it.
"I'm looking forward to the European lifestyle and seeing a different part of the world. I'm in Canberra as well, so it shouldn't be too much of a difference in the weather. I'm looking forward to a new chapter in my career."
Seat Renewal Deadline Day is approaching... have you got your ticket?