9 Jan 2020
Giants reveal 2020 Squad Numbers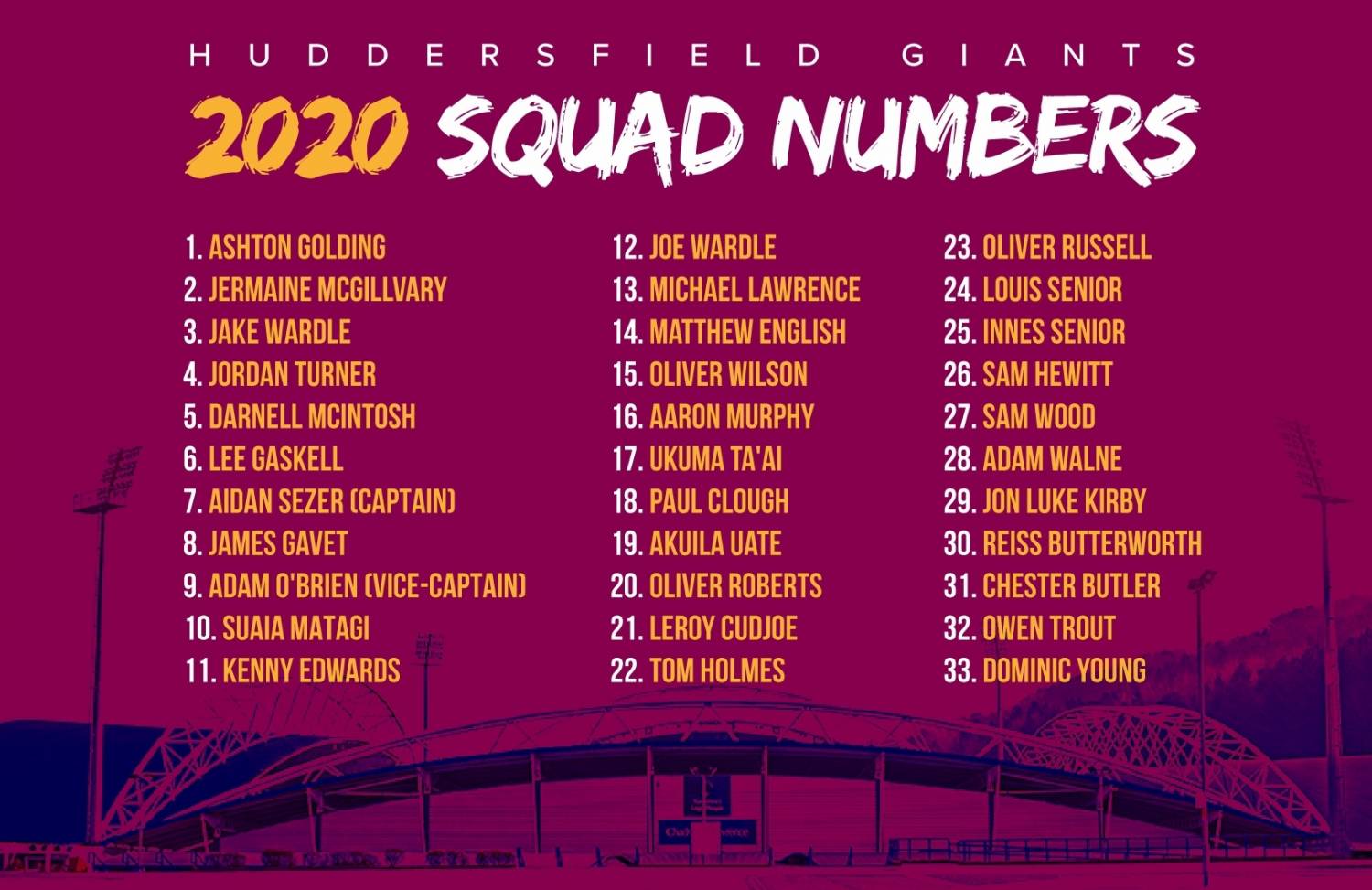 Huddersfield Giants have revealed their Squad Numbers for the 2020 Season
Huddersfield Giants have announced their Squad Numbers for the 2020 Season. Aidan Sezer, the NRL Grand Finalist half-back that joined the club in December, has been given the Number 7 shirt, Adam O'Brien has been handed the Number 9 shirt and Ashton Golding has been given the Number 1 shirt. Elsewhere, new signings James Gavet and Kenny Edwards have been given the Number 8 & 11 shirts respectively.
Woolford said: "The Squad Numbers represent a really difficult decision for us. We have to take into account the past, present and future of the club.
"Ashton Golding has taken the Number 1 shirt, but we feel Darnell McIntosh and Ashton Golding will compete for the position throughout the year. Despite this, the numbers indicate the way we thinks the side will line up at the start of the year.
Woolford also provided details on awarding the Number 3 shirt to 21-year-old Jake Wardle: "The decision was two pronged. One was to reward Jake and to take pressure of Leroy and allow him to come back when he's ready without any extra burden and the constant questions about his return. Similar decisions were made about Clough and Aku, as these players have spent significant time in rehab in pre-season, and we thought it was the fairest way to go.
Woolford was full of praise for young Matty English, who he says has improved massively in pre-season and has been rewarded with the Number 14 shirt.
"Matty English nearly earned himself a starting jumper, he's been great in the pre-season I believe he's come on a long way, he'll play a big part in our team this season and we feel the sky is the limit for him."
"We feel comfortable with the way we've gone. There's always going to be disappointed guys, but at the end of the day, it's just a number and it's going to take an effort from the whole 33 this year to get to where we want to be in 2020"
Squad Numbers in Full

1. Ashton Golding
2. Jermaine McGillvary
3. Jake Wardle
4. Jordan Turner
5. Darnell McIntosh
6. Lee Gaskell
7. Aidan Sezer
8. James Gavet
9. Adam O'Brien
10. Suaia Matagi
11. Kenny Edwards
12. Joe Wardle
13. Michael Lawrence
14. Matty English
15. Oliver Wilson
16. Aaron Murphy
17. Ukuma Ta'ai
18. Paul Clough
19. Akuila Uate
20. Oliver Roberts
21. Leroy Cudjoe
22. Tom Holmes
23. Oliver Russell
24. Louis Senior
25. Innes Senior
26. Sam Hewitt
27. Sam Wood
28. Adam Walne
29. Jon Luke Kirby
30. Reiss Butterworth
31. Chester Butler
32. Owen Trout
33. Dominic Young
Don't forget with a Flexi4 ticket, you can choose any 4 games in the 2020 Season for just £60.