14 Feb 2020
The Lowdown: Salford Red Devils (A)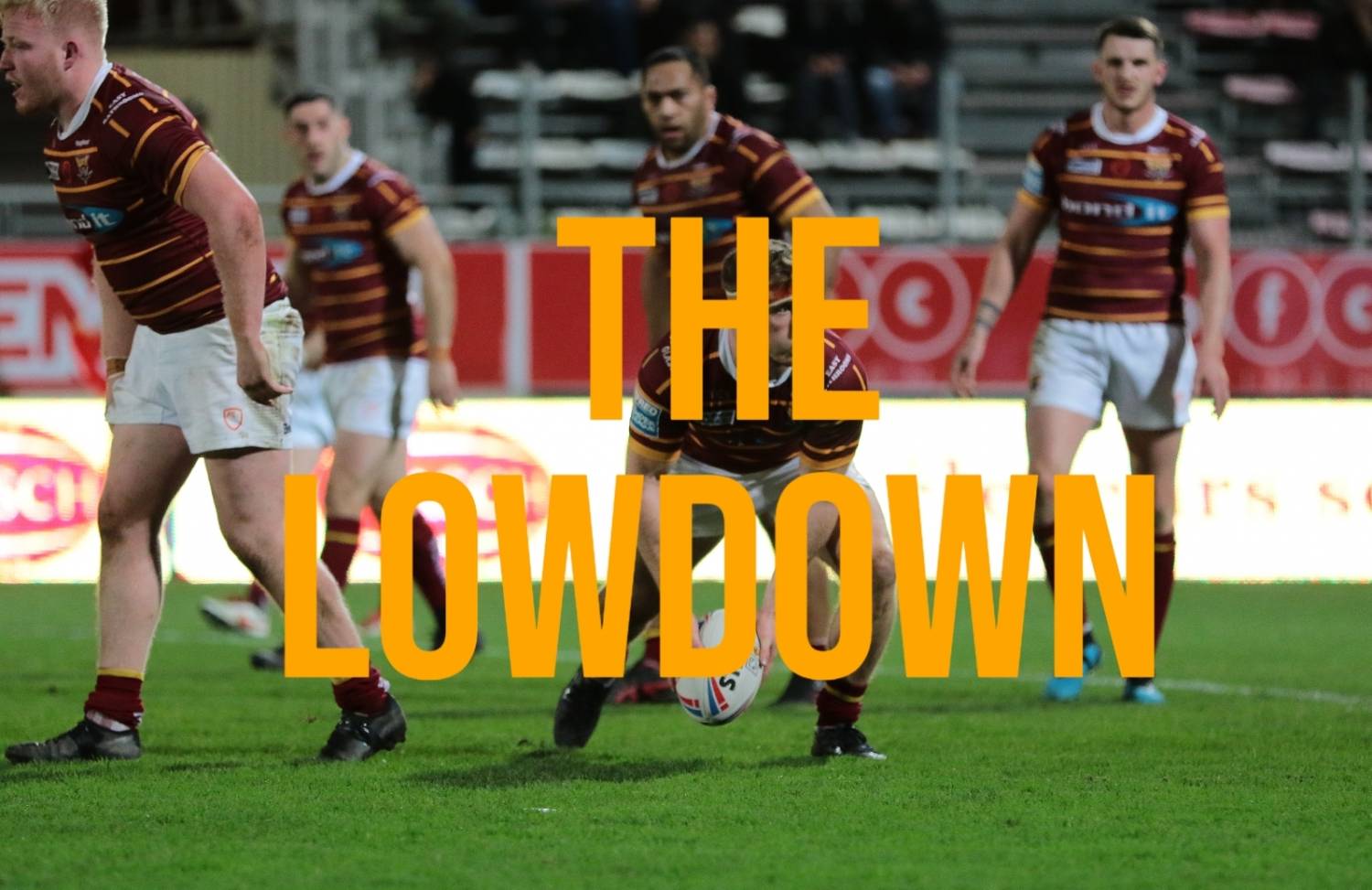 All the info you need ahead of Huddersfield Giants vs Salford Red Devils
The Brief
Huddersfield Giants face Salford Red Devils in tonight's televised game, the Giants second of the season after the postponement of the Giants home fixture against Leeds. Salford come into the game with a 1-1 record after losing to St Helens on the opening day and beating Toronto, while Huddersfield will be looking to maintain their 100% record.
The Teams
❗ SQUAD NEWS❗

👥 Head coach Ian Watson has named his 21 man squad for Friday's home game against @Giantsrl!

💪 #TogetherStronger

🎟️ Available from @AJBell_Stadium, by calling 0161 786 1570, or by logging in online👉https://t.co/9Rv0QZRVF3 pic.twitter.com/IZyzgSpryh
— Salford Red Devils (@SalfordDevils) February 12, 2020
Simon Woolford has named his 21-man squad for the Valentine's Day clash with Salford Red Devils

Fallen in love with the squad, #CowbellArmy? 😍 pic.twitter.com/t8zYpllcNv
— Huddersfield Giants (@Giantsrl) February 12, 2020
A Tale of 1-pointers

This Friday's trip takes us to the AJ Bell Stadium, and in such a crucial encounter we look back at two vital games at the AJ Bell stadium, where the teams could only be separated by a point.
Salford Red Devils 21-20 Huddersfield Giants (2013)
The 2013 season couldn't have been more opposite for these two sides going into the Easter schedule. Salford were rock bottom after 8 games, with only 1 win and 1 draw to their names and with a -180 points difference, they were nearly 70 worse off than Castleford (also on 3 points).
Huddersfield on the other hand had started as well as ever in their Super League history. They sat top of the pile, and a journey to the AJ Bell Stadium was a welcomed sight after recording only their second defeat of the year the previous week.
Shaun Lunt opened the scoring for the Giants, but it was Giants to be Lee Gaskell and Jodie Broughton that pushed the Red Devils into the lead before Ashley Gibson extended Salford's lead.
McGillvary got on the scoresheet just before the break, which closed the deficit going into a half-time break.
The break didn't do much to diter the Salford side and they came out and extended their lead once again, this time it was Jordan James who forced his way over the try line.
Craig Kopczak was to become a Red Devil but in this game he scored a try for the Giants that would close the gap in this game, and when Danny Brough crossed, Giants fans may have believed they could escape with at least a point.
With the scores level, eyes were gripped on drop goal specialists Danny Brough and Marc Sneyd. On this occasion it was Sneyd who managed to slot the winning point, and Salford clawed through to an impressive, and important, victory.
Salford Red Devils 30-31 Huddersfield Giants (2016)
Giants fans and players went into the tie with heavy hearts following the tragic news that Ronan Costello had passed away after suffering fatal injuries in an u19s match the previous week.
Both Salford and Huddersfield players, staff and spectators paid their respects before the game.
In the league, the two sides were separated by two points, and the Giants were still looking for their first win since sacking Paul Anderson.
Craig Kopczak opened the scoring for the hosts before tries from Ukuma Ta'ai, Jake Connor and Leroy Cudjoe put the visitors way ahead on the scoreline.
Despite controlling for large periods, a Daniel Vidot try was enough to slow the Huddersfield momentum down, and when Josh Jones crossed for the Red Devils, the scores were level once again.
The Giants dug in however and tries from Eorl Crabtree and Joe Wardle pushed the Giants ahead once more, and after Danny Brough slotted a field-goal, the 13-point lead looked uncatchable… but there was more to this game than the Claret and Gold outfit realised.
A late stir and braces for both Vidot and Jones cut the lead to just one point.
That point was enough for Huddersfield to win the game however, in a tense clash.
Head to Head
Darnell McIntosh v Niall Evalds
McIntosh will go into the game out of position but will form a key part of the back line taking on the most improved full-back, by some way, in Niall Evalds.
Evalds season last year started as standard, little to no recognition of his abilities, but as Salford started to show promise on the pitch Evalds came into his own. He scored 22 tries and assisted 13 for the Red Devils, coming off the back of some expert play from Jackson Hastings, Robert Lui, and later, Tui Lolohea.
Salford, like Evalds, rose from obscurity in reaching their first ever Grand Final, and although they lost on the night, they won the hearts of the rugby league community in their extra effort.
71 tackle busts and 22 clean breaks, alongside an average carry of over 8m shows exactly what Evalds is about and the threat that the Giants will have to counter come Friday night.
McIntosh, on the other hand, has switched between wing, centre and full-back over the last 12 months, but with injury to Ashton Golding in pre-season, it'll be full-back where he sees out the early parts of this season.
His threat near the try line is obvious scoring 12 times in 2019, and assisting a further 13. He has a similar average carry to Evalds and amassed near 3000 metres. With 122 tackle busts however, statistically he is a lot more effective taking on the line than his opposite number, and it is in that battle that McIntosh must excel if the Giants are to walk away from the AJ Bell Stadium with 2 points.