6 Jul 2020
The Big Interview: Steven Bell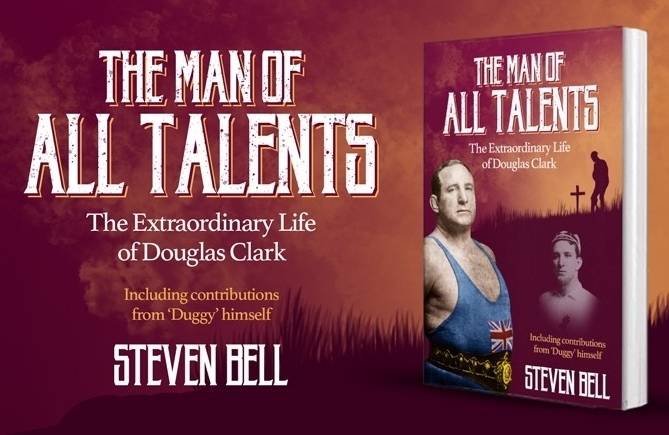 We talk to Steven Bell, author of the new book 'The Man of All Talents' about Douglas Clark
Steven Bell was a local author who was looking for a piece of sporting history to immerse himself in after finishing his last book, on the Copa Sudamerica champions Chapecoense, and found himself enamoured with the life and times of Douglas "Duggy" Clark - member of the Team of All Talents and his experience during the war.
We sat down and spoke to him about the book, Duggy himself and his experience in diving into the story of the Huddersfield Team of All Talents;
Hi Steven, What were your main motivations for writing the book?
After writing my first sports book, 'From Triumph to Tragedy – The Chapecoense Story', which was based on the heart-breaking story of a Brazilian football team, I really wanted my second book to be something close to home – a local piece of sporting history that possibly hadn't been given the focus it deserved.
Randomly, whilst hoping to find my next project, I stumbled across a picture on social media of the Imperial War Museum North's display in honour of Douglas Clark. It piqued my interest and so I did a little research. Duggy's achievements blew me away – and I was astonished to find out he had lived most of his life just a mile away from where I live. I had found my project.
Can you summarise what the book looks at?
The book tells the whole story of Duggy's extraordinary life – from his ground-breaking and trophy laden rugby career with Huddersfield and Great Britain, to his truly heroic war effort and finally his unique underdog story as Britain's first professional wrestling superstar.
What makes the second part of Clark's pioneering sporting accomplishments (both in rugby and wrestling) so remarkable is that he was discharged from the Army Service Corps during World War One because the injuries he had sustained in the battle of Passchendaele were so severe he was awarded the military medal for bravery as well as a 20% disability certificate, and told specifically not to take part in any strenuous sporting activity ever again. Thankfully for fans of the old Fartown team, Great Britain and national sporting history – he decided to go against that advice.
Outside of sport, he was a humble family man and a popular local figure as a coal merchant.
Did you find anything you didn't already know when researching Clark?
Everything was new and mesmerizing to me, as I hadn't even heard of the gentleman before discovering his story.
What I found amazing was that when researching any one of the three major parts of his life – rugby, war or wrestling – in each one his achievements and his legacy stood alone, the fact one man accomplished so much in each of those three spheres across a 30 year period is really quite astonishing. There were even times early on in my research that I doubted it could all possibly be the same Douglas Clark! To knit it all together into a coherent timeline of his life was really addictive.
I visited his niece, Elizabeth, who holds almost all of his memorabilia and personal artefacts. She is such a wonderful lady and couldn't be more proud of the legacy left by her 'Uncle Douglas'. She was very supportive and helpful towards the project and I owe her many thanks.
How would you describe Douglas Clark as a player & what role did he play within the team?
There were competitions to make the title official, but Douglas Clark was widely regarded as the worlds strongest man. His superhuman power had developed as a young boy as he helped his father with his coal deliveries and trained relentlessly as a prodigy in both rugby and in the local art of Cumberland & Westmorland wrestling (Douglas originated from Cumbria).
At the time, Northern Union had not long split from the Rugby Football Union and was still developing as a sport of its own. Douglas could play anywhere on the pitch, but found fame as the worlds greatest old-fashioned forward. His speed, strength and intelligence were unparalleled and therefore both his defensive positioning and tackling were perfect and in possession he was able to carry the ball outrageous distances up the field, with opposition almost helpless to stop him.
He pioneered new standards for the forward role and scored an exceptional number of tries for a man in that position.
What were his main achievements as a player?
For Fartown, he played in the fabled 'Team of All Talents', alongside captain Harold Wagstaff and legendary Australian Albert Rosenfeld – those three great men all now inductees into the Rugby League Hall of Fame. The team won 15 major trophies in a period broken up by the Great War. They famously won all four competitions in the 1914-15 season and are still regarded as possibly the greatest and most ground-breaking rugby league team of all time. Despite been robbed of almost five years of his career, he is still the record holder for the most number of appearances in the Claret & Gold hoops, having played for Huddersfield 485 times.
In the Great Britain shirt, he played in three Ashes series – including the legendary Rorke's Drift test match.
'The Man of All Talents - The Extraordinary Life of Douglas Clark' is published by Pitch Publishing and released on October 5th, but is available to pre-order now on Amazon now.