18 Nov 2020
Giants appoint Ian Watson as Head Coach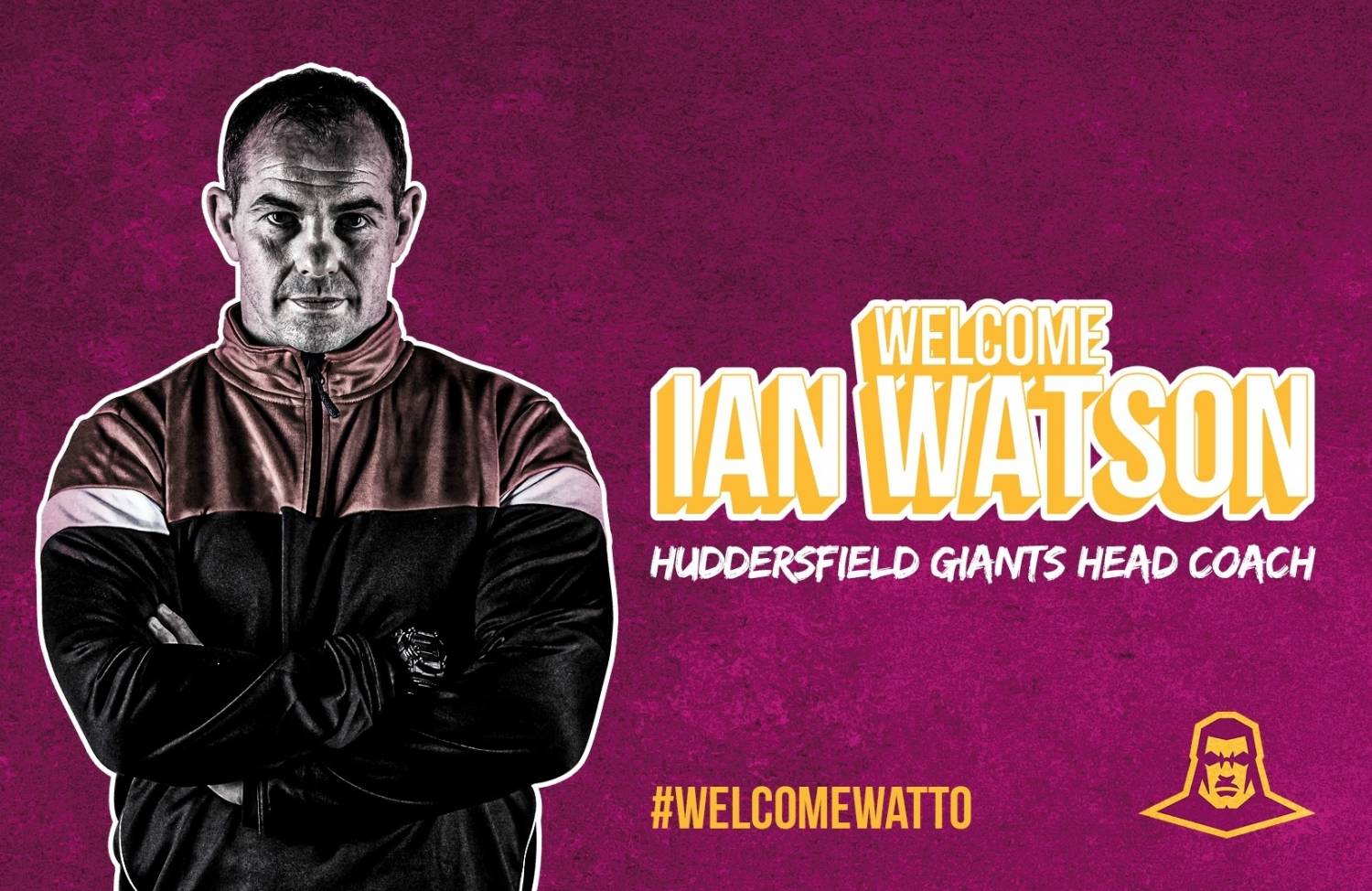 Huddersfield Giants have appointed Ian Watson as head coach on a three-year deal from December 1st. The former Salford Red Devils, Swinton Lions & Great Britain assistant coach will join the club with Greg Brown as Conditioner and Carl Foulstone as Rehabilitation Conditioner.
Watson joins boasting a coaching career that has seen him achieve a Betfred Grand Final and Coral Challenge Cup appearance in the last year with Salford Red Devils, and a call up in 2019 to assist then Great Britain Lions Coach, Wayne Bennett as part of his coaching staff.
Giants Head Coach, Ian Watson said: "I was attracted to the potential of the club. Everything about it screams Top Four; the stadium, the youth academy with the kids that can be brought through & the owner of the club who has proven over time that he wants to win and he's backed the club in his pursuit of success."
"My short term aims are to ensure the club moves to the right side of the table. As I have said, everything about this club screams Top Four, and the longer-term aims for the club have to be challenging the top teams in Super League. The footing the club has with the youth coming through, the location of the club and the owner means that it's set up to do that."
"My approach is about the collective - everything is about the team, the people you work with and having good relationships. No-one achieves anything on their own and you've got to be a collective unit and that's what we want to make the process going forward. They've got to care about each other and they show that on and off the field and they all want to achieve success together.
Watson also commented on the appointment of Greg Brown as Conditioner and Carl Foulstone as Rehabilitation Conditioner, and believes they are pivotal to the work the club will do in the coming years.
"They're essential to everything we're doing. I believe in being fit and being able to be fit enough to defend and do the tough stuff. That's what we build the team around.
"Greg Brown is essential to that in the mentality he brings to the players and the fitness levels that he'll bring to the players to make sure when it comes to the crunch time, we're the ones able to make good decisions.
"Carl helps us in that also - he'll give us key metrics, he'll send us notes to let us know how far we can push players and how far we can't push players. The players and everyone in and around Huddersfield will be able to see the benefit of that."
Watson has also spoken with Interim Head Coach Luke Robinson among others about the state of the squad, in regards to improvements that can be made in the off season.
"There's definitely areas for improvement, and there's definitely good players there also. Coming in at the back-end of the season, a lot of players have already been signed up at other clubs so what we need to do is identify what we need going forward.
"I've had a good chat with Luke Robinson and heard his thoughts as to what could improve the squad from the back end of last year, we've spoken with Richard Thewlis about some ideas we have for improving the squad and we'll all work hard to bring those ideas to fruition."
Finally, Watson has a message for the fans and shares his hope that they can join in and see the benefit of the work they plan to do in the coming months.
"I hope they can get down here and start enjoying the entertainment we'll be offering to them. We're going to be working hard over the off-season to deliver an entertaining style of Rugby and making sure we get the wins. Hopefully they can be a massive part of it by getting down and being part of that and supporting us here."
"Hopefully after Christmas, they'll be able to come down here and show their support for the team."
Giants Chairman Ken Davy said: "It is a long time since I have felt so excited about a Huddersfield Giants announcement and I am absolutely delighted that Ian Watson has chosen the Giants to be his club for the foreseeable future.
"We have all seen the way that he has built his previous team into genuine trophy contenders, with two major finals appearances in the last year. For Ian to choose the Giants to be his next club speaks volumes for where we are at the moment and his belief in what we can achieve together.
"I have been hugely impressed by his professionalism and integrity throughout our discussions and look forward to him bringing his ideas and work ethic to our Club for the betterment of all.
"He will be joined at the Giants by some of his backroom staff, as we know that Ian views them as essential if we are to bring the best out of our already talented squad, and again we warmly welcome them to the Club.
"This appointment is a real statement of intent from the Giants and demonstrates our determination to once again bring silverware to this great Club and it is clear from my discussions with Ian that he shares our goals and beliefs.
"It feels a long time since we lifted the League Leaders Shield in 2013 and both Old Trafford and Wembley are venues where I believe our loyal claret and gold supporters need to see their team in action. The journey to get there starts on December 1st when Huddersfield Giants officially celebrate the beginning of our new era under Ian Watson."