30 Dec 2020
The Giants Charity Annual Review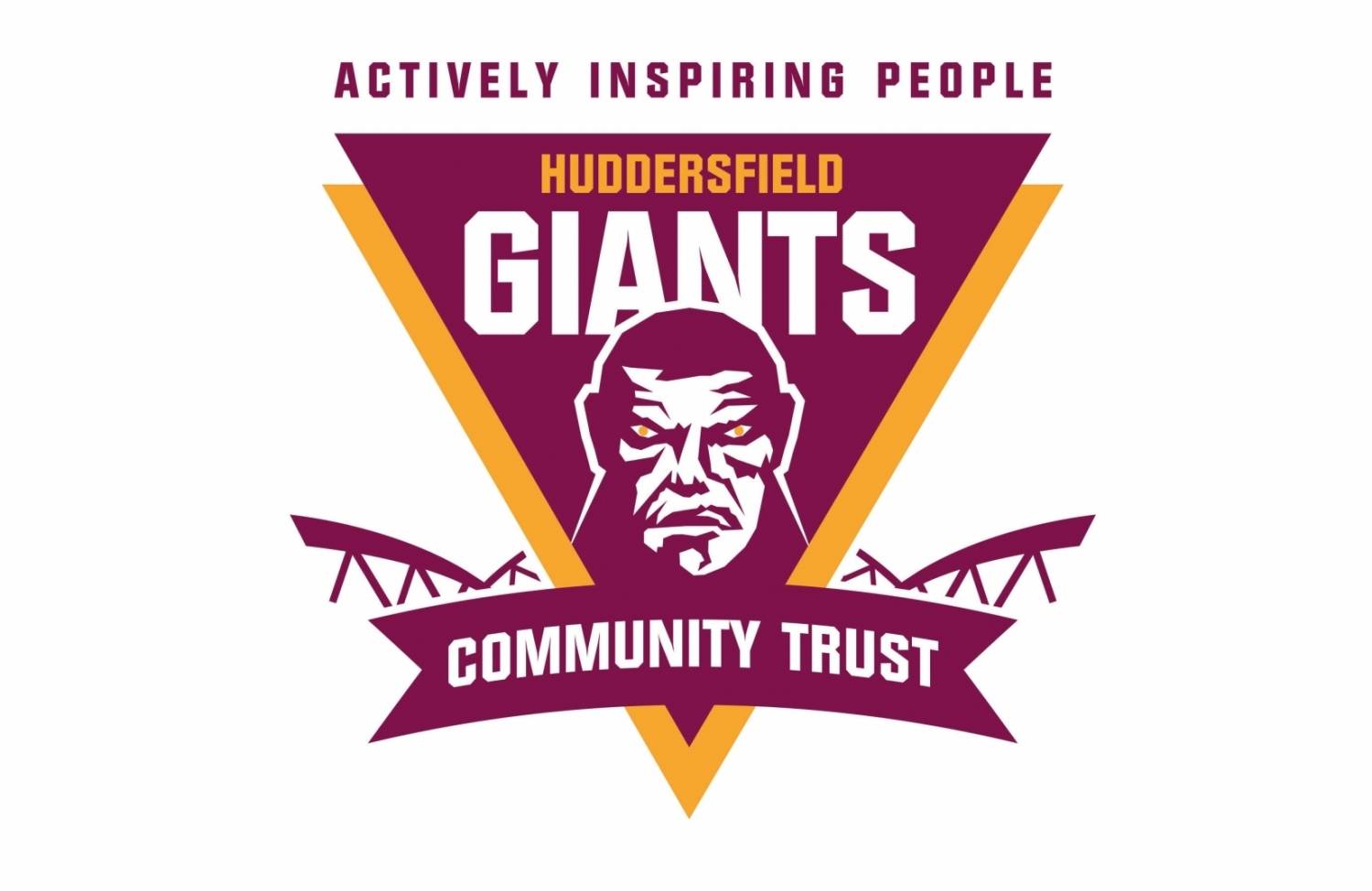 ​As we reach the last few days of the calendar year, Huddersfield Giants Community Trust would like to share the achievements of 2020 within a very tough year.
As we reach the last few days of the calendar year we reflect back on the year that our charitable arm the Huddersfield Giants Community Trust (registered charity 1117768) has had and would like to share some of the achievements of 2020 which was a very tough year.
Huddersfield Giants Community Trust ( HGCT ) uses the influence of the club to enhance community cohesion, improve fitness and well-being and raise the hopes and aspirations throughout Kirklees of all on behalf of Huddersfield Giants. Despite the overall turnover of the charity dropping due to the pandemic it remains the largest in the game of Rugby League and is still well north of £1 million.
In such a difficult year www.giantsrl.com asked CEO Lisa Darwin to highlight some of the tremendous work that has gone on during 2020.
Sport
Sport and physical activity has played a huge part for mental well-being, keeping healthy, active and engaged, throughout the pandemic. HGCT has still managed to continue to impact the community with sport, albeit with restrictions.
Schools
Throughout 2020, HGCT coaches have continued to support their partner schools and the SkyTry initiative. The year began with regular provisions set out with schools throughout Kirklees, even at the height of the pandemic, some schools remained open for key worker children. Coaches were on hand to assist with engaging physical activity to support.
When the new academic year began in September, new and existing schools teamed up to work with HGCT again. Looking a little different with the appropriate measures and guidelines in place, coaches have continued to constantly deliver high quality multisport and rugby league sessions, supporting teachers and ensuring the promotion of health and well-being to children.
Charlotte from Scissett Middle School recently shared their staffs feedback; "Ann and I would like to pass on our utmost thanks and gratefulness for all the support that HGCT have given us this term. It has been a strange term in lots of ways but we really can't thank you enough for all the help you have given all our staff and for always providing active and engaging lessons, whether these are from Ryan, Jacob or Taryn. As a team, you have really helped us to do our job as PE co-ordinators!"
Holiday Camps
Over the summer school holidays the sports team completed well organised multisport and dance camps at three locations across Kirklees, at Lindley Swifts, Dewsbury Moor and The Zone. Supported by Kirklees Council hundreds of places were offered into the community over the 5 weeks, keeping children active and engaged through a long summer.
Again supported by Kirklees Council, October half term the trust enabled 150 youngsters to enjoy sporting activities who may not usually be able to attend these kind of events. The holiday camps ensured that children would be kept healthy, fed and active through the school holidays.
A present for children just before Christmas - In partnership with Kixx Huddersfield, the Christmas Camp held at The Zone, gave the opportunity for over 250 children to have access to activities in a safe and controlled environment. In addition they also met some of their local Huddersfield Giants Rugby League sporting hero's!
Huddersfield Giants Women
Giants Women were looking for a promising start to 2020 as they had gained promotion to the Super League in 2019. The season was to start in March however it never materialised due to the national lockdown. In the hope of the season starting at a later date the girls continued to train hard to keep fit, organising fitness classes and team bonding over zoom. Once they were able to, they began outside training in summer with strict bubbles and protocols. A huge testament to the girls for battling on in hope of the season starting.
The squad is in a much better position, with new recruits and the hard work they have put in. Now the players and staff are preparing to get ready for the first year of Super league in 2021.
The coaching team are always on the lookout to strengthen the squad, looking for players who are the right fit for the club and have the right attitude.
Dance
Gymnastics & Cheerleading never stopped for HGCT. In March classes went virtual, with over 200 young athletes involved in classes each week. Having adapted to the virtual way of classes for four months the children couldn't wait to return back to face to face classes! It's been a challenging time adapting but the coaches wanted to continue to support the athletes throughout the difficult time. The work behind the scenes from coaches, athletes and parents has been phenomenal and we thank them all.
National Citizenship Scheme ( NCS )
2020 has been slightly different to previous years for NCS, having to adapt programs from their initial plans.
In the summer holidays they completed the Keep Doing Good program with young people who had previously signed up to the initial Summer program. The program was designed to pledge over 100,000 hours nationally to businesses, charities and organisations who may need support due to COVID 19. The team worked with young people adapting to COVID safe guidelines. In partnership with Kirklees Council they participated in Active Citizens training, along with supporting Hill Care Homes to help tackle loneliness. Young people designed an afternoon of bongo bingo, trivia quiz and fun and games to engage with residents virtually, along with making arts and crafts, writing letters and sharing stories to send across to all residents.
In Autumn, NCS partnered with Kirklees College, which saw 34 young people partake in a virtual program alongside Adam Corbally an inspirational speaker well known for his appearance on the Apprentice. Young people worked in groups to design, pitch and deliver a product that would benefit someone in the community. Through the learnings from Adam's enterprise sessions, in product and design, public speaking and working towards a goal, the teams competed in delivering the perfect pitch to a panel of dragons.
Also in the Autumn half term, 56 young people took part in Bradley Woods Scout Camp. Partaking in outdoor activities such as, archery, rifle shooting, rock climbing and crate stack along with the famous NCS Huddersfield Community Challenge. Sessions were delivered by The Base, Huddersfield to raise awareness around safety and key messages regarding drugs and alcohol. Each Team was supported by a charitable organisation RSPCA (Halifax, Huddersfield and Bradford), Yorkshire Air Ambulance ( YAA ) and Hill Care Homes. Over 3,000 Social Action hours were delivered by NCS Participants with HGCT and some quality projects.
Over 60 personal letters delivered to residents in care homes.
Social Media assets, such as tiktok accounts, podcasts and promo videos created for animals who are desperately in need of a new home.
Promotional material on YAA's new text to donate campaign to support people to donate digitally rather than street collections and various other fundraising methods that have had to stop.
Renovation of a care home garden, that users wanted to make use of the space to get outdoors and visit with loved ones due to covid restrictions.
30 young people have continued the great work and joined the Local Action Group. There has been two successful virtual meetings to brainstorm ideas of how they can be more involved in 2021 with supporting their local community. There are fantastic partnerships set up with Ahead Partnership and Kirklees Council to support the young people to make a difference in the future.
Education
Like all Education providers in March 2020, online learning became the norm for an extended period of time. The Education Academy learners completed the remaining academic year 2019/2020 remotely through Microsoft Teams. The year 13s have successfully pursued the next stage of their career, either following further education at University, their preferred options, or even gaining full time Rugby League contracts with the Huddersfield Giants as in the case of Robson Stevens and Alfie Schultz.
The new academic year began in September where learners (including many of the Giants first and second year academy players ) retuned to face to face learning and team training. The Education program delivered at The Zone, has enabled the learners to be socially distanced and provided with their own IT resources. Training has been successful for both the Giants academy and Category Three Academy development players, whether on The Zone's 3G surface or in the gym.
You could join the Education team for 2021/22 academic year - click here for more information.
The Zone
Powered by HGCT, The Zone was forced to close in March, due to the national lockdown. A magnificent multi-purpose facility just off St Andrews Road, 'Where Play Happens' - the doors were closed for over 4 months with 3G pitches and indoor play area unable to be used by the local community. Management have worked tirelessly to open up areas from August, when new restrictions kept being announced, albeit only partially.
Partial reopening of Indoor Play Area from September - November.
Indoor Football - Adults resumed for one week in September until the rule of six restriction.
Grassroots sports - The opportunity arose for junior grassroot clubs to train indoors from October onwards.
HGCT Cheerleading and Gymnastic classes and Education learning have managed to continue.
During the enforced closure, work behind the scenes allowed the completion of the Multi-sensory Zone, a new venture for 2021. Stay tuned for more information!
HGCT
Usually regular fundraising events are held throughout the year, but notably a thanks to BNI Terriers. They have continued to support the Trust over the last couple of years with large amounts of money, support and time given. The Venari Group, based in Brighouse has also pledged significant funds into the Multi-sensory zone for 2021.
An exciting project from this year is the new Giant5 initiative that briefly started at the end of this year. A new pathway for under 5 children to enjoy various classes designed for healthy growth and development involving physical and mental activity and stimulation, within a safe environment at The Zone.
Its been a very challenging year, and we couldn't have done it without the support of so many.
Huddersfield Giants Community Trust continues to make a difference to the local community and with the support from everyone we can achieve great things in 2021.