26 Feb 2021
2021 Fixtures in Full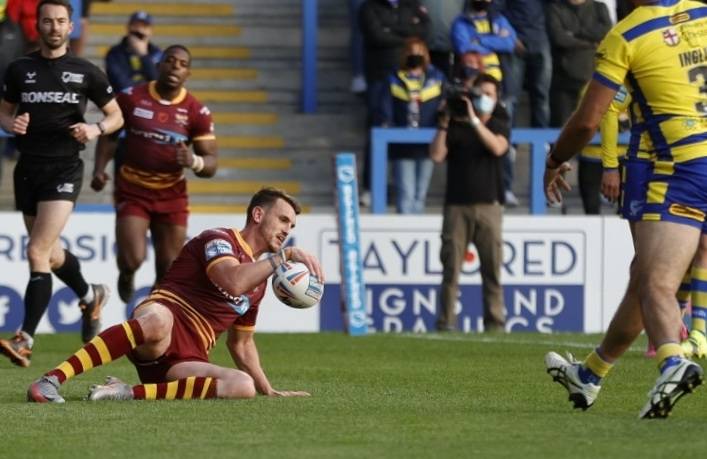 All the dates you'll need to know for the 2021 Season
Huddersfield Giants and Betfred Super League are pleased to announce their 2021 fixtures. The first two rounds against Hull FC and Catalans will take place at neutral venues, live on Sky Sports. As regulations stand, fans will return to the John Smith's Stadium against Wigan Warriors.
Huddersfield Giants Managing Director, Richard Thewlis said: "It is always an exciting time when the fixtures are released for the Betfred Super League and even in these difficult times that we are all facing we'd hope that it gives everyone something to look forward to.
"Twenty five rounds with the Challenge Cup sandwiched in between is a packed calendar but one that is necessitated by the circumstances that we've faced as a game. Clearly there will be a degree of movement yet in the actual dates with our main broadcast partner Sky yet to select there picks but the fixtures announcement does show the way the year will map out for us all.
"Our first two games are at "neutral venues" live on Sky Sports and we await clarity for the immediate games ahead in terms of venue whilst supporters can be assured that the stadium here is ready to allow supporters to watch as and when government rules permit. As the regulations stand and looking at the fixtures our first home game in front of a crowd we would hope will be against the Wigan Warriors."
Last updated; 09/09/2021 12:07 GMT
| | | | | | |
| --- | --- | --- | --- | --- | --- |
| RD | Date | KICK OFF | OPPONENT | VENUE | HOME/AWAY |
| 1 | SUNDAY 28TH MARCH | 3.00 PM | Hull FC | Emerald Headingley Stadium | L 10-22 |
| 2 | SATURDAY 3RD APRIL | 3.00 PM | Catalans Dragons | Totally Wicked Stadium | L 10-20 |
| Challenge Cup Round 3 | 9th to 11th APRIL | 3:00 PM | Leigh Centurions | Leigh Sports Village | W 36-18 |
| 3 | FRIDAY 16TH APRIL | 7.45 PM | Hull Kingston Rovers | Hull College Craven Park | L 24-25 |
| 4 | THURSDAY 22RD APRIL | 7.45 PM | St Helens | John Smiths Stadium | L 12-18 |
| 5 | SUNDAY 2ND MAY | 3.00 PM | Leeds Rhinos | John Smiths Stadium | W 14-13 |
| Challenge Cup QF | FRIDAY 7th MAY | 8:15 PM | St Helens | Emerald Headingley | L 18-23 |
| 6 | MONDAY 17TH MAY | 7.45 PM | Warrington Wolves | Halliwell Jones Stadium | W 20-26 |
| 7 | SUNDAY 23RD MAY | 3.00 PM | Leigh Centurions | Leigh Sports Village | W 6-44 |
| 8 | SUNDAY 30TH MAY | 3:00 PM | Wakefield Trinity | Mobile Rocket Stadium | L 12-38 |
| 10 | FRIDAY 18TH JUNE | 7.45 PM | Salford Red Devils | John Smiths Stadium | L 8-9 |
| 11 | FRIDAY 25TH JUNE | 7:45 PM | Hull FC | KCOM Stadium | L 10-17 |
| 12 | THURSDAY 1ST JULY | 7.45 PM | Catalans Dragons | John Smiths Stadium | L 12-50 |
| 13 | TUESDAY 6TH JULY | 7.45 PM | Castleford Tigers | John Smiths Stadium | P-P |
| 14 | SUNDAY 11TH JULY | 3.00 PM | Wigan Warriors | DW Stadium | L 12-16 |
| 9 | FRIDAY 16TH JULY | 7:45PM | Wigan Warriors | John Smiths Stadium | L 12-14 |
| 15 | THURSDAY 22ND JULY | 7:45 PM | Hull FC | John Smiths Stadium | W 40-26 |
| 16 | WEDNESDAY 28TH JULY | 7.45 PM | St Helens | Totally Wicked Stadium | P-P |
| 17 | MONDAY 2ND AUGUST | 7.45 PM | Castleford Tigers | The Mend-A-Hose Jungle | W 34-16 |
| 18 | SUNDAY 8TH AUGUST | 3.00 PM | Wakefield Trinity | John Smiths Stadium | W 22-18 |
| 19 | FRIDAY 13TH AUGUST | 3.00 PM | Salford Red Devils | AJ Bell Stadium | L 12-18 |
| 20 | THURSDAY 19TH AUGUST | 7.45 PM | Leeds Rhinos | Emerald Headingley Stadium | L 12-18 |
| 21 | THURSDAY 26TH AUGUST | 7.45 PM | Warrington Wolves | John Smiths Stadium | L 6-20 |
| 22 | MONDAY 30TH AUGUST | 7:30 PM | Hull Kingston Rovers | John Smiths Stadium | W 40-28 |
| 23 | SUNDAY 5TH SEPTEMBER | 1:00 PM | Wakefield Trinity | St James Park, Newcastle | L 32-18 |
| 24 | SATURDAY 11TH SEPTEMBER | 6.00 PM | Catalans Dragons | Stade Gilbert Brutus | Away |
| 25 | SUNDAY 19TH SEPTEMBER | 3:00 PM | Leigh Centurions | John Smiths Stadium | Home |