24 Jun 2021
Giants face Injury Crisis ahead of Hull game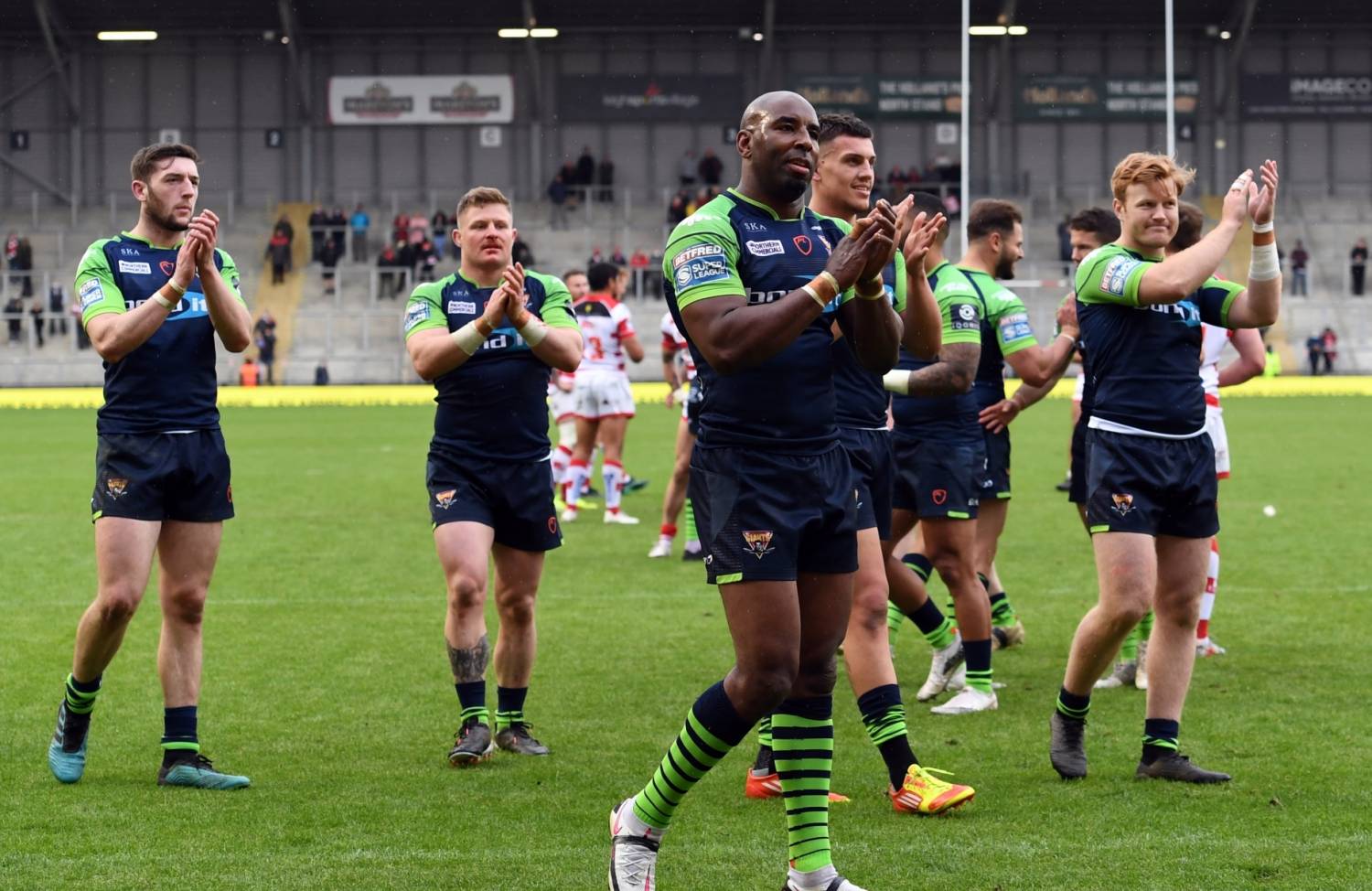 Huddersfield Giants Head Coach Ian Watson has revealed at today's scheduled press call some of the challenges facing the squad ahead of tomorrow night's Bet Fred Super League clash at Hull FC.
Surgery will be performed on Michael Lawrence and Adam O'Brien after their injuries versus Salford, meaning both face a long spell on the side-lines.
In addition to that Jack Cogger is in a boot and will be absent for at least a month. Joe Wardle also faces a significant time out with injury after impressing in his first outing of the year.
With the All Stars team choosing to take 5 Giants players, this means Ian Watson has at least nine changes to make to the side that faced Salford. He also has the added complication of a number of players yet to be cleared by the medical protocols needed ahead of the game, although that is expected to provide some players to ensure the game can go ahead. A further six players (Darnell McIntosh, Matty English, Oliver Russell, Jack Ashworth, James Cunningham and Will Pryce) have been added and the squad is now the following;
SQUAD IN FULL

1. ASHTON GOLDING
3. JAKE WARDLE
5. DARNELL MCINTOSH
6. LEE GASKELL
13. JOSH JONES
14. MATTY ENGLISH
15. JOE GREENWOOD
18. JACK ASHWORTH
19. JAMES CUNNINGHAM
20. OLIVER WILSON
21. LEROY CUDJOE
22. JAMES GAVET
23. OLIVER RUSSELL
24. LOUIS SENIOR
25. OWEN TROUT
27. SAM WOOD
28. SAM HEWITT
29. RONAN MICHAEL
31. OLLY ASHALL-BOTT
32. WILL PRYCE

Ian Watson said "It's a tough gig that we face given the adversity we have been hit with this week – much of which was beyond our control or influence and it will inadvertently provide opportunities for a number of players to show what they can do at this level."
"The RFL are going through their processes of waiting for paperwork for the guys coming back from Covid to be signed off and waiting for paperwork for the younger lads to be registered to play."
"We're happy with the team we've got, it's difficult circumstances but we've just got to make the best of it. We're talking about possibly two debuts so it'll be exciting in many ways for those guys.
"There's a youthfulness to the squad, which brings its own energy. It's what they've been waiting for and been excited for so they'll have to take that opportunity."
"We're looking for a lot from our older lads, we'll be looking to them to lead from the front and the younger lads can provide energy"
"Michael Lawrence will be going in for an operation and Adam O'Brien will be also going in for an operation after he dislocated his shoulder, Adam's got a few tears that'll need repairing, which will mean he'll be missing for 12 weeks in all likelihood. It's devastating for him but he'll come back better for it."
"Joe Wardle will also be out for 12-16 weeks, considering that he's worked so hard to come back, it's devastating. He's worked really hard to get back to fitness but through no fault of his own he finds himself out again."