4 Sep 2021
Lawrence commits to drive for silverware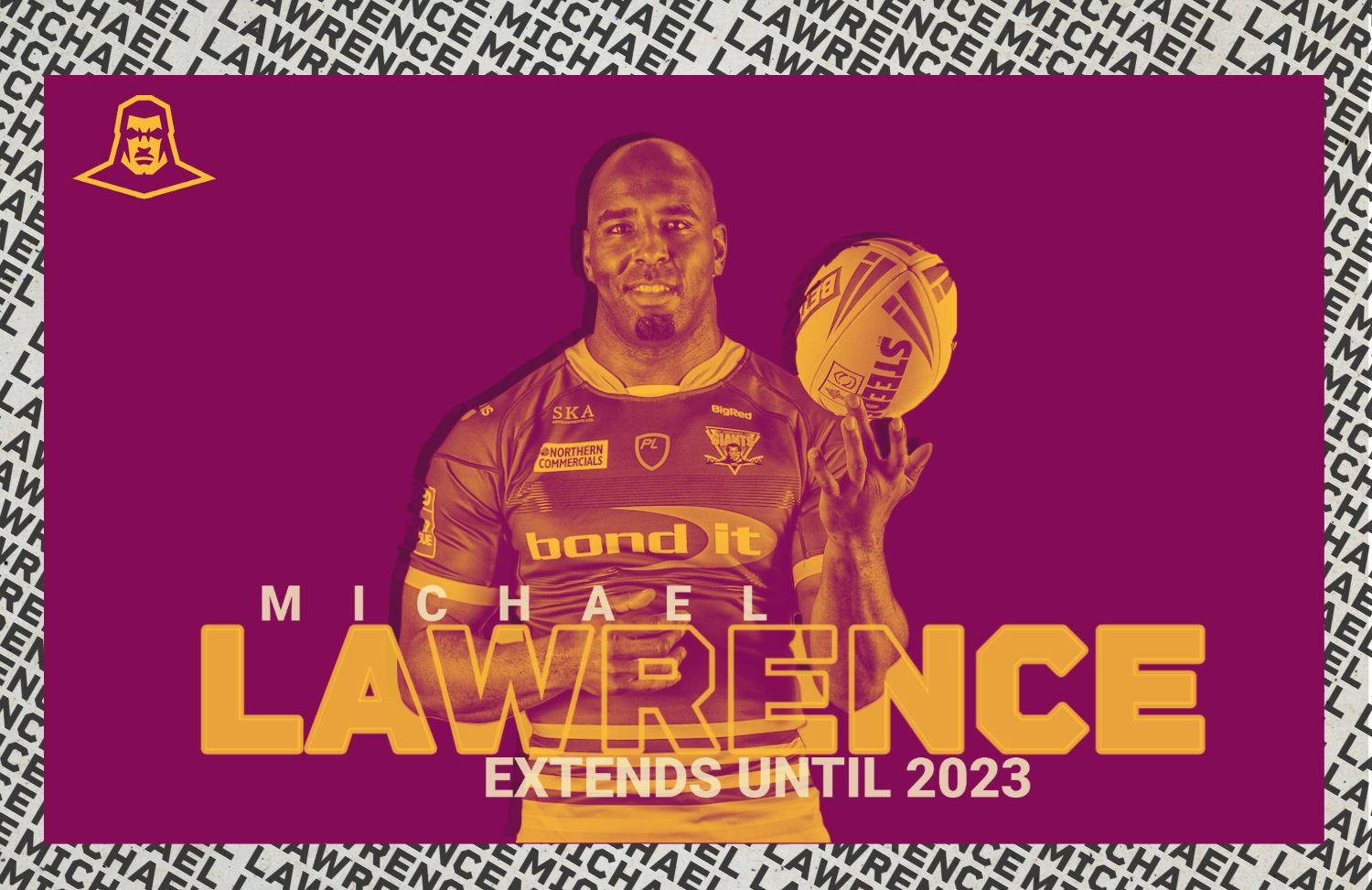 Huddersfield Giants club captain, Michael Lawrence, has signed a new two-year deal with the club. The forward, who made his debut for the Giants in 2007 and has made over 300 appearances for his hometown club, extends after being appointed the club's captain in 2021.
Huddersfield Giants Coach, Ian Watson said: "It's important that you get the nucleus of the club right, and it's important that we made Michael Lawrence Club Captain this season. He typifies what you want from a Rugby League player, on and off the field - with his ability and work-rate and his wider mentality. He works a lot in the community and he's well known in the game for promoting the sport in a positive manner, and we want to build the club around that mentality.
"We're trying hard to get back to the Huddersfield way; belonging to the area, knowing what it means to be a part of this club and Michael is a great example of that. We want to bring that togetherness to the club in Huddersfield."
"I had a chat with him at the start of the season about his help developing the future generation of Huddersfield Giants. He works really hard with them, sitting with the younger middles and discussing how to be better and how to deal with certain opponents - that's pivotal for us."
Huddersfield Giants Club Captain, Michael Lawrence said: "I want to win another piece of silverware with this club. That's always been my driving motivation every year and I believe we can do that.
"Obviously this season it's been a bit disappointing with the disruption through Covid-19, injuries and taking a bit of time to get use to the new way of doing things. It's starting to click now, however and we're getting there, the group that we've got and the players we're adding to the team next year are only gonna add to that and off the back of another good pre-season, we'll hit the ground running next year."
"Everything is different now - the way we train and play has changed, as you'd expect with a new coach, but Ian Watson had a lot of success with Salford so the players that are here and will be there next year have full faith in what he's trying to do, what he's trying to build and what we're trying to do as a club going forward."
"Being the club captain now and I have a leadership role within the squad. I've been in the squad, the club and Huddersfield longer than anyone else other than Leroy and I'm happy to help bring players through and help build that winning mentality. A good, hard-working, close knit group is what we want and that starts at the top. When you have a really good culture in the club, that puts you in good stead for the long term future."
"It's massive for me and it means as much to me now as when I started playing for Huddersfield. Everyone that knows me knows that I love the club and the town and knows I give my absolute all to make sure we're successful every time I take the field. I'm excited about what we can do and what we can achieve. Being named club captain was massive for me and is a real honour something I'll forever be proud of."
Michael Lawrence is sponsored by Selbie Opticians