24 Jan 2018
GIANTS 2018 FIXTURE POSTER RELEASED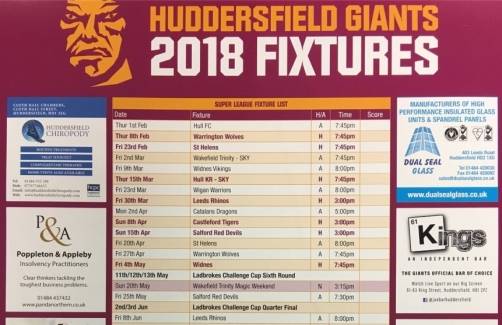 Fans can pick up a FREE fixture poster from the Club Store
The 2018 Huddersfield Giants Fixture Poster has been released and fans can pick one up for FREE from the Club Store. As well as this, fans can view and download this season's fixture list by following the link below:
http://www.giantsrl.com/~mediagi/docs/Huddersfield_Giants_Fixture_Poster_2018_A2_Visual.pdf
Four new companies in Huddersfield Chiropody, Kings Bar, Poppleton & Appleby and Sheards Wealth Management are new to featuring on the fixture poster, which is perfect for any supporters of the Claret and Gold to be reminded of the next Giants match.
Huddersfield Giants are also giving out FREE Season Card wallets in the Club Store to 2018 Season Ticket holders, so make sure you pay a visit to the John Smith's Stadium Club Store to get yours ahead of the start of the 2018 Betfred Super League season.
Giants Commercial Manager Brian Blacker commented:
"It's fantastic to see a new Business come aboard with the Giants and take up the hugely beneficial opportunity of having an advertisement on the Giants Official Fixture Poster. It's great to see so many companies, some who have continued to be involved with the fixture poster and others who are new to it, join the Club and reap the rewards that advertising with the Giants can offer."
See all the Companies that appear on the 2018 fixture poster below:
Twitter: @BondItUK
Facebook: @bondituk
Twitter: @DualSealGlass
Facebook: Dual Seal Glass Ltd.
Facebook: Bridge Pallet Supplies Limited
Twitter: @TweetPennine
Facebook: @PenninePneumaticServices
Twitter: @HepworthGroup
Facebook: @Hepworthmotorgroup
Twitter: @jax_bar_tapas
Facebook: @jaxbarhuddersfield
Twitter: @CV_Chiropody
Facebook: @Colnevalleychiropody
Facebook: @TaylorSigns
Twitter: @PandA_North
Facebook: @PoppletonAppleby
Twitter: @SheardsWealth
Facebook: @SheardsWealthManagement
Facebook: @huddelecmerch