10 Oct 2021
Remember, remember, the 5th of November!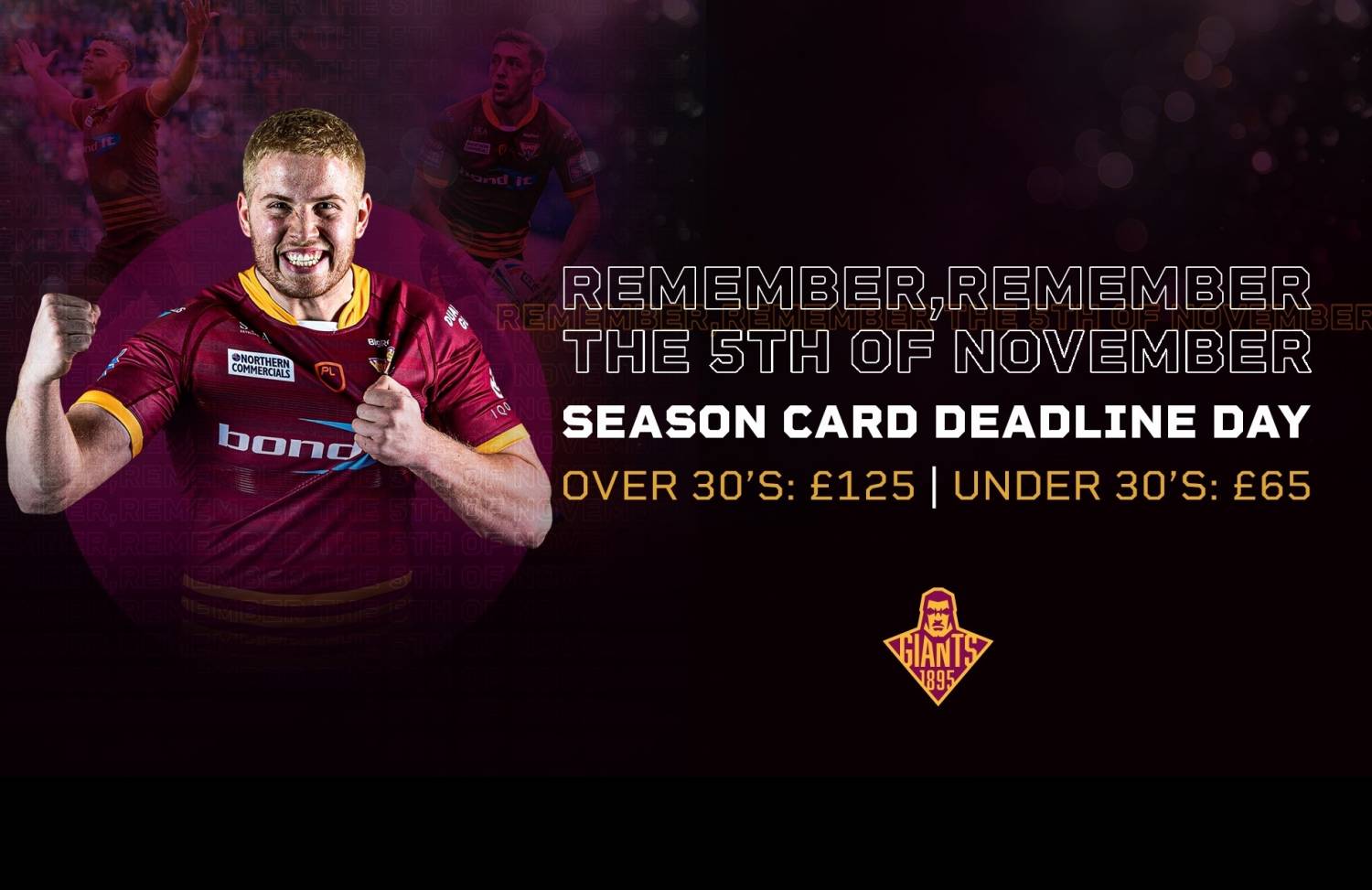 Giants Season Cards Early Bird deadline is approaching
Huddersfield Giants supporters are reminded that the Early Bird Deadline for Season Cards is November 5th. The Giants launched their amazing new deals for 2022 Bet Fred Super League Season Cards, with the most competitive price in Super League at £125 for Over 30s and £65 for Under 30s. To buy now, check out our dedicated Season Card website with all the details of our fantastic 2022 Season Card offer so you can back Ian Watson's side in the Betfred Super League next season at the best price in the Super League.
Giants Managing Director Richard Thewlis said "The success of the season card campaign is of critical importance to the club. We have kept our prices incredibly competitive with all levels of Rugby (let alone Super League) to reflect the times we are in and the need for more supporters to sign up to become members.
"The 2022 Betfred Super League season will be a pivotal one in the relatively short history of Super League and its our firm goal to be right at the top end of the table challenging for honours. We backed Ian Watson in his first year in respect of changes to both our staffing and playing personnel and that process has continued with a number of exciting signings already announced.
"We are also investing in the off field facilities available to our players which will tick off another box in respect of giving every player the best opportunity to be the best player that they can be here at Huddersfield.
"Our academy had another good year and at least one player from that group will move up into Ian's squad whilst others may be retained for the new reserves competition next year which will present a new challenge to us. Our message to the supporters today though is to renew your season cards at the earliest possible opportunity and bring as many along with you as you can.
"The journey under Ian Watson is clearly progressive, taking shape nicely and will present us all with an exciting 2022 I'm sure. All the staff here are available to any supporter to talk with and help should they have any queries in respect of the cards and the online facility has been tried and tested to ensure smooth transition from enquiry to sale.
To purchase your 2022 Season Card, visit giantsrl.com/seasoncards2022 where you can see all the information about our tremendous Season Card offer or alternatively call 01484 484159 or come down to see us at the stadium on non matchdays. The ticket office is open during the Season Card renewal period Wednesday to Friday, 9:30am until 4:30pm.
The Seat Renewal and Early Bird Deadline is the 5th November.
Buying your first Season Card
Click on the tickets link on the top bar, or side menu bar on giantsrl.com, or visit giantsrl.com/tickets.
If you have booked tickets through the Giants before you may already have an account with us. Enter your e-mail address and select "forgot password". Once this is done , you'll be sent a temporary password which will allow you to log in.
If you haven't bought tickets through us before you will need to create an account. Below the option to login, click "New User: Register Here"
Head back to giantsrl.com/tickets and select 2022 Huddersfield Giants Season Ticket.
Head to the complete payment page, fill in your payment details and complete your purchase.
Once this is done, you'll receive an email confirmation with details of your purchase.
Renewing your Season Card
Head to giantsrl.com/tickets or click the tickets link on the top bar, or side bar menu on giantsrl.com
Login to your existing account and in select "My Orders".
If you have never booked online before, enter the email address associated with your Season Ticket, and select "forgot password". Once this is done, you'll be sent a temporary password which will allow you to login. Remember, each individual Season Ticket is linked with an individual account, so you may need to do this multiple times for multiple accounts.
Once you've entered your account details, click the link for "My Orders". Here you will find your reservation for your 2022 Season Ticket. Click "pay reservation" and you will be taken to the payment page where you will be able to check your details and will be able to complete your purchase.
If you are changing seats, wishing to claim your Giant Cash Bonanza 5% discount, or wish to book tickets for anyone who does not have their own email address, you will need to contact the Ticket Office on 01484 484159 - this line is expected to be busy, so if you are unable to get in touch, leave a message with your name and telephone number and we will return your call.
All Under 30 season ticket holders aged between 5 and 16 will have £5 entry to all Super League away matches. (Tickets must be purchased through the Giants Ticket Office when matches go on sale)
The above prices are reduced by a further 5% for Giant Cash Bonanza Members but this cannot be claimed online via the ticket system. Should members wish to claim this discount please email rachel@giantsrl.com