22 Jan 2018
GOLDEN GAMBLE ADVERTISING OPPORTUNITY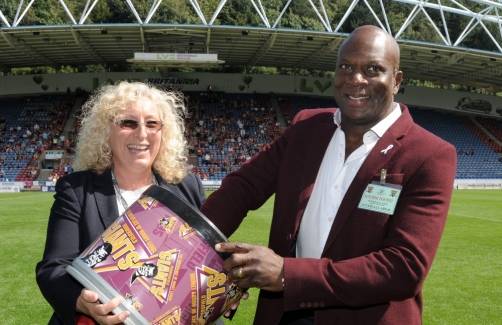 Reach up to 45,000 fans through the season by sponsoring the Golden Gamble tickets
Huddersfield Giants are offering an exciting opportunity for companies interested in publicising their name by sponsoring the Giants Golden Gamble tickets.
Seen by up to 45,000 fans throughout the season, this is a fantastic prospect for businesses to get their name seen by thousands of people in Huddersfield.
By sponsoring the Golden Gamble tickets your company logo and contact details will be printed on every ticket sold on gameday and announced before the half-time draw by our presenter.
Lottery Sales Manager Julia Owen commented:
"We have an exciting opportunity for a local business to sponsor the back portion of the Golden Gamble ticket. This is low cost advertising reaching out to up to 45,000 fans throughout the season. If you would like to find out more, please contact julia@cashbonanzaclub.co.uk
"The Giants Golden Gamble raises funds to support Youth Development here at the Club. We draw the winners at half-time, pitch side and the lucky winner of the top prize wins half of the proceeds, the other half, is donated to the Giants Academy to develop the future stars of our Club. It's a fantastic cause for the Club and a brilliant sponsorship package for a company looking to promote themselves."
There is limited time to make the most of this offer so act fast and get in touch with Julia on 07753610475 or email julia@cashbonanzaclub.co.uk