24 May 2022
Betfred Challenge Cup Final Information – Tickets on Sale Now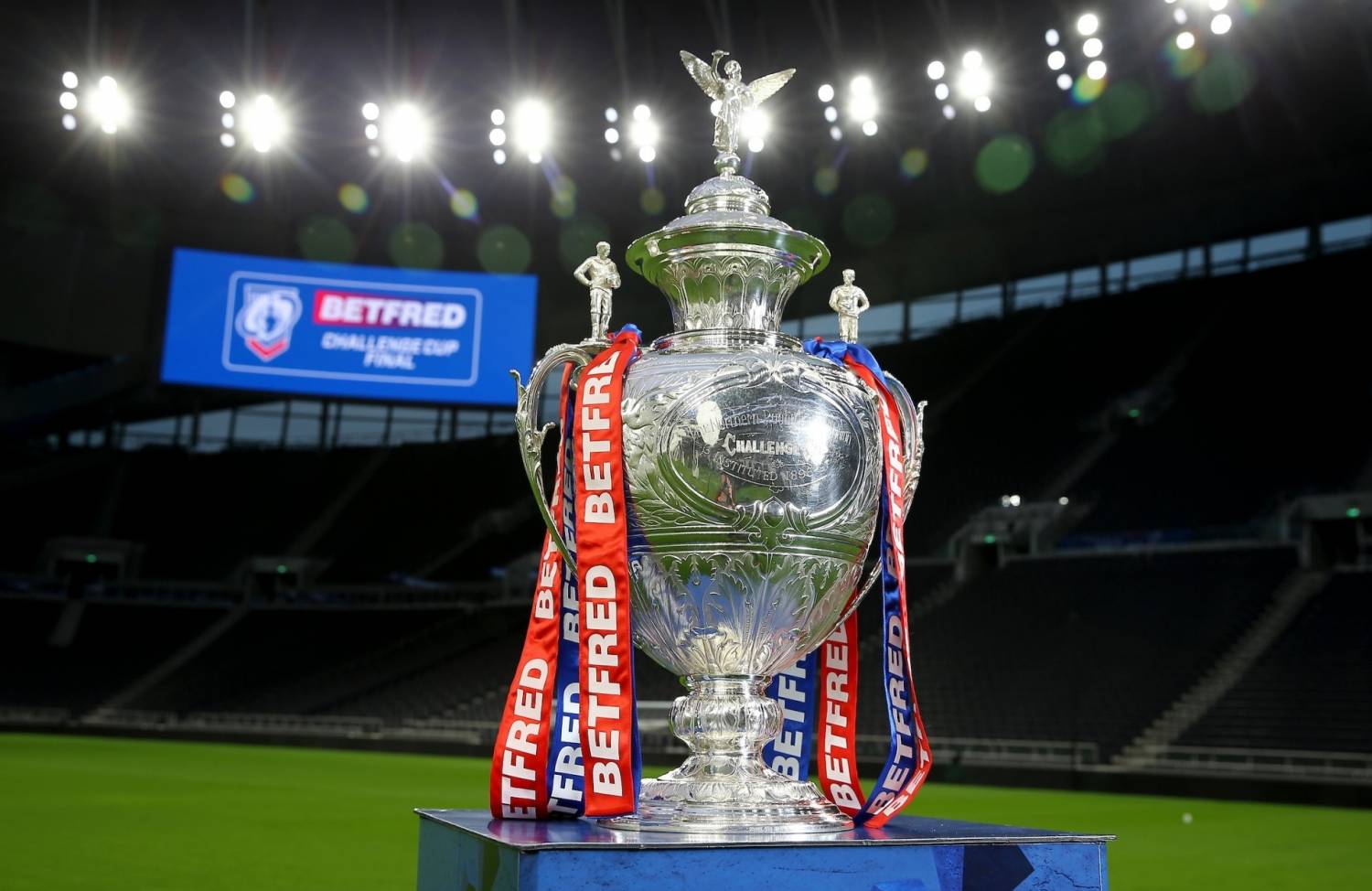 The 2022 Huddersfield Giants have an opportunity to put their names in the history books as the Claret and Gold look to bring the Betfred Challenge Cup back to the Birthplace of Rugby League for the first time in 60 years as they face Wigan Warriors in the Betfred Challenge Cup Final at Tottenham Hotspur Stadium Saturday 28th May (15:00 KO).
After dispatching Hull KR 25-4 in the Semi-final at Elland Road, Huddersfield Giants will now look to make history as the first Giants side to win the Betfred Challenge Cup in the Super League era at the first ever Rugby League final at the home of Tottenham Hotspur. Here is all the essential information you need to know ahead of this historic occasion:
Tickets
Tickets are ON SALE, ONLINE NOW and will be available to buy in person or over the phone at the stadium ticket office from 10 am on Monday 9th May.
We are expecting unprecedented demand for tickets at the ticket office and over the phone so please buy online where possible.
Please be aware that MasterCard Debit cards will not be accepted as a payment method on-line. Please use an alternative card or if you need to use MasterCard Debit please either call or visit the ticket office.
Giants supporters have been allocated various tickets for this momentous occasion so please ensure you book quickly to avoid disappointment. Price categories are as follows:
Category 4

Adult – £30

Concession – £15

Under 16 - £15

Category 2

Adult - £55

Concession - £40

Under 16 - £30

Category 3

Adult - £45

Concession - £25

Under 16 - £25

Category 1

Adult - £70

Concession – N/A

Under 16 – N/A
Concessions are classed as Over 65s, Full Time Student, NHS Discount, Armed Forces.
Giants Supporters have been allocated and will be able to sit together in the following blocks:
Category 4 – Blocks 522, 523
Category 3 – Blocks 519, 520, 524, 525
Category 2 – Blocks 113, 114, 115, 116, 419, 420, 421, 422, 424, 514, 515, 516
Category 1 – Blocks 119, 120
Ambulant Disabled Spectators will pay the relevant price category for a ticket but their Carer/PA will be Free of Charge
Wheelchair access tickets must be booked through the Rugby Football League at ticketing@rfl.co.uk or 0330 111 1113.
Tickets can be purchased on line at www.giantsrl.com/tickets or you can call the Ticket Office on 01484 484159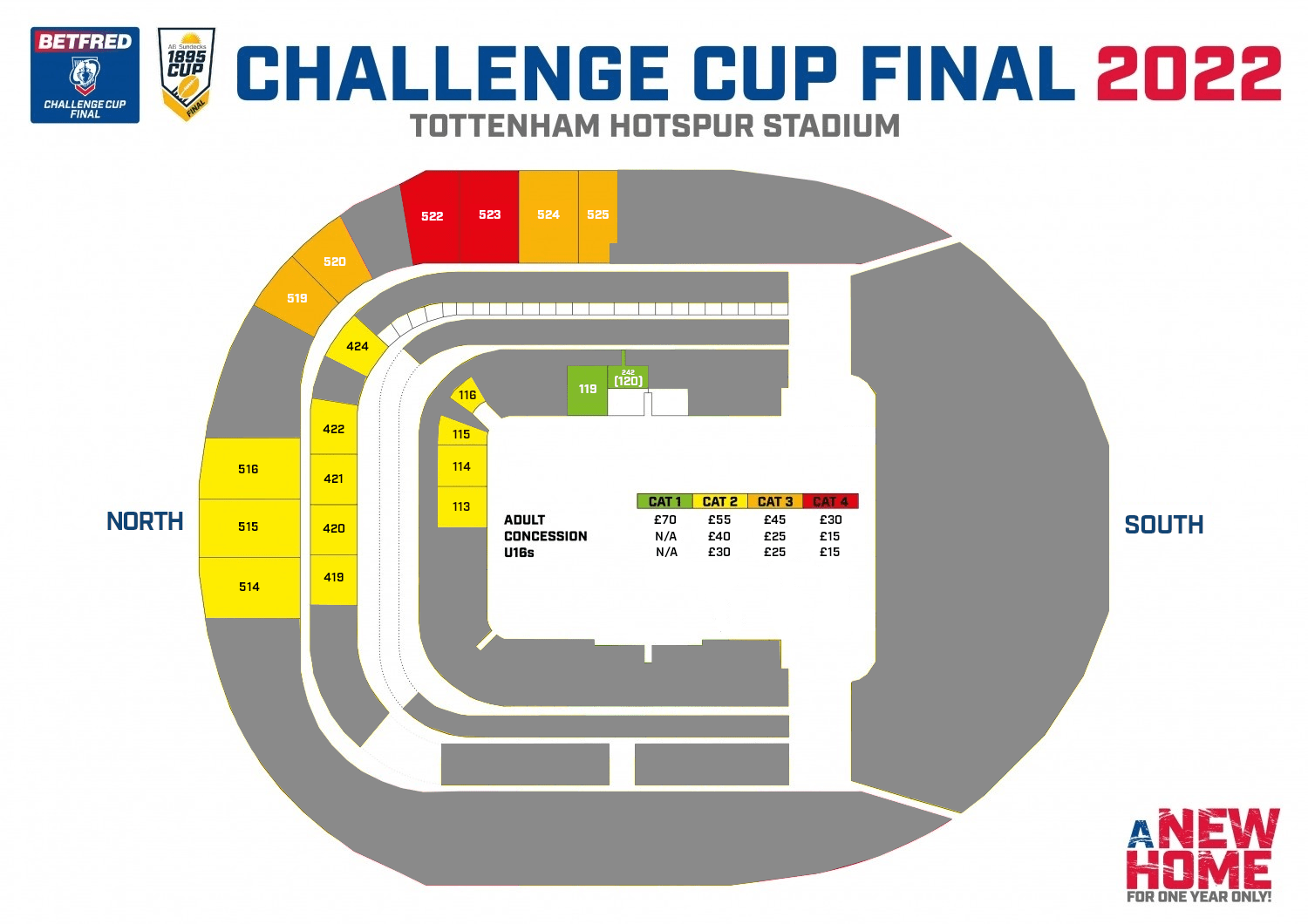 Opening Hours
Approaching the final, ticket office opening hours will be as follows:
Monday 23rd May to Thursday 26th May: 9.00 - 4.00 pm
Coach Travel
Coach Travel will depart from the John Smiths Stadium at 8:00 am on Saturday 28th May. The Coach will then begin the return journey from London 30 minutes after the final whistle.
Supporters can purchase return Coach Travel at £55 per person at www.giantsrl.com/tickets
Parking and Travel
Supporters are advised that there is no general parking available at the stadium. Details of how to get to the stadium can be found at https://www.tottenhamhotspur.c...
Information for Disabled parking can be found at https://www.tottenhamhotspur.c...
Stadium Information
Please find any other stadium information on the following link https://www.tottenhamhotspur.c...