1 Dec 2022
Huddersfield Giants 2023 Official Squad Number Launch!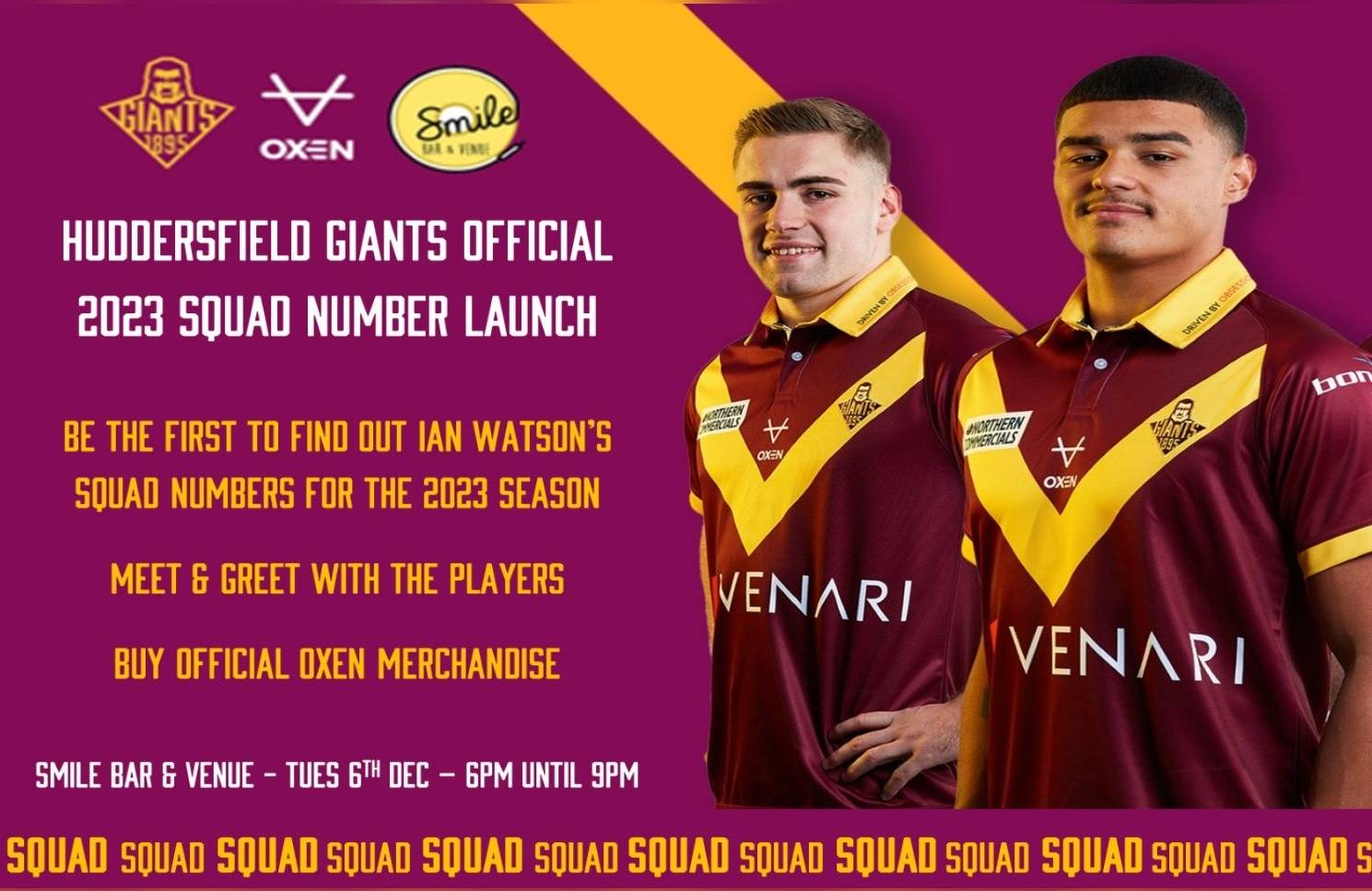 Huddersfield Giants are delighted to announce the date for our Official 2023 Squad Number Launch, co-hosted by HGSA. The Event will be held at Smile Bar & Venue on Tuesday the 6th December and fans of the club will be able to meet and greet members of the Giants squad as well as learning the numbers for each of the players for the much-anticipated 2023 Super League Season. (Buy 2023 Season Cards Here)
The event will also have an Oxen Merchandise stand on site during the event so fans will be able to browse some of the Giants/ Oxen kit and training wear for the upcoming season. See all the details below for the event!
Huddersfield Giants would love to welcome you to our Official 2023 Squad Number Launch.
• Smile Bar & Venue - 38 Wakefield Rd, Aspley, Huddersfield HD1 3AQ
• Tuesday 6th December 2022
• 6pm until 9pm *reveal to begin from 6:30pm
This is a FREE event for all partners, sponsors & supporters to attend. Children welcome.
• Be the first to find out Ian Watsons Squad Numbers for the 2023 Season
• Meet & Greet with the Players
• Buy Official OXEN Merchandise Onsite
• Find out who we will be facing in PRE-SEASON as our last two games are revealed!
Please register your interest via Eventbrite, using the link below, this will help to consider numbers for staffing at the venue.
https://www.eventbrite.co.uk/e/huddersfield-giants-official-2023-squad-number-launch-smile-bar-venue-tickets-450440970067