4 Nov 2022
First of its kind, Wellbeing Programme launched at Giants!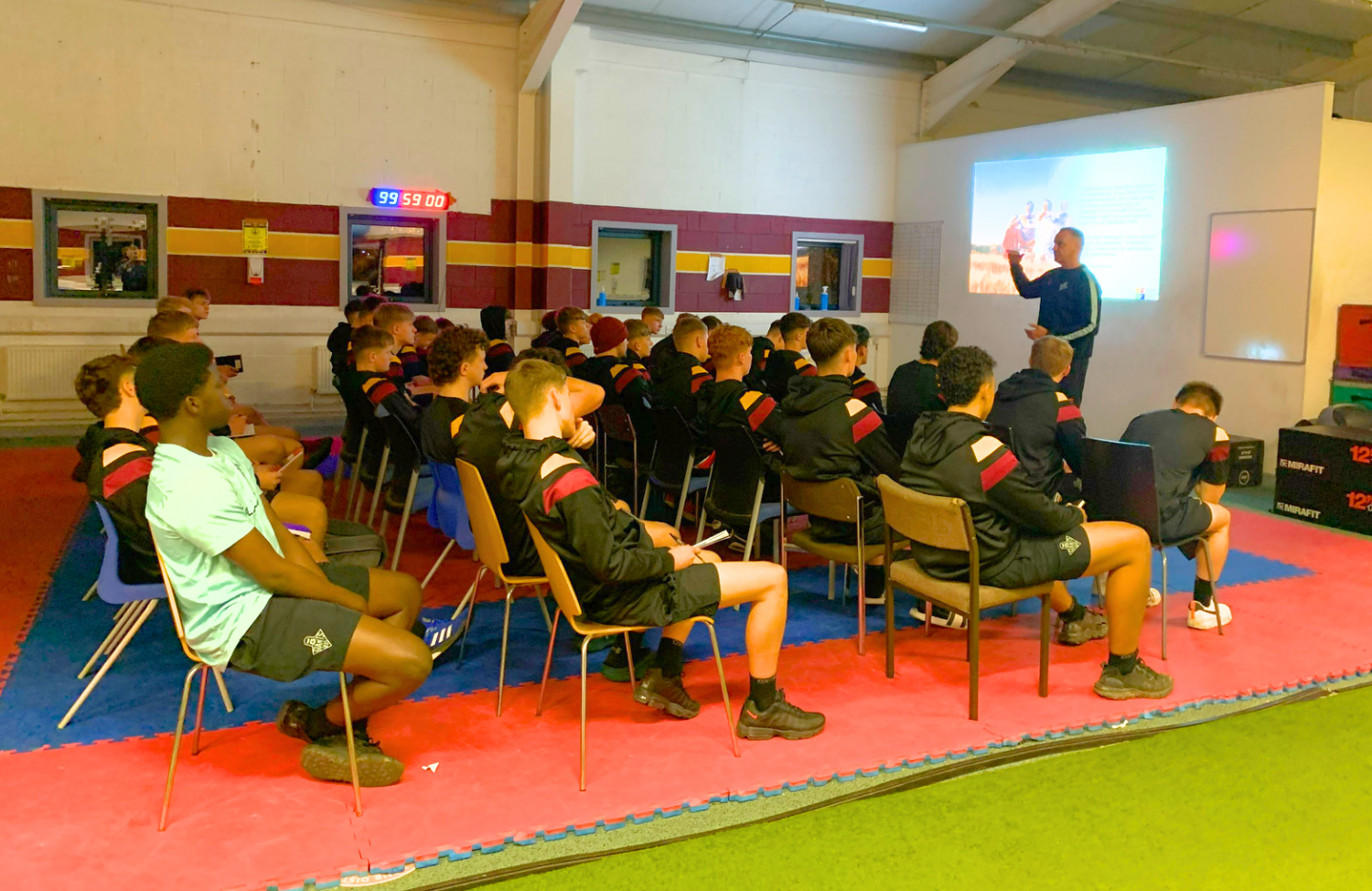 The Scholarship Program at Huddersfield Giants will this year, launch a bespoke Wellbeing program for all of its young Athletes, as a first of its kind for the Sport of Rugby League.
The Program will adopt a philosophy of Whole Person Wellbeing, with the aim of supporting Young Athletes who are part of the program to Flourish, alongside teaching them the skills in order to take care of their own Wellbeing.
Steve Hardisty, who facilitates numerous projects around Whole Person Wellbeing on behalf of Rugby League Cares, the Charity which supports the entire game of Rugby League commented on the ground-breaking program at the Club;
"The Whole Person Wellbeing Program, based within the Scholarship Program at Huddersfield is probably 10 Months in the Planning, and I believe is the first of its kind in the Sport. All the way back during the initial meetings, the main stakeholders within the Club including Rugby Manager Andy Kelly & Head of Program Steve Fox have been very supportive of housing a program which compliments & enables High Performance, whilst at the same time, offers a customised approach to individual Wellbeing which is truly Biopsychosocial in nature. Wellbeing done effectively, provides people with energy and proactively reduces stress within their lives. It's no longer either High Performance or Wellbeing, its both – they sit side by side. If a young person is feeling well from a Physical & Psychological Perspective, they have positive relationships within their lives and Athletes can begin to understand more about their individual Character Strengths and how to apply them within their everyday lives more often, then they can potentially unlock more consistent high Performance when it comes to their Sporting ambitions. Adolescent Athletes are required to navigate multiple challenges as part of their journey. By teaching them the skills of Flourishing (feeling good, functioning effectively Emotionally, Psychologically & Socially) we are very optimistic that they can thrive not only as Athletes, but as young people.
The program is designed to acknowledge the expectations & demands of Elite Sport, whist at the same time, give recognition to the Psychosocial development stage of the Young People, offering both developmental & protective Education & Guidance in a Solution focussed way, designed to teach individuals the skills in order to take care of their own Wellbeing.
The Scholars are being further supported by their own Wellbeing Coach, the former Salford, Huddersfield Giants, Catalan Dragons & Batley Player Jodie Broughton, who himself progressed through junior pathways with the Leeds Rhinos, and see's the comprehensive value of investing in the individual person as much as the developing Athlete, "The Whole Person Wellbeing Program is a really exciting prospect for all involved, it's something that I wish that I could have engaged with as a Professional Athlete growing up. Whether the focus is upon Sleep Hygiene, Character Strengths & Virtues, developing Positive Relationships, Positive Psychology Interventions or learning more about how our Brain works, it all supports a young person in reducing stress, and providing them with the tools in order to look after their own Wellbeing, so that they can be the very best version of themselves more consistently both on and off the Rugby Field."
Steve Hardisty gave a special mention to Steve Fox who coordinates the Scholarship Program at Huddersfield Giants, and his commitment to the Wellbeing Provision, "The importance of Stakeholder buy in cannot be underestimated when attempting to embed a provision like this within an already functioning program. Steve's attitude, willingness & commitment to embracing the Whole Person Wellbeing Space has been nothing short of incredible. His growth mindset approach to new things, allows him to see clearly all the benefits of engaging within a program of this nature, and how it can be an enabler of High Performance. Steve's philosophy is to care and invest in the person first, built upon strong relationships. It's really exciting to see how this can compliment an already excellent program."
Everyone at the Giants couldn't be more grateful to the support and help given to all of the players involved in the programme and the time and effort put in by Steve and everyone involved in supporting the club and its players, is more than exceptional.