12 Jan 2023
Kirklees Workplace Health and Wellbeing Fair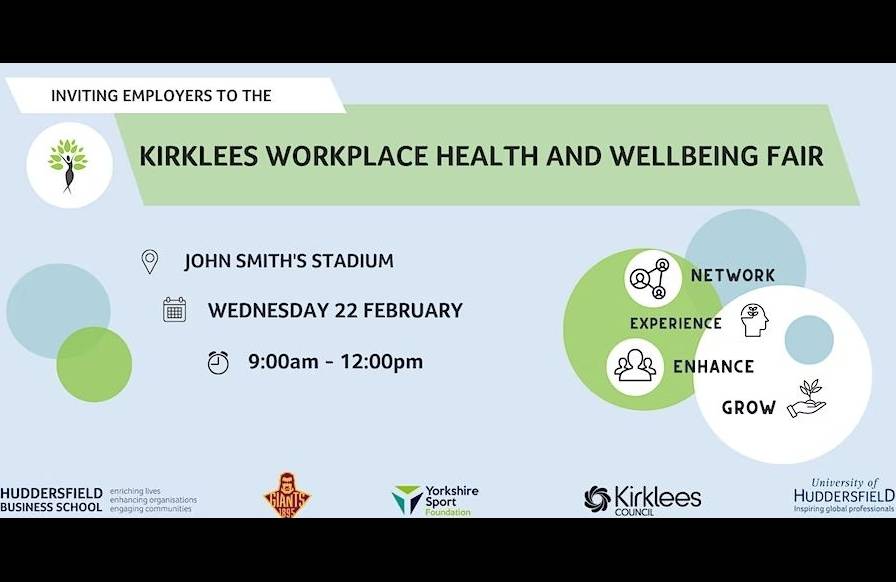 In collaboration with the Kirklees Council, Huddersfield Business School and Yorkshire Sport Foundation, Huddersfield Giants would like to invite you to the launch of the Kirklees Workplace Health and Wellbeing Fair.
This exciting new event will be held on Wednesday 22nd February at the John Smith's Stadium in Huddersfield, 9:00am-12:00pm.
Ensuring that we are providing support as employers, and feeling supported as employees, is important to us all and we're passionate about providing you with a space to be able to explore this. There will be lots of opportunity to network with a wide range of organisations who may be able to support you and your organisation.
There will be a range of interesting talks on the day presented to you by knowledgeable speakers on the topics of physical health, mental health, financial health and more.
It's important to be mindful that wellbeing doesn't end at being well. It's a continuum and any way in which we can support employers to enhance their processes, develop their valued employees and aid the success of their organisation is not only within our remit, but a responsible initiative that we whole-heartedly support.
Of the wide range of services available at the University of Huddersfield, we're pleased to be collaborating with the Health and Wellbeing Academy to be able to present you with the Wellness Bus; a service that provides adult health checks and will be available on the day for the following services:
• Heart rate
• Blood pressure
• Oxygen saturation
• Respiratory rate
• Temperature
This is a great opportunity to check in with your own health as well as a great reminder to encourage peers and employees to do the same. This service is, of course, optional and there will be lots to do on the day.
You can now register for this event, and we'd love to see you there!