15 Feb 2023
SEE THE GIANTS AND SUPPORT THE FORGET ME NOT HOSPICE TRUST VS THE WOLVES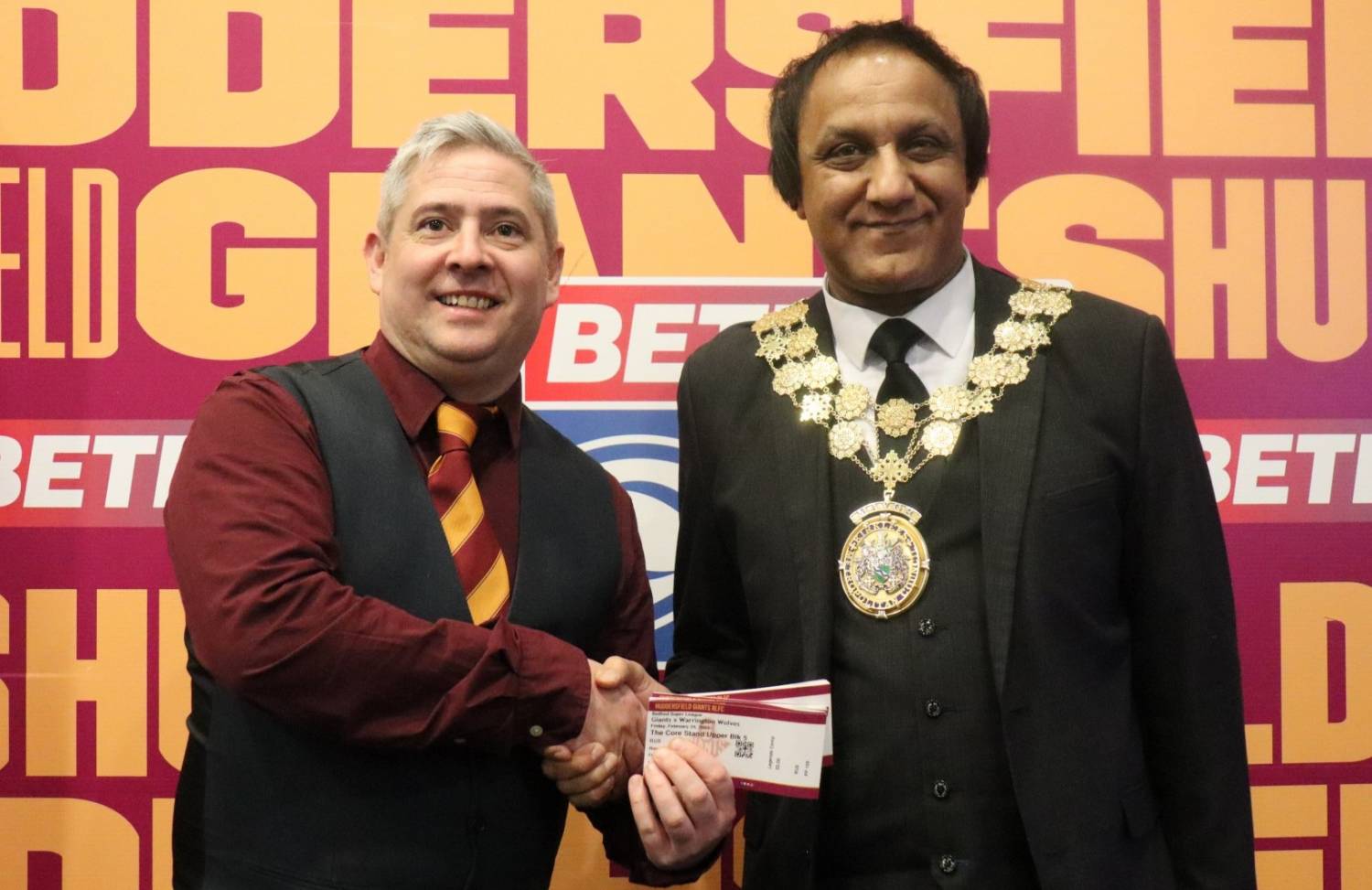 Huddersfield Giants can announce a number of £10 tickets in the Core Stand Upper for our home opener are now available, with 50% of the profits going to the Mayor's Charity, Forget Me Not Children's hospice!
The Mayor of Huddersfield Masood Ahmed has chosen Forget Me Not Children's Hospice as his charity and the Huddersfield Giants are supporting this very worthy cause, with a special ticket offer for our Bettered Super League home opener vs Warrington Wolves on Friday 24th February, with a select number of £10 tickets in the Core Stand Upper.
Buying a ticket (BUY HERE) will ensure that 50% of the profits from these tickets will go to the Forget Me Not Children's Hospice, helping out those in need, while also being able to watch top flight Rugby League at the John Smith's Stadium for a special price.
Please see the guide below on how to book your ticket.
Giants Managing Director Richard Thewlis commented on this new move,
"We're delighted to be supporting this great initiative, in partnership with the Mayor of Huddersfield's chosen charity Forget Me Not Children's Hospice, where for every ticket we sell in this block, the charity will receive 50% of the profits.
"It is one of a number of new initiatives we are trying out in a bid to both boost our support and assist the funding and profile of a local charity. Having the support of the mayor and his team at forget me not will be a boost for us and the feedback from opening this area of the ground, which is another first fore ourselves, will be interesting for us."
Forget Me Not supports children with life-shortening conditions, their families and families living with the loss of their child across West Yorkshire. By providing superb nursing care, hydrotherapy, creative therapy, days out, memory making, end of life care, bereavement support and counselling, we help families make the most of every moment they have together.

It does however, receive a fraction of what it costs to run the hospice from the government or NHS, so is reliant on the support of the local community to help raise the funds needed.
For more ways to support their work, please visit www.forgetmenotchild.co.uk
The Mayor of Kirklees Councillor Masood Ahmed, who has chosen the Forget Me Not Children's Hospice as his chosen charity of the year said.
"The Huddersfield Giants have always supported so many charities and organisations in our communities. It is fantastic to see that they will be helping to raise vital funds for the Forget Me Not Children's Hospice in their opening home fixture against the Warrington Wolves and highlighting the work of the charity. I encourage everyone to take up the offer to get behind the Giants for this match and in the process make a huge contribution to the hospice which provides crucial support to so many families here in Kirklees and across West Yorkshire."
GUIDE ON HOW TO BOOK YOUR TICKET AND SUPPORT FORGET ME NOT CHILDREN'S HOSPICE!
- Follow link and sign in or register
- Choose the Warrington Game
- Choose the number of tickets you require
- Go into Core Stand Upper Blocks 5 to 8 and click the seats you require choosing the Price Class - Charity Offer - PLEASE NOTE ALL TICKETS ARE FOR RESERVED SEATS THIS SEASON.
- Go to Basket and check details
- Proceed to Checkout and choose your delivery option
- Click Card Type and enter your payment details
- Review Order
- Confirm Order
- You will receive a confirmation email to your email address
- If you have chosen Print at Home/Digital Delivery you will receive another email with your Digital Tickets and your Print at Home Tickets
- If you have chosen Postage as your delivery type, your Ticket will be posted out 1stClass within 2 working days.