6 Mar 2023
Giants Community Trust Holiday Camps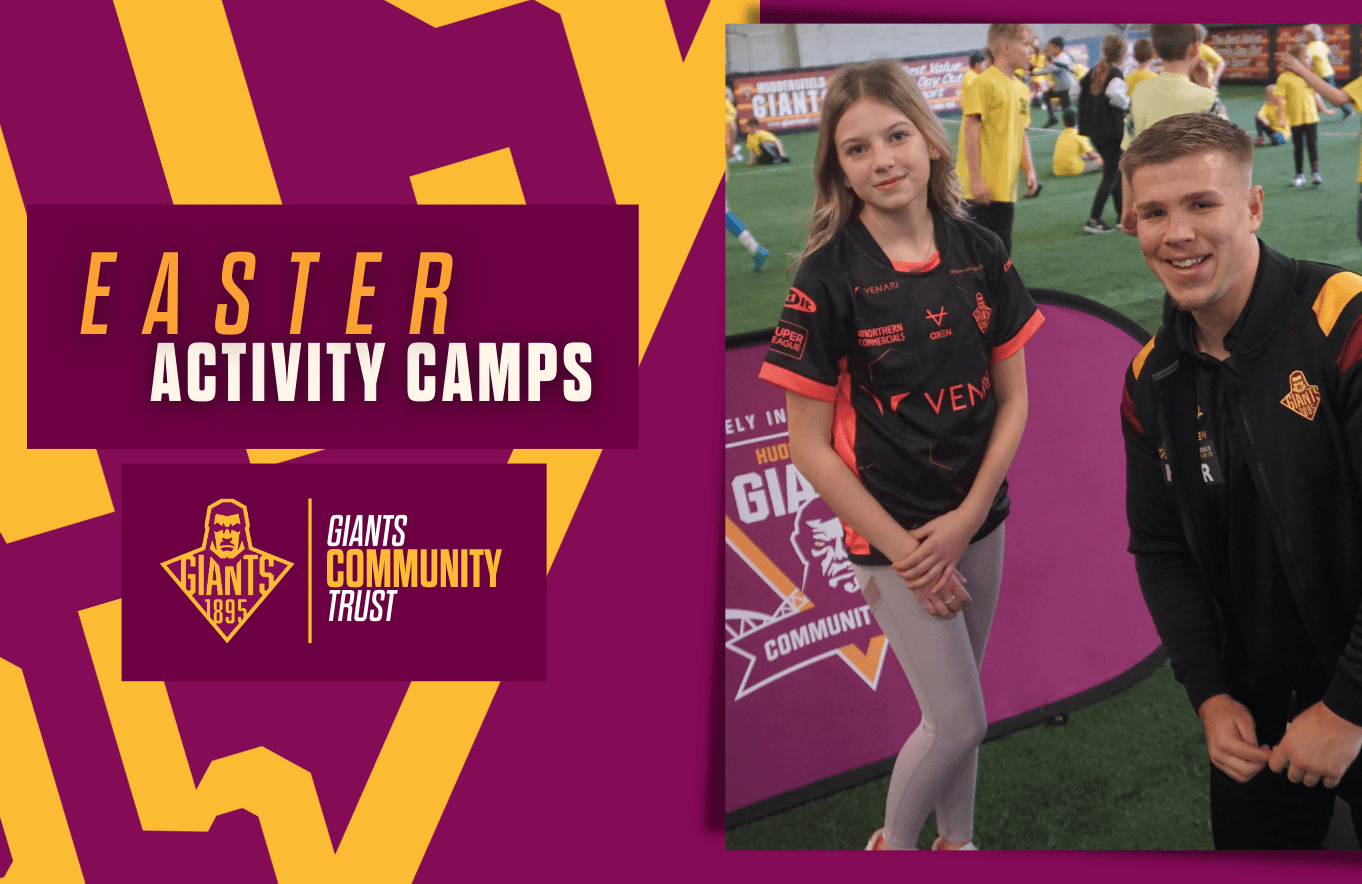 Huddersfield Giants community trust are running Easter Holiday camps from 3rd-14th April, with Multi-Sports and Cheerleading included.
Huddersfield Giants Community Trust announces details of the two Activity Camps; Multisports or Cheerleading & Gymnastics for the upcoming school holidays.
Our upcoming activity camp dates will be delivered at our home, The Zone over the two week school break. There will be 8 available days of both Multisports and Cheerleading & Gymnastics.
Keep your children entertained and engaged, where they can continue to showcase the skills and techniques they have learned at school – while continuing to keep active.
All activity camps are inclusive, open and a friendly atmosphere. All staff are highly qualified coaches in their specific field with a DBS and safeguarding checks. All camps will be indoors in a safe and controlled environment, with bonus use of The Zone's indoor soft play area.
Full details are now available for all primary school children!
Activities will kick off from Monday 3rd until Friday 14th April. (No camps will take place on Friday 7th & Monday 10th April)
Every day we provide over 7 hours entertainment, where parents/ guardians have the option to take advantage of the early drop off and late pick up times.
THE CAMPS: CHEERLEADING AND GYMNASTICS OR MULTI-SPORTS
Both camps will be delivered parallel alongside each other, with a focus to provide fun and engaging opportunities allowing each individual to reach their maximum potential.
FULL DETAILS:
Cheerleading & Gymnastics
Dates:
Monday 3rd, Tuesday 4th, Wednesday 5th and Thursday 6th April
Tuesday 11th, Wednesday 12th, Thursday 13th, Friday 14th April
Price: £20 per day, or £72 for 4 days (same week)
CHEERLEADING & GYMNASTICS BOOK HERE
*If booking all 4 days the discount will be applied at the checkout page
Multi-Sports
Dates:
Monday 3rd, Tuesday 4th, Wednesday 5th and Thursday 6th April
Tuesday 11th, Wednesday 12th, Thursday 13th and Friday 14th April
Price: £20 per day, or £72 for 4 days (same week)
*If booking all 4 days the discount will be applied at the checkout page
Times/ Ages/ Venue
Time of camps: 09:00-15:30 (Early drop off from 08:30 & late pick up until 16:00 – no extra cost involved)
Ages: 5-12
Venue: The Zone, St Andrews Road, Huddersfield, HD1 6PT