17 Apr 2023
ACADEMY ORIGIN SQUADS ANNOUNCED - 5 GIANTS INCLUDED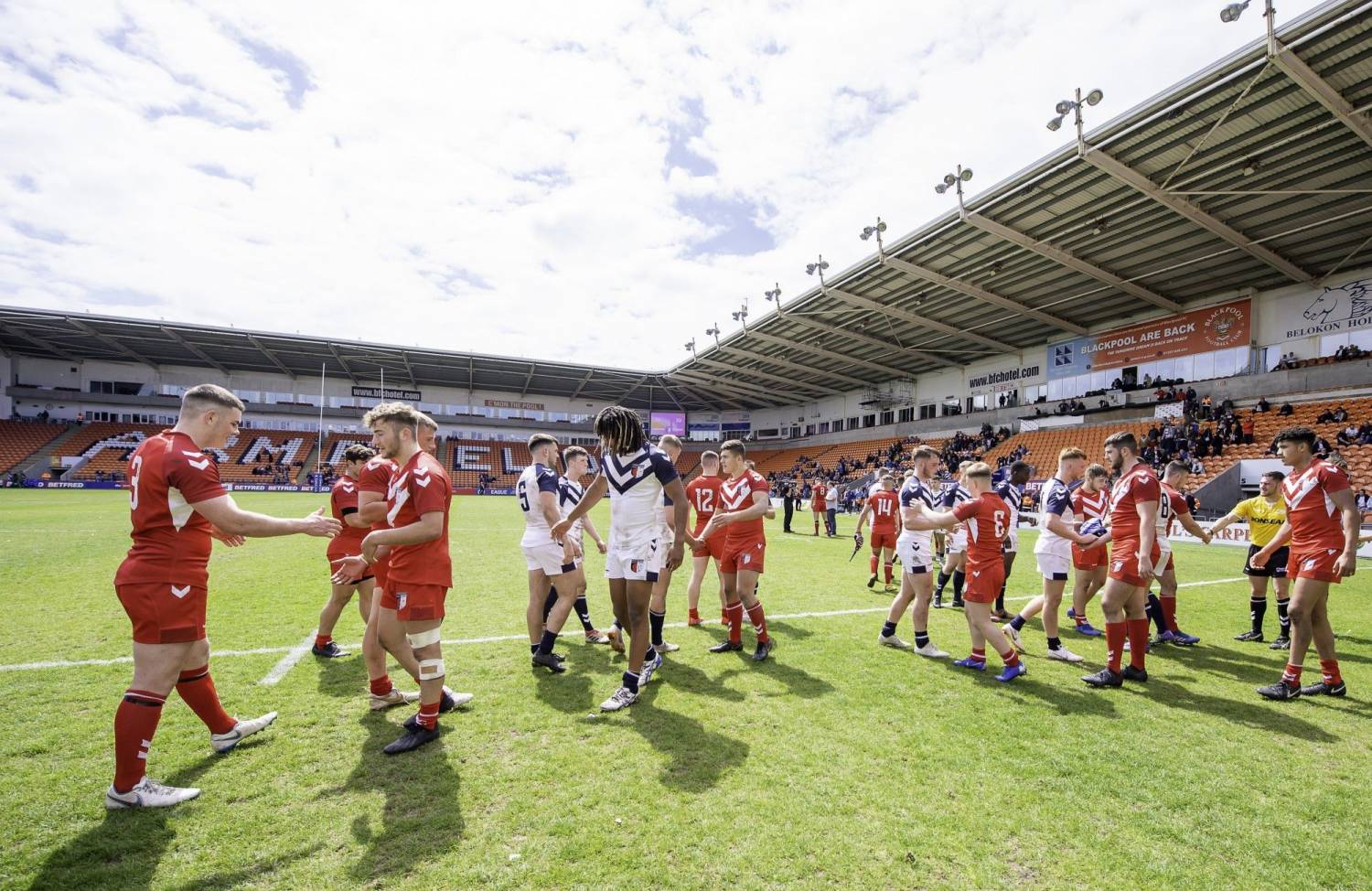 The Academy Origin Squad's have been announced, with five Giants Academy players included in the Yorkshire squad.
Head of England Pathways, Paul Anderson, has chosen the Lancashire and Yorkshire squads for the first of this year's three-match Academy Origin series at Castleford's Mend-A-Hose Stadium on Friday 28 April (KO 7pm).
42 players – 21 for each county – are selected from Betfred Super League and Championship Academy sides, including some who already have first team experience such as Lancashire's Jack Sinfield (Leeds Rhinos) and Yorkshire's Jacob Bateman (Bradford Bulls). Several others are tipped to make their senior debuts in 2023.
Yorkshire Head Coach Nickolay will be working alongside Huddersfield Giants' Leroy Cudjoe.
Huddersfield Giants Joe Ritho commented on the call-up.
"It was a mixture of shock and excitement. I was overwhelmed, happy and felt greatly honoured to be called upon to represent the squad. I know it's a great opportunity and I'm greatful for that."
Jack Billington also commented on the call-up.
I'm immensely honoured and proud to be given the opportunity to be brought into a group of the most talented lads to come out of Yorkshire. Im also excited to go into camp and work hard for the opportunity to pull on the Yorkshire shirt and represent the county.
Paul Anderson, Head of England Pathways, says: "Everybody involved in Academy Rugby League – players, coaches, clubs – is really excited about this year's Origin series. For heads of youth at individual clubs, the focus is very much on developing talent. Academy Origin takes those players to the next level, where the emphasis is on performance. This is where we identify and develop the players who have the potential to become elite performers on the domestic and international stage.
"This year we play France in the first England Academy international since 2019 and then we're building towards Rugby League's Youth World Cup in 2025. There's everything for these lads to play for. I've worked closely with clubs to identify the 42 players chosen this time around and they will all received one-to-one feedback on their performance. Last year we eventually used close on 70 players over the three matches, so squads will evolve as the season unfolds."
Hull KR will host Academy Origin II on Saturday 27 May, with the final game in the series taking place at St Helens on Friday 18 August.
England RL Academy is part of the RFL's talent pathway, which also includes England Knights and the senior men's squad. Several members of the England squad named recently be Shaun Wane are graduates of this pathway, including Leeds Rhinos' Harry Newman and Mikolaj Oledzki, Matty Lees and Lewis Dodd of St Helens, and Wigan Warriors' Liam Marshall and Harry Smith.
Lancashire squad
Joe Bajer (Warrington Wolves), Harvey Braddish (St Helens), Ryan Brown (Wigan Warriors), Leon Cowen, Owen Dagnall (both St Helens), Jack Farrimond (Wigan Warriors), Ben Hartill (Warrington Wolves), Taylor Kerr, Nathan Lowe (both Wigan Warriors), Thomas McKinney (Warrington Wolves), Lukas Mason (Wigan Warriors), Ciaran Nolan (St Helens), Tom Ratchford (Wigan Warriors), Will Roberts, Harry Robertson, Dayon Sambou (all St Helens), Jack Sinfield (Leeds Rhinos), Ewan Smith (Warrington Wolves), Noah Stephens (St Helens), Nolan Tupea (Warrington Wolves), Jon Vaughan (St Helens)
Yorkshire squad
Kye Armstrong (Hull FC), Jacob Bateman (Bradford Bulls), Jack Billington (Huddersfield Giants), Noah Booth (Warrington Wolves), Jack Charles (Hull FC), Lennie Ellis (Hull KR), Lucas Green (Warrington Wolves), Matt Hanley (Huddersfield Giants), Bobby Hartley (Leeds Rhinos), Jeylan Hodgson (Hull FC), Jack Hudson (Huddersfield Giants), Will Hutchinson (Hull FC), Maddox Jeffrey (Wigan Warriors), Ben Littlewood (Leeds Rhinos), Sullivan Medforth (Hull FC), Max Merta (Huddersfield Giants), Oliver Pratt (Wakefield Trinity), Joe Ritho (Huddersfield Giants), Cai Taylor Wray (Warrington Wolves), Cobie Wainhouse (Hull FC), Ethan Wood (Wakefield Trinity)