26 Apr 2023
The Mentality of Success - Business Breakfast Networking Event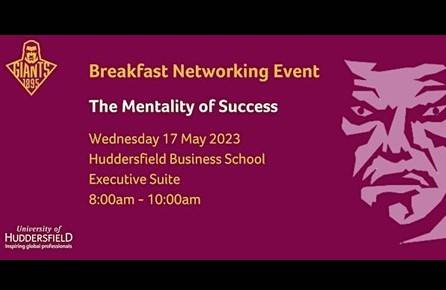 The Huddersfield Giants have been working in partnership with Huddersfield Business School since 2019, delivering quality business events for the community and we are delighted to invite you to our next event being held on Wednesday 17th May.
The event will be on the topic of 'The Mentality of Success'
What does success mean to you? Success means different things to different organisations and to different people. For some, it may be the tangible aspect that success can bring, and for others, it might relate to something intangible such as personal contentment. Whatever it means to you, you might be able to agree that it's about the accomplishment of a goal. Our Business Breakfast Networking Event will provide you with three different inspiring and motivational perspectives.
We will have Richard Thewlis, Managing Director at Huddersfield Giants  hosting the conversation with our guest speakers for the event: 
Ken Davy, Owner and Chairman of Huddersfield Giants
Salma Yasmeen, Deputy CEO & Executive Director Strategy and Change, SW Yorkshire NHS Foundation Trust
Dr Pete Greenan, Senior Lecturer in Management and Human Resource Development at Huddersfield Business School
For more information on the event, speakers and how to book your FREE place, follow the below link to Eventbrite:
https://www.eventbrite.co.uk/e...
The event will take place in Huddersfield Business School's Executive Suite (No. 9 on the below campus map, Charles Sikes Building)