25 May 2023
SPECIAL OFFER FOR STUDENTS AT CASTLEFORD GAME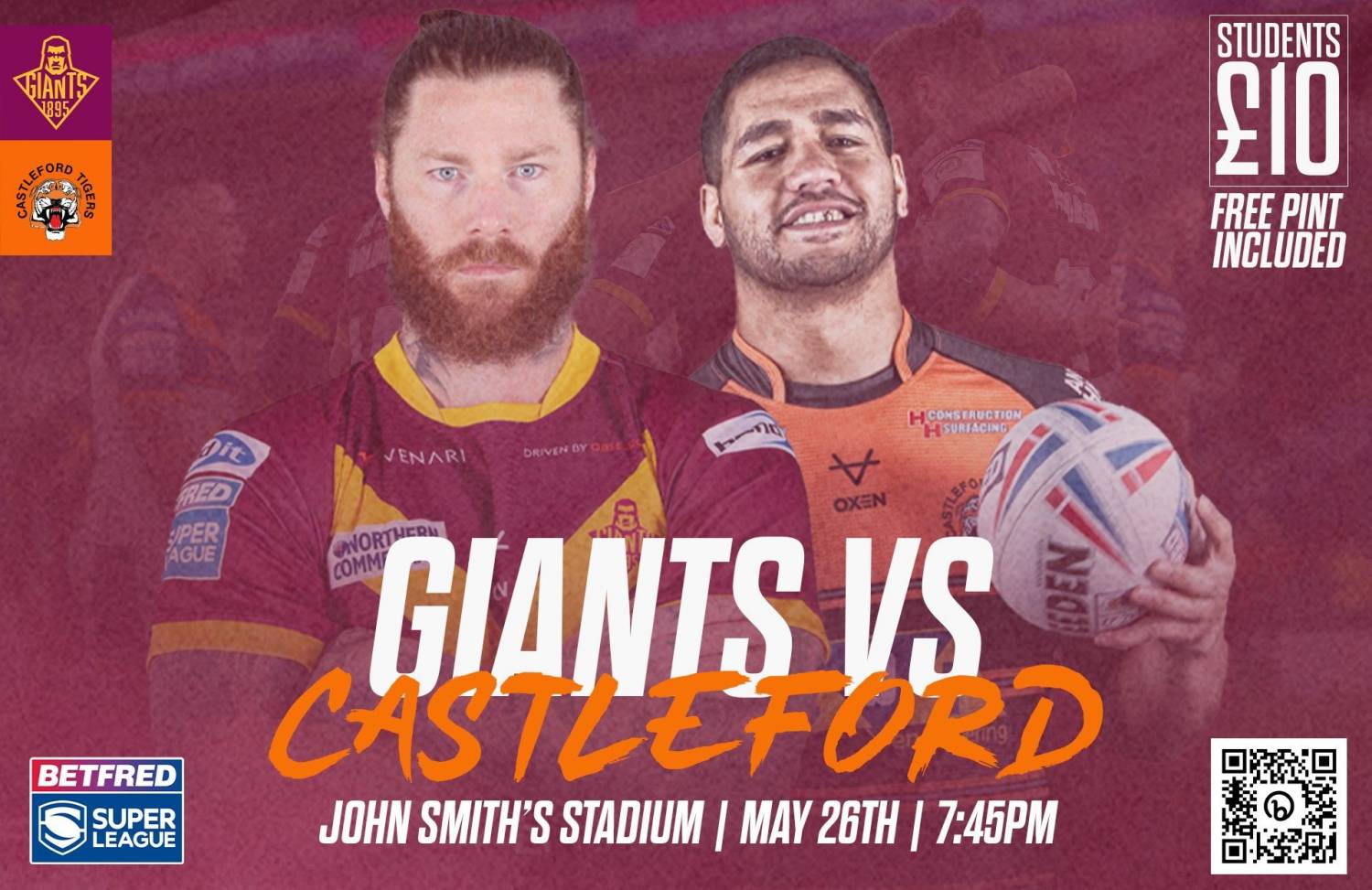 Huddersfield Giants are offering University Students a special offer for our upcoming home game vs Castleford Tigers, where they can enter for £10 with a free pint included.
The Giants are inviting Students from local universities to our game for the special price of just £10, with a FREE PINT INCLUDED in your ticket, this is an offer not be missed before you return home for the summer.

You can book your £10 ticket and FREE PINT by CLICKING HERE, and following the guide below to book your ticket.
Upon arrival at the turnstile, Valid Student ID must be presented alongside your ticket to be able to gain entry to the stadium, this measure is in place to ensure the offer is respected.
*This offer is aimed towards students 18 and over, and to claim your free pint at the kiosk you will be asked to present a form of ID that displays your age.*
BOOK YOUR TICKETS NOW, AND START YOUR NIGHT AT THE JOHN SMITH'S STADIUM!
GUIDE TO BOOK.

Follow link and sign in or register
Choose the Castleford Game
Choose the number of tickets you require (Price is £9 plus £1 booking fee = £10)
Go into the Core Stand Lower Tier, Blocks 1 to 5 and click the seats you require choosing the Price Class – Uni Offer – PLEASE NOTE ALL TICKETS ARE FOR RESERVED SEATS THIS SEASON.
Go to Basket and check details
Proceed to Checkout and choose your delivery option
Click Card Type and enter your payment details
Review Order
Confirm Order
You will receive a confirmation email to your email address
If you have chosen Print at Home/Digital Delivery you will receive another email with your Digital Tickets and your Print at Home Tickets
If you have chosen Postage as your delivery type, your Ticket will be posted out 1st Class within 2 working days.
PLEASE NOTE ON GAMEDAY YOU MUST ENTER THROUGH TURNSTILES 16 (Core Stand Lower) AND YOU WILL BE GIVEN YOUR FREE PINT VOUCHER BY THE TURNSTILE OPERATOR. YOU CANNOT GAIN ENTRY THROUGH ANY OTHER TURNSTILE AND TICKETS CANNOT BE SWAPPED TO ANOTHER STAND.
With Castleford Tigers being our last home game before the home break due to the renovations on the John Smith's Stadium's playing surface, we are celebrating our wonderful town that hosts the University of Huddersfield and our Students hard work they've put in over the Academic year, which is why we have slashed prices for them to allow them to celebrate at the Birthplace of Rugby League.