15 May 2023
LOAN WATCH | GIANTS STARS TEAR UP THE CHAMPIONSHIP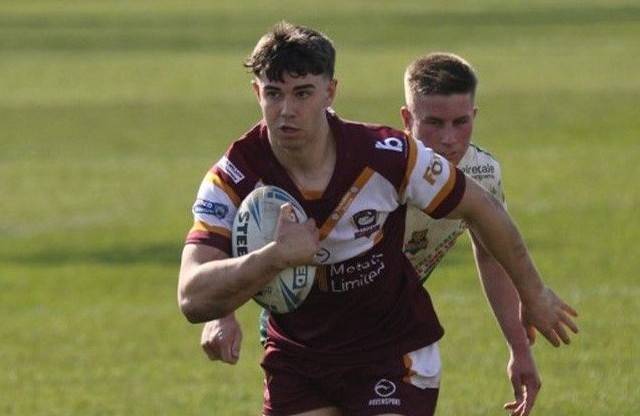 It was a successful week for our loanee Giants stars, with Nathan Mason, Aidan McGowan and three young Giants all impressing.
First up, it was the turn of Batley Bulldogs who took on Toulouse Olympique, the relegated Super League club sat 2nd in the table, but would eventually be defeated by the Bulldogs, our flying winger scoring two tries on the Fox's Biscuits Stadium slope.
Aidan has been in great scoring form in the Betfred Championship as of late, crossing the line eight times in thirteen appearances for Craig Lingard's men.
Nathan Mason also took part in the Betfred Championship this weekend, playing for local neighbours Bradford Bulls alongside fellow loanee Fenton Rogers, who was impressive as usual, in the middle of the park for Lee Greenwood's men.
Both middles made a huge impression vs Swinton, where the Bulls ran out 44-38 winners, punching holes in the Lions defence and laying the platform for the Bulls' playmakers to set up the scores.
Mason crashed over for two tries in the Sunday sun, playing around 25-minutes of in-game action.
We also have three younger players on loan at Betfred League 1 club London Skolars, who were narrowly defeated by Rochdale Hornets on Sunday.
Sam Webb-Campbell, Jayden Dates and Ethane Wainwright joined the club earlier this week on loan and made an instant impression, as all three made their debuts at the weekend.
Both Webb-Campbell and Wainright crossed for a try, with London Skolars Head Coach Joe Mbu being impressed with the Giants three.
"The boys made such an impression our captain mentioned them in the debrief at the end of the game, saying it is us that are supposed to lift the intensity and any new comers are to follow, but the three boys did that for us. They are a real credit to you and the club."
Our Academy, which has produced such players as Ethane Wainwright, Aidan McGowan and Kieran Rush, who recently featured in the first team vs Leigh Leopards take on London Broncos away this Saturday.