24 May 2023
DERBY DAY HUDDERSFIELD VS LEEDS | LETS BREAK THE RECORD!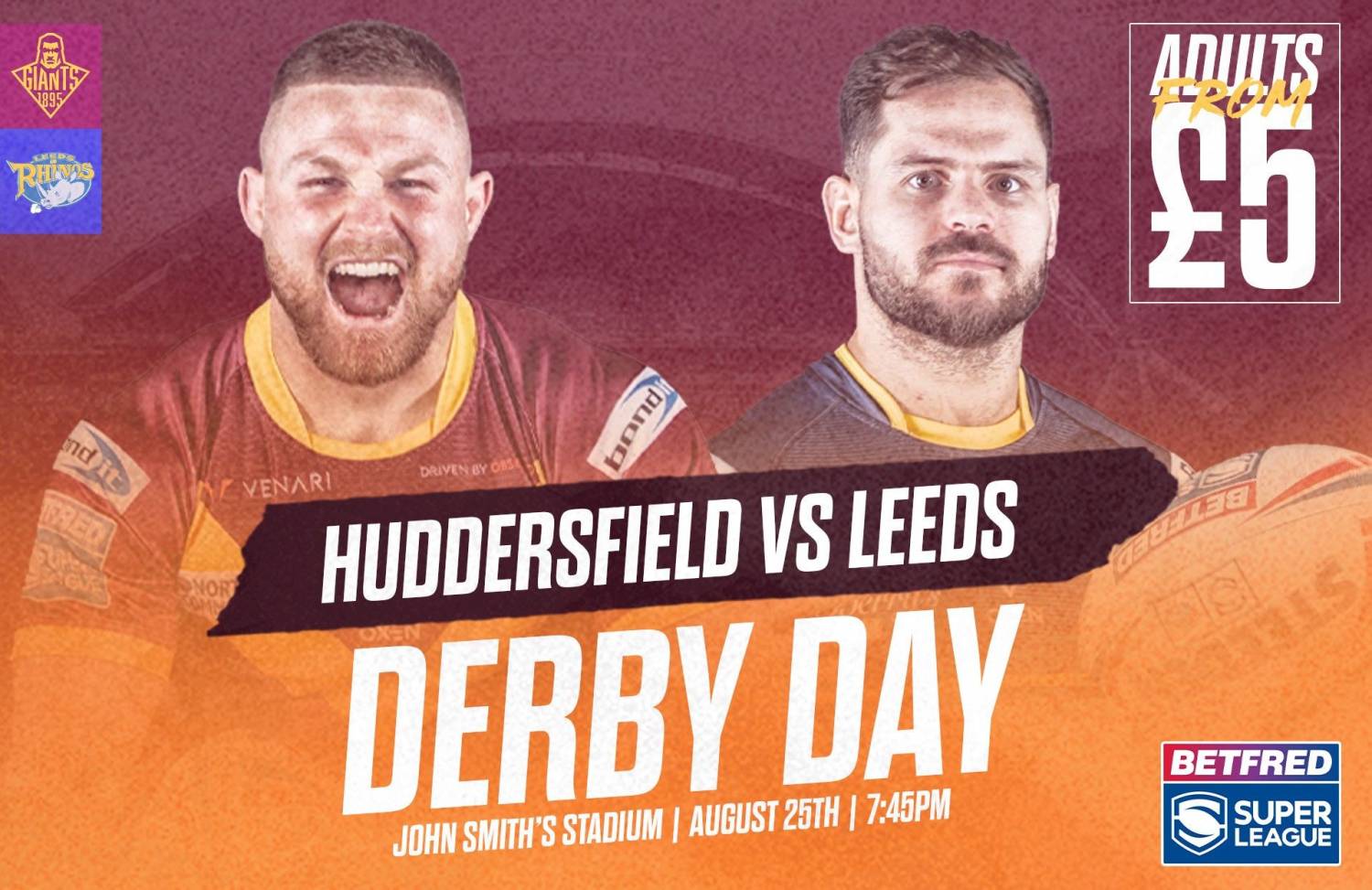 Huddersfield Giants are delighted to announce that prices have been slashed for Derby Day, with Leeds Rhinos in town as we look to break our Record Attendance!
BIG, BIGGER, BIGGEST - Huddersfield v Leeds - ON SALE NOW
On FRIDAY August 25th AT 7 45pm, 2023 Huddersfield play against the local rivals Leeds in the Betfred Super League. This is always one of our big games of the season. This year we want to make the big BIGGER!
And for the Giants' BIGGEST game of this season we are aiming to beat our Super League attendance record here at the John Smith's Stadium, and potentially set the highest attendance that this club has seen in over FIFTY years.
We're pulling out all the stops for this game, with tickets going on sale FOUR MONTHS in advance, REDUCED tickets across the stadium, fantastic promotions for many, and a real opportunity to bring in every corner of our great club, from every community club to the women's side and our commercial partners.
The Giants will be painting the town Claret and Gold in the upcoming months, with plenty of promotional material and special offers for YOU to get involved in, so make sure to watch out for that while you're out and about.
We also want to involve all parts of the community with fantastic deals to help local charities, NHS workers, Kirklees Council workers and Emergency Services.
But the most important part of this is YOU and we need your help. The target is a BIG ONE. 15,630 fans inside the John Smith's cheering on the Giants as we take on the Rhinos in what could be a crucial game towards the end of the BETFRED Super League season.
If you have friends who have never been to see a Rugby League game then this is the match, if you've never taken your kids to a game before this is the match, if you've been even once before in your life and you're wanting to make a return, THIS. IS. THE. MATCH!
Block 7 will be in full voice, Leeds are sure to bring a fantastic following and the with all the activities taking place around the Stadium, Huddersfield is sure to be rocking.
Who knows where we could be come August, but no matter the situation, no matter the team that takes the field this is your chance to be a part of the Cowbell Army, show your colours, make some noise and help us make history!
Tickets are on sale NOW.
Adults:
- Core Stand Blocks 1 & 10: £5.00 ALL SEATS NUMBERED AND RESERVED
- Core Stand Blocks 2 & 9: £7.50 ALL SEATS NUMBERED AND RESERVED
- Everywhere else: £15.00 ALL SEATS NUMBERED AND RESERVED
Concessions:
- Core Stand Blocks 1 & 10: £5.00 ALL SEATS NUMBERED AND RESERVED
- Core Stand Blocks 2 & 9: £7.50 ALL SEAST NUMBERED AND RESERVED
- Everywhere else: £10.00 ALL SEATS NUMBERED AND RESERVED
Kids (17 and Under):
£1 (EVERYWHERE) ALL SEATS NUMBERED AND RESERVED