15 Jun 2023
Huddersfield Giants Announce New Healthcare Partner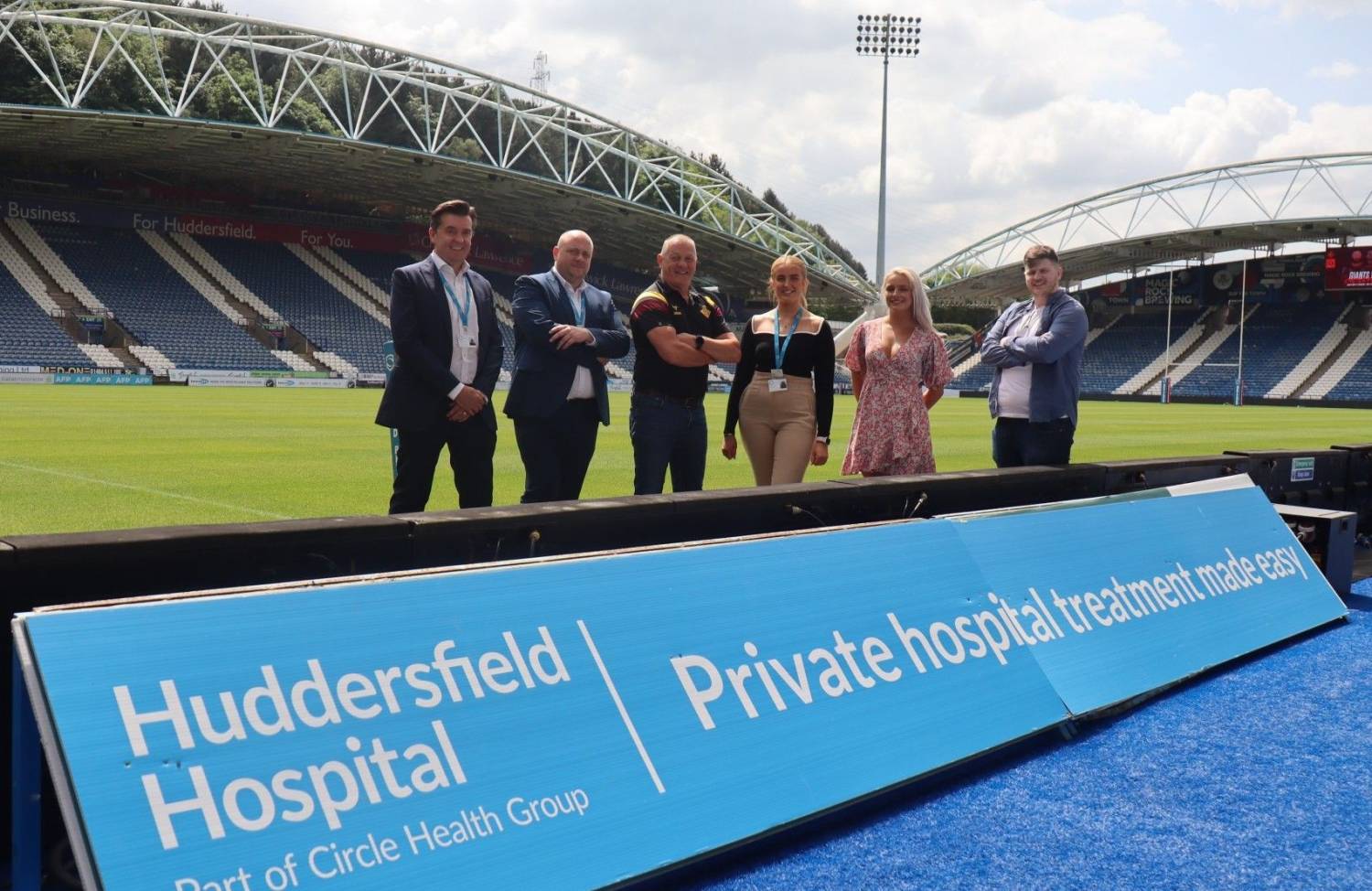 The Huddersfield Hospital, part of Circle Health Group, have been selected as the official healthcare services provider to Huddersfield Giants. The partnership signed in February will see the well-known local hospital provide essential services to players at the Super League side. Services on offer will include diagnostic imaging, pathology, physiotherapy and access to the hospitals network of specialist consultants.
Huddersfield Giants were founded in 1895 and are one of the world's oldest rugby league clubs. As the club embarks on their next campaign in the Super League, they have chosen to partner with Huddersfield Hospital to provide their players with fast access to specialist healthcare services and advice. The partnership will supper the club throughout the season, with specialist clinics established for the players before and after fixtures.
Huddersfield Hospital has been at the heart of the community since it opened in 2008 and sees patients from across West Yorkshire. Located on Birkby Road, the 29-bed hospital offers inpatient and outpatient services to patients who are looking to pay for themselves, or who are supported by medical insurance and from the NHS.
With an extensive network of consultants who specialise in sports medicine, the hospital is confident that it will be able to keep the Giants match fit as they look to the 2023/2024 season.
Commenting on the partnership, Brian Blacker, Commerical Manager for Huddersfield Giants said, 'It's great to finally have the Huddersfield Hospital as our official healthcare partner. Discussions with the hospital began at the start of the season and we welcome the opportunity to work with them to give our players the best possible care for what promises to be a demanding season.'
Gareth Hobson, Executive Director of The Huddersfield Hospital said: 'This is a great opportunity for both parties to work together. We are delighted that Huddersfield Giants have chosen us as their healthcare partner. As a fellow local organisation, we understand how important the club is to the community and are looking forward to supporting the players throughout the season with specialist care across a range of services.
He added, 'I am sure that this initial agreement will mark the start of a prosperous partnership between both parties.
About Circle Health Group
Circle Health Group is an award-winning healthcare provider operating Britain's largest network of independent hospitals. Circle's aim is to be the most innovative patient-focused healthcare organisation and, by equipping its people with leading-edge technology, deliver the highest quality patient care. It supports patients whether they fund their own treatment or are supported by private healthcare insurance, and the group also works in partnership with the NHS. Circle Health Group acquired BMI Healthcare in January 2020. The group operates independent hospitals, runs integrated care programmes and rehabilitation services, and has an overseas division which operates in Shanghai, China.