16 Sep 2022
Huddersfield Giants launch 2023 Season Cards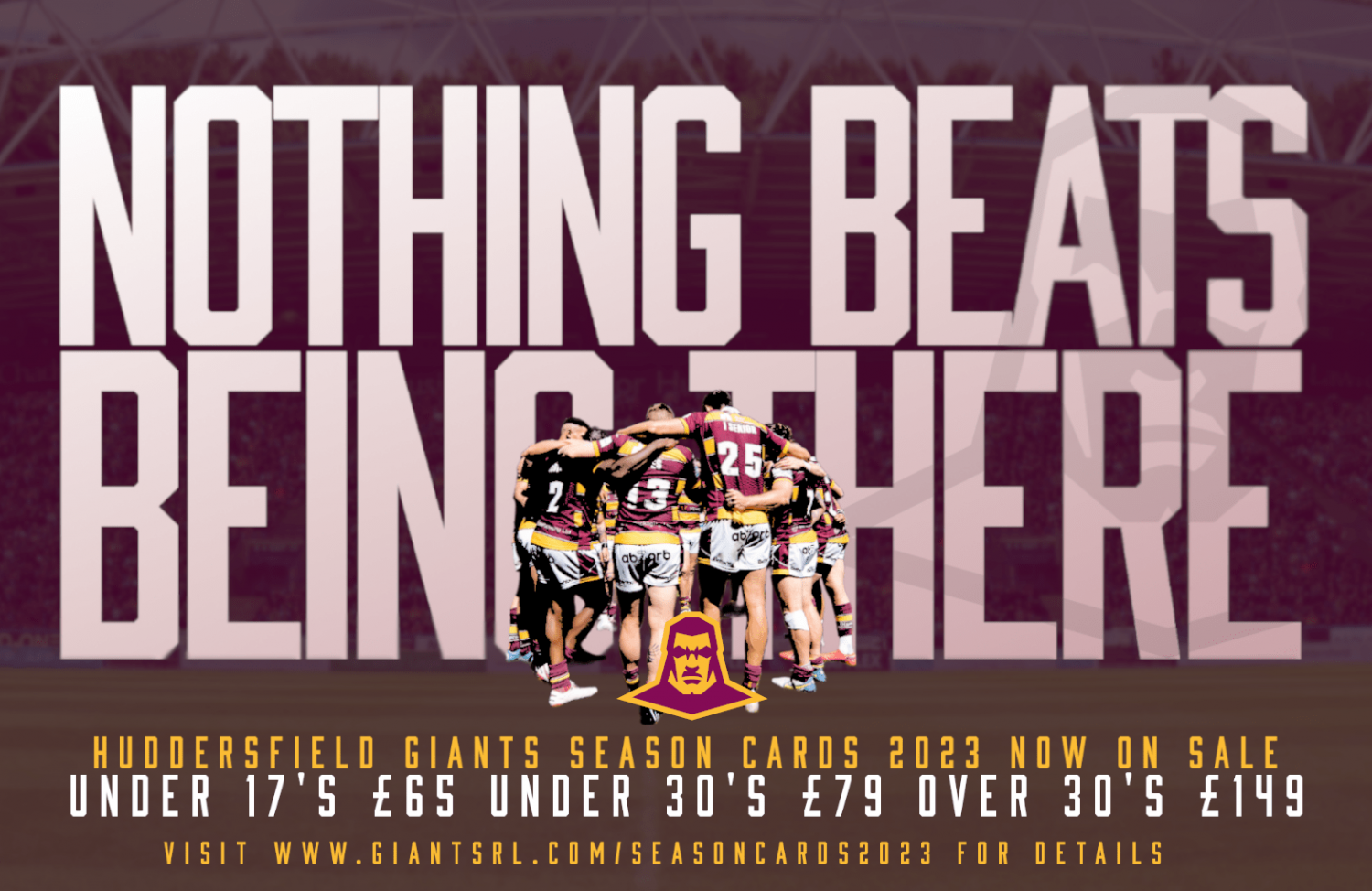 Huddersfield Giants are delighted to announce that 2023 Season Cards are on sale for the incredible price of just £149 per Adult Over 30, £79 for Under 30s and £65 for Under 17s.
The Giants are celebrating their 20th consecutive season in the Betfred Super League, and after reaching their first Betfred Challenge Cup Final since 2009 and their first playoffs campaign since 2015 optimism is high and the club has kept prices as competitive as possible to assist all to support the team to bigger and better things in 2023!
To buy your Season Card now, check out our dedicated Season Card website, with all the details of our fantastic offer for the new season. The Ticket Office will be open Monday - Friday, 9am to 4pm.
Your incredible value 2023 Huddersfield Giants Season Card includes entry to all our guaranteed Betfred Super League home league games, and can be accessed through our dedicated Season Card website, by visiting the Ticket Office or by calling 01484 484159. Supporters are reminded booking or renewing online is the fastest and easiest way to secure your seat for 2023.
Huddersfield Giants Chairman, Keith Hellawell said: "We have made enormous progress as a Club this season with much to look forward to. We have made our first play-off series since 2015 and played in our first Challenge Cup Final since 2009, achievements which at the start of the year many would have said were beyond us. We have returned the pride to the Claret and Gold shirt with an outstanding home record and in Ian Watson clearly have a coach who is delivering on his promises to us.
"The squad next year looks set to be even stronger and of course our crop of talented younger players will have another off season under their belt which will see them improve. We have already announced the signing of Kevin Naiqama whose CV speaks for itself as a proven winner at the highest level and also in Harry Rushton we have one of the game's most exciting prospects and a man who Ian was determined needed to become a Giant.
"We have further additions in the pipeline too when the time is right to announce as well as departures of course as we are a salary capped sport. In short though I believe that we have both an exciting end of this year to look forward to as well as an excellent 2023 where our intentions remain to bring silverware back to this great Club.
"I sincerely hope that you will again be able to join up as Season Card holders and, if possible, persuade family and friends to join you. If we could get 25% of those new supporters who travelled to Tottenham for the final to come on board as Season Card holders the effect on the club would be absolutely enormous.
"Thank you again for your much-appreciated support and I sincerely hope to see you and many other new supporters with us as season card holders next year. Should you have any questions please contact the Club and every member of the staff and Board will be only too pleased to help."
Buying your first Season Card
1. Click on the tickets link on the top bar, or side menu bar on giantsrl.com, or visit giantsrl.com/tickets.
2. If you have booked tickets through the Giants before you may already have an account with us. Enter your e-mail address and select "forgot password". Once this is done , you'll be sent a temporary password which will allow you to log in.
3. If you haven't bought tickets through us before you will need to create an account. Below the option to login, click "New User: Register Here"
4. Head back to giantsrl.com/tickets and select 2023 Huddersfield Giants Season Ticket.
5. Head to the complete payment page, fill in your payment details and complete your purchase.
6. Once this is done, you'll receive an email confirmation with details of your purchase.
Renewing your Season Ticket
1. Head to giantsrl.com/tickets or click the tickets link on the top bar, or side bar menu on giantsrl.com
2. Login to your existing account and in select "My Orders".
3. If you have never booked online before, enter the email address associated with your Season Card, and select "forgot password". Once this is done, you'll be sent a temporary password which will allow you to login. Remember, each individual Season Ticket is linked with an individual account, so you may need to do this multiple times for multiple accounts.
4. Once you've entered your account details, click the link for "My Orders". Here you will find your reservation for your 2022 Season Card. Click "pay reservation" and you will be taken to the payment page where you will be able to check your details and will be able to complete your purchase.
5. If you are changing seats, wishing to claim your Giant Cash Bonanza 5% discount, or wish to book tickets for anyone who does not have their own email address, you will need to contact the Ticket Office on 01484 484159 - this line is expected to be busy, so if you are unable to get in touch, leave a message with your name and telephone number and we will return your call.