12 Oct 2022
Remember, remember the 5th of November!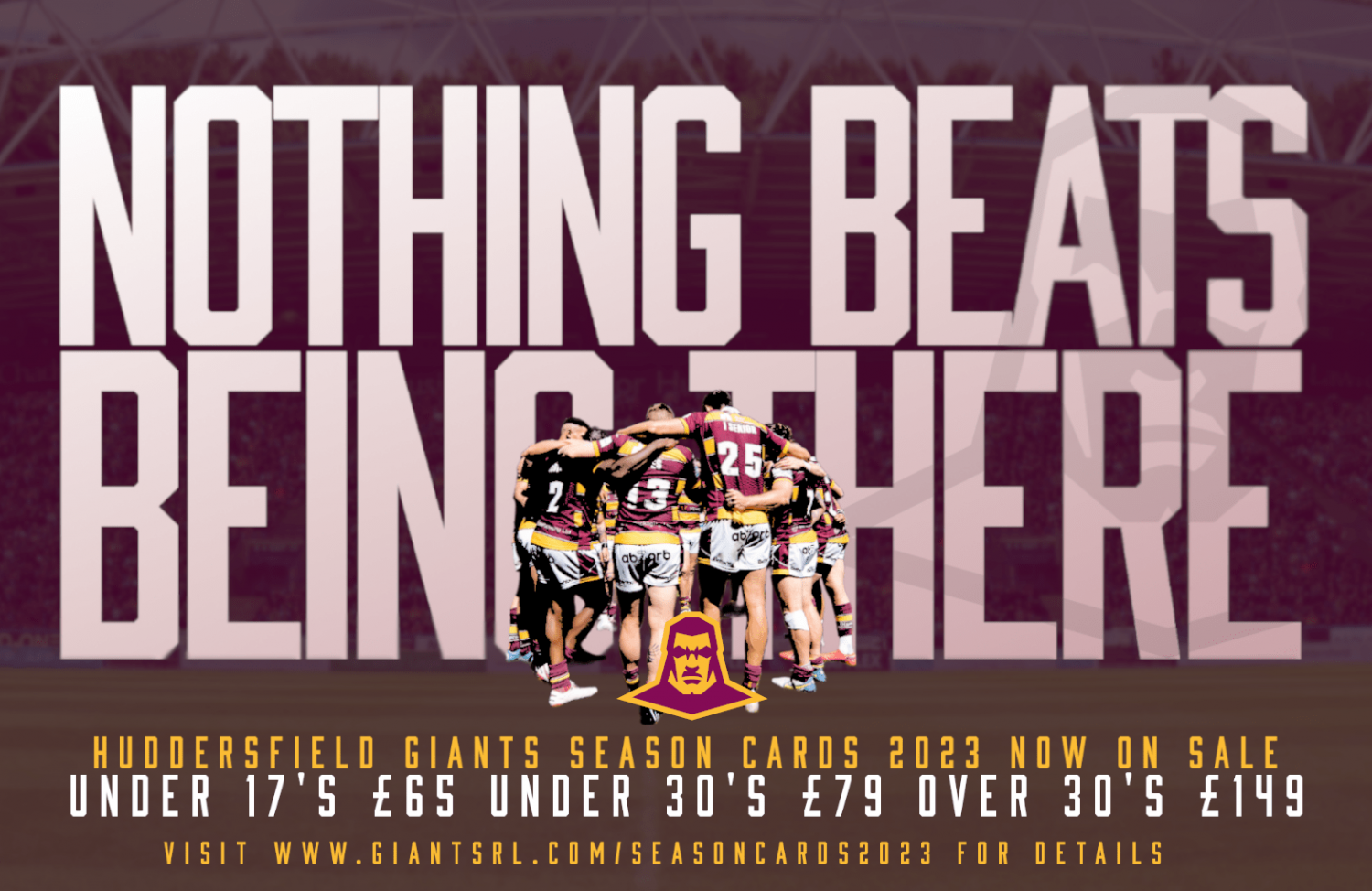 Remember, remember the 5th of November - that's the day for 2022 Season Card holders to renew their 2023 Season Card and guarantee their seat for the upcoming season!
Buying your 2023 Huddersfield Giants Season Card couldn't be simpler, if you need help renewing, check out our online guide to renewing your Season Card or buying your first Season Card to make sure you can capture all the action of the 2023 Season.
The Giants are celebrating their 20th consecutive season in the Betfred Super League, and after reaching their first Betfred Challenge Cup Final since 2009 and their first playoffs campaign since 2015 optimism is high and the club has kept prices as competitive as possible to assist all to support the team to bigger and better things in 2023!
To buy your Season Card now, check out our dedicated Season Card website, with all the details of our fantastic offer for the new season. The Ticket Office is open Monday - Friday, 9am to 4pm.
Your incredible value 2023 Huddersfield Giants Season Card includes entry to all our guaranteed Betfred Super League home league games, and can be accessed through our dedicated Season Card website, by visiting the Ticket Office or by calling 01484 484159. Supporters are reminded booking or renewing online is the fastest and easiest way to secure your seat for 2023.
Season Cards are available for just £149 per Adult Over 30, £79 for Under 30s and £65 for Under 17s.
Don't forget also, you can spread the cost of your Huddersfield Giants 2023 Season Card by securing your seat through Direct Debit. Direct Debit offers an easy payment option to split the payment over 5 or 6 months with no admin fee!
To set up Direct Debit, you will need a Proof of ID (Drivers License, Passport), Proof of Address (a recent utility bill or a bank statement) and the bank card of the account from which the Direct Debit will be taken. This will split the cost into affordable payments and can be applied to multiple season cards on one Direct Direct.
Supporters wanting to sign up for our Direct Debit Easy Payments option need to visit the Ticket Office in person.
For example, an Adult paying £149 would pay an initial payment of £24.85, and then 5 further payments of £24.83 to pay for their 2023 Season Card. Under 30s can pay an initial payment of £13.10 and then 5 further payments of £13.18. Supporters can also add their 2023 Season Car Park if required.
Supporters who paid via Direct Debit in 2022 can call our ticket office on 01484 484159 or visit us in person to reinstate last years agreement, provided none of your details have been changed.
All payment must be completed by the end of February 2023, and you will still be issued with your Season Card when they are sent out in October/November 2022.
Sign up today and spread the cost further as the earlier you set up your Direct Debit, the longer you'll be able to spread the cost and the less you'll pay each month!
Our Ticket Office is open Monday - Friday, 9am - 4pm, so visit today!