25 May 2023
GAMEDAY GUIDE | CASTLEFORD TIGERS (H)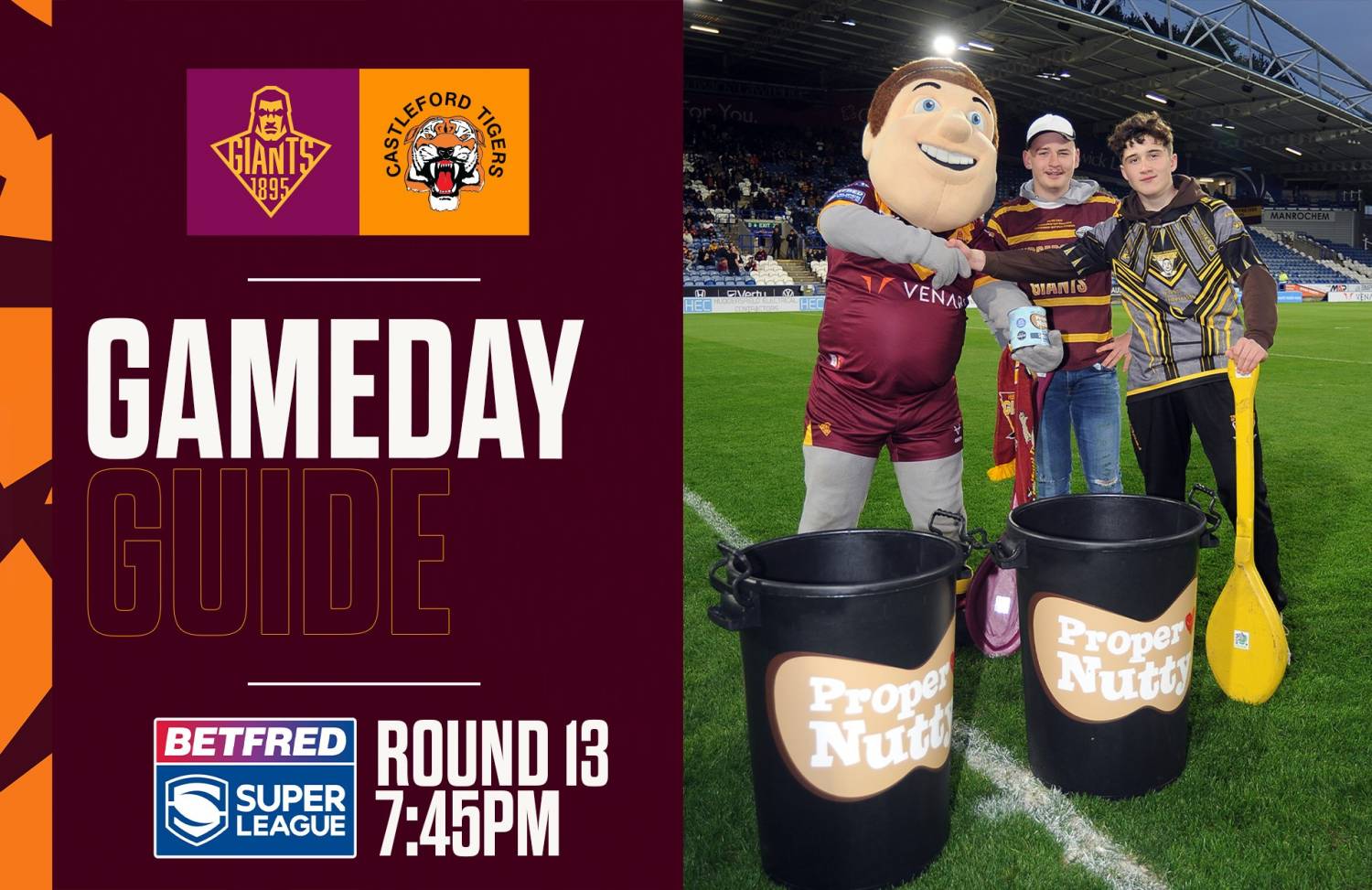 Have a read of everything that's taking place in and around the John Smith's Stadium, as well as some vital information as we host Castleford Tigers.
Nothing Beats Being There – Game Day Guide
On Friday, we return to the John Smith's Stadium, as we welcome Castleford Tigers again this season, for one of our loop fixtures as we'll look to do the home double over Andy Last's men, defeating them 36-6 last time out.
The Giants are looking to get back to winning ways, after dropping out of the Challenge Cup last time out.
How much are tickets?
Pre-buy & SAVE on Matchday Prices. (Prices rise at 12 noon on Gameday)
Adults £21 - Matchday £25
Senior Citizens (65 & Over) £16 - Matchday £20
Under 17s £6 - Matchday £10
Under 5s - Free of Charge (Please be aware under 5's tickets must be obtained from the ticket office in all home areas which we advise is done in advance to avoid queues on the day)
Ambulant Disabled/Carer £21/Free - Matchday £25/Free
Disabled Wheelchair/Carer £16/Free - Matchday £20/Free
Please note, that this season there will be no Cash turnstiles for home and away supporters, however the Ticket Office will accept card and cash, but large queues are expected on match day with the Giants recommending you book online through our ticketing site.
The Giants ticket office will open at 9am on Friday, for you to get your tickets!
We are advising that supporters, where possible, use Mobile and Print at Home tickets to minimise disruption to the Club's Ticket Office that we expect will have large queues on Gameday.
Proper Nutty Half-Time game
You may have noticed that, during Half-Time, we select two supporters to take part in the Proper Nutty game, if you would like to take part and be in with the chance of winning some Proper Nutty Peanut Butter, then come down to the front of the stand to be in with a chance at Half-Time.
Student Offer
For Students that have bought a ticket for the special price of £10, they will only be admitted entry through turnstile 16, and will receive their token for a free pint upon showing their Student ID on entry.
Away Supporters
All away supporters are advised that they can purchase tickets for the Magic Rock Brewing Stand up until kick-off, using our E-Ticking site, with a mobile ticket sent directly to their email that they can use to gain entry.
There will be no Pay at the turnstile option for away supporters this season, with away supporters still able to purchase a ticket at the ticket office, but large queues are expected.
In this area only there will be a small number of Under 5 tickets with a steward who will be situated by the away turnstiles.
What's on at the game and when?
The FanZone returns this week, at the front of the stadium for ease of access, this week, we welcome Burger Burger from Honley, who are bringing their burger stall for the supporters to enjoy.
Castleford Tigers supporters who are visiting the stadium are also welcome to sample the food and drink in our FanZone.
Pre match activity will include music to set the scene from DJ's from the Hart, resuming his residency to create the atmosphere with all your favourite tracks. The best cheerleaders in Super League, the Huddersfield Giants Pro-Squad, won't be far from the DJ tent providing the best dance performances Rugby League has to offer. Refreshments will be available from the bar and food outlets with alcoholic and soft drinks and confectionery on the menu!
Our official Kit Partners Oxen will return with their mobile stall, selling all of the Giants Merchandise, including Replica Shirts and Training Wear.
The inflatable goal posts will be available, brought to you by the Huddersfield Giants Community Trust, for the younger audience to hone their skills for the future providing a competitive edge to get them in the mood for the game. Big G will also be around the perimeter of the Stadium to provide the kids and the adult kids with an opportunity to get photos with our famous mascot.
The Legends Bar (Located by the Swimming Pool entrance) will be open for HGSA Members only providing a fun and lively environment for like-minded supporters to meet, with membership costing only £5 a year and 50% off selected drinks until 6:45pm, you can make yourself a member on the evening. Anyone wishing to join the HGSA can do so HERE, with the Bar opening at 5:45pm.
The Brian Blacker Roadshow will be running inside the Legends Bar yet again, so ensure you're there to see which player is selected this week.
Please note, The John Smith's Stadium is a cashless stadium, with Contactless and Chip & Pin accepted within the stadium.
New for 2023 - The Family Lounge
Newly introduced for 2023, Huddersfield Giants are allowing families into the Big Red Suite to watch the game with their children in the colder months, open from 7:00pm.
This Suite is capped at 100 people, and the full guide on the Family Lounge can be read HERE, we would advise you to read before deciding on whether the Family Lounge is for you.
We've had great feedback from supporters who enjoyed the Family Lounge in our previous home games.
Running Order
5:45pm FanZone gets underway, with the Pre-Match DJ, Food Outlets including a new menu each home game and child friendly activities with the Huddersfield Giants Community Trust. The Legends Bar will also open to HGSA Members only.
6:45pm Turnstiles open.
7:45pm Game kicks-off
Will the Players Bar be open?
The Player's Bar is open for Bar Pass holders only.
Will Block 7 be in operation again?
Block 7 will once again be situated to the back of the Chadwick Lawrence Stand, in Block 7 where our most vocal fans will congregate to create a raucous Gameday atmosphere to support the Giants, an initiative headed by the Huddersfield Giants Supporters Association to improve the atmosphere at the John Smiths Stadium.
If you would like to relocate your Season Ticket to Block 7 in the Chadwick Lawrence Stand, then please get in contact with the ticket office.
Block 7 created a hive of noise when relocated into the Core Stand on Friday and last time out vs Catalans, with your support needed, let's replicate this on Thursday in the Chadwick Lawrence Stand.